Upcoming Events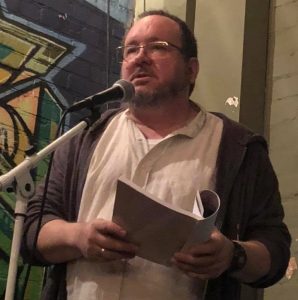 October brings us to
MAMMAL 

TOUR

 

2023
…huh wha?

.
.a slo-mo whirlwind to deliver
the posthumanist word of Mammal
to the unsuspecting East Coast
of the United States of America
.
.
woo-hoo!
.
.FIRST STOP:  CAMBRIDGE
Wednesday, October 4, 2023
Okay, I didn't ask in time to have a chance to feature, but I'm gonna check out
.
Doors @ 7
Open mic @ 8     <—————-
c'est moi
Featured reading follows
$4 cover
What's goin on in Boston? Gonna find out.
~~~
SECOND STOP:  WOODSTOCK
Saturday, October 7, 2023
Gots me a featured reading at
.
5 – 8 pm
Yes, that Woodstock.
The Ashram says: "It's our usual community garden poetry party with featured reader, bonfire, open mic sharing circle, & a vegetarian potluck." Sounds yum all around!
Click here for the FB event page, which has more info and a decent map if you wanna find the joint.
~~~
THIRD STOP:  NEW YORK CIT-AY:  Appetizer
Thursday, October 19, 2023
Okay, this isn't a feature either, but I'll be stopping into this event with glee, and sharing a poem and everything.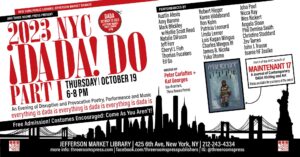 .
.
.
.
.
Yeah, I know I'm not on the flyer, so you're just gonna have to trust me.
~~~
FOURTH STOP:  NEW YORK CIT-AY:  The Main Course
Saturday, October 21, 2023
Book Launch for Mammal from Roof Books
5 pm Eastern
door at 4:30
Admission: $5
Proceeds go directly to the readers.
Event starts promptly! Arrive early to catch the art exhibits.
This reading is curated and hosted by Nightboat Books.
It will be live-streaming on Zoom.
Click here or use Zoom ID 893 9594 7519 to join.
~~~
FIFTH AND FINAL STOP (THAT I KNOW OF):  PHILADELPHIA
Friday, October 27, 2023
709 South 4th Street
(between Bainbridge & Monroe Sts)
Philadelphia, PA
7 pm
~~~
Thus endeth
because I'm really gonna need a nap.
.
~~~
.
.
Past Events
(for a full list of readings prior to 2023, click here)
Saturday, September 23, 2023
I'll be hosting an afternoon reading in Berkeley's Live Oak Park for authors of new and recent books from
Last Laugh Productions
. Poetry in the park! Yay!
12pm noon – 4pm
With:
Steve Arntson reading from We'll Always Have Stockton (new!)
Johanna Ely reading from What Still Matters (new!)
Jan Dederick reading from Embodied
Maria Rosales reading from Armageddon Bootcamp
and
Paul Corman-Roberts & Pasha De Saix reading the work of Vampyre Mike Kassel from The Worlds According to Loki
Last Laugh Productions
is a passion publishing project by Deborah Fruchey, Bay Area and Cafe Babar poetry veteran. And by "passion" I mean 
these books are gorgeous!
And so is the work inside.
SCHEDULE:
noon – 1:  Gather
1 – 2:  Featured readers
2 – 3:  Open mic
3 – 4: Hang out, buy books, and clean up
There are wooden benches, one cement bench, and picnic tables. BYO cushion!
We'll have some snacks and beverages there. Feel free to bring something, but not at all required. Note that alcohol is not permitted in the park.
We'll also have lots of books from these authors for you to check out!
Y'all come down now, hear?
~~~~~
Thursday, September 21, 2023
Excited to be reading at:
521 First Street
Davis, CA
7 pm
.
~~~
Saturday, July 22, 2023
3:30 – 10:30 in Downtown Oakland
at which I will be hosting #we, a reading based on the queer talk series that paused with the pandemic,
AND reading for Beasts of the Apocalypse, the event sponsored by Collapse Press.
FIRST: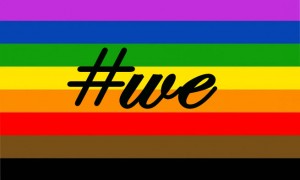 .
.
.
.
#we will be at
Awaken Cafe
1429 Broadway
5:30 – 6:30 pm
Since this is part of a festival, the reading will definitely start on time.
#we will proudly feature trans and intersex poets:
Dena Rod
Julian Mithra
LD Green
and
Tom Odegard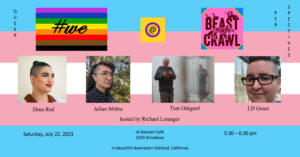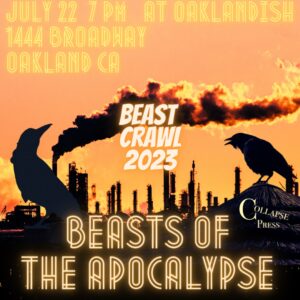 Beasts of the Apocalypse (from Collapse Press)
at
Oaklandish
1444 Broadway
(right across the darn street from Awaken Cafe)
Oakland, CA
7 – 8 pm
with
Juba Kalamka
Taneesh Kaur
Lynn Alexander
Propaganda Poet
Missy Church
and
Richard Loranger (that's me)
Booty will be kickéd.
I'll link Facebook pages and other info for these events once I have them.
And of course, there's all the rest of
.
will occur all over downtown Oakland, with three hour-long legs in many great venues.
Here's the current list of readings:
#we
1428 Poets
AfroSurreal Writers Workshop of Oakland
All Gender Reading Group
Black Freighter Press
Black Lawrence Press
Cal Poets in the Schools (Laney)
California Writer's Club (Berkeley)
Chapter 510
Collapse Press
Colossus Press
El Martillio Press
Happy Endings
Kearny Street Workshop
La Palabra Musical
Lower Grande Radio
Lyrics & Dirges
Make Gold Showcase
Milvia Street Journal
Moondrop Productions
Naked Bulb
Oakland Youth Poet Laureate (OYPL)
Oakstop
Paper Press Books
Pochino Press
Poetry Flash
SF Creative Writing Institute
Speaking Axolotl
Starting Points Open Mic
Synchronized Chaos Magazine
The Throwback
To Live and Write
Plus three open mics.
Starting at 3:30 at
Latham Square
(the triangle park at Broadway and Telegraph), there will be free paper maps 
and
nice folks to ask questions and chat wif.
Oh and BTW, there's an afterparty from 8:30 – 10:30 at
First Edition
, 1915 Broadway. Yes that's right.
Thursday, July 20, 2023
I'll be participating in a fresh edition of "Identity Crisis", revival of an Oakland tradition in which writers read each others' work. The pairings are brilliant and often challenging.
1915 Broadway
Oakland, CA
at
7:00 PM
In this travail, the following poets will be reading the poetry of two of the other poets with crisis and aplomb:
E Lynn Alexander
Paul Corman-Roberts Joel Landmine KR Morrison William Taylor Missy Church  Richard Loranger
PLUS  :::::  Gorgeous music by
TÜZ
Please be sure to welcome Lynn back to the Bay Area and especially to the East Bay, which as everyone knows is Pig Latin for Beast.
Speaking thereof, Identity Crisis is part of a week of events as a run-up to ::::::::::::: ↓↓↓
~~~
Thursday, June 8, 2023
I'm honored to be reading for
Kim Shuck
at the Main Branch of the San Francisco Public Library along with several scribblers from the
Beast Crawl
team. Yay!
Latino/Hispanic Meeting Room
in the lower level of the Main Library
100 Larkin Street
San Francisco
, 
CA
Nazelah Jamison
Richard Loranger
Ryan Nakano
and
Sprinkle Rodgers
Hosted by Kim
I promise to be colorful.
Saturday, May 20, 2023
I'll also be participating in a blow-out reading from the recent anthology
Beat Not Beat
from
Moon Tide Press
., this one at
Beyond Baroque
in SoCal. Gettin in the car with Cassandra Dallett and roadTRIPPIN. Woo-hoo!
681 N. Venice Blvd.
Venice, CA 90291
Doors at 1:30
I will now crush you with a list of performing poets:
.
Iris Berry
Elisabeth Adwin Edwards
Kevin Ridgeway
Don Kingfisher Campbell
Susan Hayden
Bill Mohr
Jerome Dunn
Luke Johnson
Kim Dower
Brendan Constantine
Richard Modiano
Nelson Gary
Michael C. Ford
K.R. Morrison
Pam Ward
Conney Williams
Steve Abee
Cassandra Dallett
Harry Northup
Nicelle Davis
Milo Martin
David Ulin
Sarah Maclay
Kathryn deLancellotti
A.K. Toney
Henry Mortensen
King Daddy
A. Razor
Matt Sedillo
Luivette Resto
Majid Naficy
Bucky Sinister
Pegarty Long
Bob Branaman
and, apparently, myself
??!
Hosted by Lead Editor Rich Ferguson and Editor-In-Chief Eric Morago of Moon Tide Press.
Each reader will perform their poem from this fabulous anthology. I was added last minute so you won't see me mentioned in promo materials, but I will read my piece as well. I promise.
This event is Free & In-Person. Masks are required.
If you can't join us in-person, you can view it livestreamed on Beyond Baroque's YouTube channel.
~~~
Saturday, April 29, 2023
on zoom
4 pm PDT / 7 pm EDT
Poets from the anthology performing their work include:
Ellyn Maybe
Paul Corman Roberts
Marc Olmsted
Suzi Kaplan Olmsted
Natasha Dennerstein
Richard Loranger
Chris Tannahill
Harry Northup
Kimi Sugioka
Kathryn De Lancelotti
Nicelle Davis
Aruni Wijesinghe
Alexis Rhone Fancher
and
S.A. Griffin
Hosted by Lead Editor Rich Ferguson and Editor-In-Chief Eric Morago of Moon Tide Press.
~~~
Saturday, April 8, 2023
at
Intersection for the Arts
1446 Market St.
San Francisco, CA
at
7 pm
live and in person!
.
Life-bringing readers include:
.
Tureeda Mikell
Youssef Alaoui
Richard Loranger
Missy Church
Andrew J. Thomas
K.R. Morrison
Kim Shuck
and
Paul Corman-Roberts
.
Hosted by Charisel Parla.
.
With live open mic to follow!
.
You can find the Facebook event page here.
.
Admission is free but it is a benefit. There will be books by each reader to purchase, with all proceeds going to funding the Beast Crawl, plus I'm sure a hat you can throw extra inta.
.
We are not foolin around.
~~~
.