I use this page to post a variety of pieces, both those just out of the sluice, and older pieces that feel fresh to me at the moment. I generally keep them up for a month, or a few at the most.
Look for new poems (and more) at the start of each month.
Ukraine Triptych   (new in June)
For a Friend   (new in February)
.
~ ~ ~
.
A recent piece for which I will give no explanation or apology.
.
id entity
You know,
there's only so much
a man can take
before things gotta change.
Things.
Man.
You.
It.
The id of it all,
inchoate it, germinal,
radiant, whence came
and how came it to be
caged
in this flesh-puddle
of a notion, this
conceit.
Don't gimme
none a that
hogwash,
I
got things to do.
Things.
I.
Me.
Caged.
There's no place like
the sty of an eye
like happenstance and
the hunt.
If yer looking
fer rhythm
you better look
hungry.
No.
You.
Like.
Look.
Like it or not
I will always evade
you, easy
as sky.
The wherewithal to continue
is troubled by
this seeming lack
of coiteration.
I.
You.
Will.
Seem.
Whoever took
the initial name
was forsaken,
doomed to braid
a horse
out of logs.
What fog we are
will be
tumbling ever
from the sea.
.
.
.
On May 22, 2022, Steven Cosgrove performed a piano recital which he dedicated "to all of the child Mozarts of Ukraine who have had to flee their homes and for their lives from the Russian invasion." I wrote the following pieces, which fit together as a triptych, while he played the pieces indicated in each section. I've pasted them in as images since this WordPress theme doesn't support tab spacing.
.
UKRAINE TRIPTYCH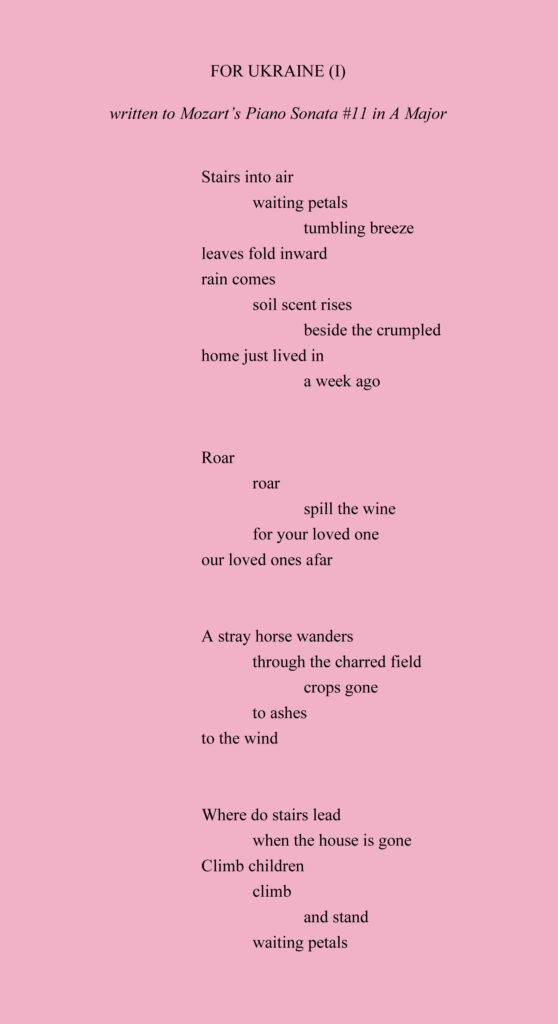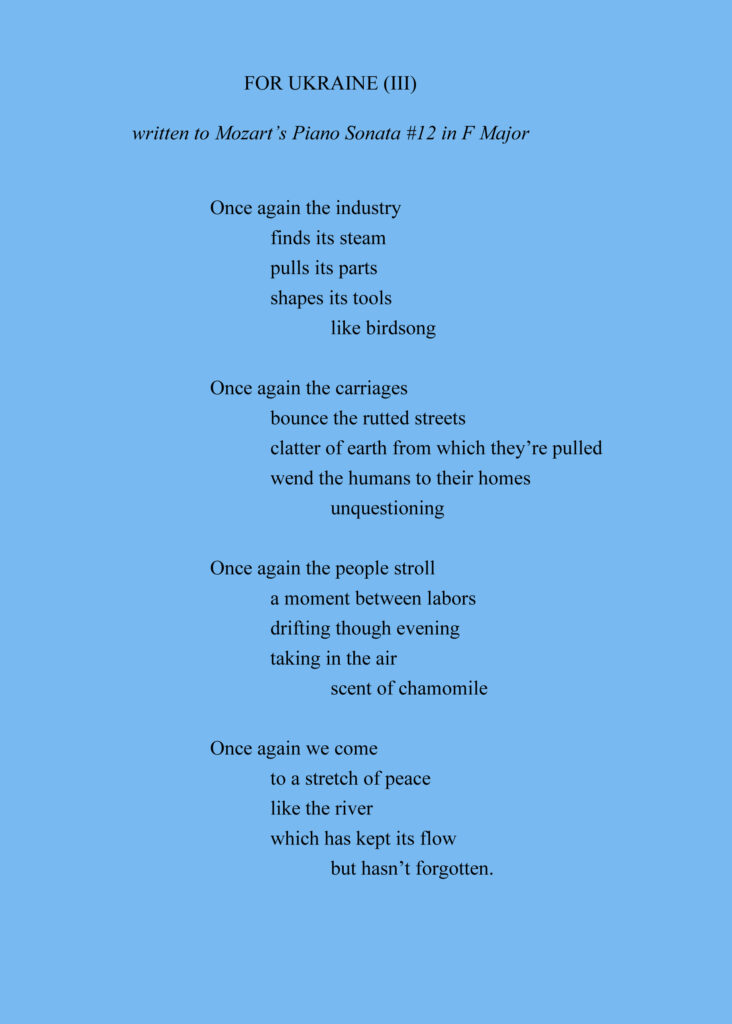 .
.
This little piece was actually a birthday greeting for a friend who's been through a lot. Was looking at it afterward and thought, ya know, that's a good sentiment for many folks. So here it is.
.
FOR A FRIEND
I wish for you a day
when you can simply wake
and walk into the world
without expecting pain
or ignorant offense
by cretins clamorous—
—all past, all past, expunged:
and there you travel on.
.
.
.
Here's a quatrain, or maybe a blues riff, with last line that's been changed several times. It fell out of my head this in November after I got my booster, so I'll blame that. Finally think this last line is kinda good, but if you think of a better one, FEEL FREE TO SUGGEST IT! If I like it, you get half-credit for the poem. Or maybe one-quarter. Okay, half.
.
WHAT I GOT
Got Johnson'd in the springtime,
Moderna'd in the fall.
Don't know what I'll get this winter
but I'll settle for a shawl.
.
.
.
.
.
.
.
.
.
.
.