I use this page to post a variety of pieces, both those just out of the sluice, and older pieces that feel fresh to me at the moment. I generally keep them up for a month, or a few at the most.
Look for new poems (and more) at the start of each month.
Ukraine Triptych (new in June)
.
~ ~ ~
.
Though I've not been posting since my old WordPress theme broke, here's a new poem anyway for November 2022. Hope to have everything back in order come the new year.
.
APOCALYPSE
The month of rotting pumpkins is upon us.
We don our jackets, lose our keys
while smoke waits at the horizon,
wanting in. How many knocks at the door do we need
before we just leave it open, asking only
to be asked? Is it too much to ask for? The engines
rev, controlled explosions exploding in the avenue
as we treat ourselves to tricks and tell ourselves
our souls are in the wings. They say the future
is in our hands but they don't say what they mean by "hands".
What hands? What year? The eventide comes in
belying the neap as dark water rises in our throat
and wind howls in the rafters, Get me! Get me!
troubling cats and the oil index. Meanwhile
stars burn or so they say and deep earth rumbles,
spewing magma and archaea as cities shine
and the axis takes another turn in the night.
Our gourds may be failing, all rue to that,
but if we step out of ourselves for a minute we might recall
without our hands the seeds will plant themselves.
Let's dance and sing, at least for tonight. It's what we do best.
.
.
.
.
I recently stumbled across this silly little piece in a notebook, which I seem to have written sometime last fall. So here ya go.
.
AMOEBA QUATRAIN
My tongue is like an amoeba.
My amoeba is like a tongue.
Oh, how they love each other
rung by ravenous rung.
.
.
.
.
Just a little wistful thing that leaked out, in the course of which I learned a couple of interesting etymologies. Turns out that "requiem", meaning of course "rest" as in "rest in peace", in Latin (and quite clearly to the eye if not the mind) means "re-quiet", which nicely suggests a sense of cycle. And "amaranth", which just came out as an image on its own, in Greek means "never fading", perfect for this piece as well.
.
REQUIEM
So frail, so frail a leaf we are
as sunlight caves to evening
and gnats descend and embers cool
for the industry we once held
strong as a towering oak, and hale
as any granite peak under snow
as if naught would ever fall, nothing fall
nor bone crumble to dust.
So full, so full our veins have been
in lavish fields of amaranth
of a May that dared to seem so fair
and never to trouble, never,
as on we rared aglare in glee
and dashed our clocks to the burgeoning ground
laughing and charging and weaving about
just on the cusp of bloom.
So rare, so rare the flesh becomes
stacked in the towers of bustle and charm
while documents pile and rockpiles slide
and no one remembers the crown
was once an achievement and once was a groom
ruddy and full-cheeked and terribly spry,
now thin as a web, thin as a web
this November afternoon.
So shorn, so shorn, the leaf cracks in two
and lets an aroma of drywood and grain
as rain falls and mud runs and all the pretty hair
seems murkily mattedly one,
and streams run together and the leaf joins the others
that once were their sisters through membrane and branch
and remain, remain a field and a barrow
for the morrow a yarrow to seed.
.
.
.
A little found poem or more accurately an overheard poem, though the phrase I overheard, which may have been repeated once, became an echo loop in my brain growing louder and louder. So maybe it's just a torture poem.
.
THE RACK
by the Nordstrom Rack
by the Nordstrom Rack
by the Nordstrom Rack
it's by the Nordstrom Rack
by the Nordstrom Rack
it's by the Nordstrom Rack
it's by the Rack
it's by the Rack
it's by the RACK
it's by the Nordstrom Rack
by the Nordstrom by the
Nordstrom Nordstrom Nordstrom
by the Rack
by the Rack
Rack Rack Rack Rack
IT'S BY THE NORDSTROM RACK
BY THE NORDSTROM RACK
BY THE NORDSTROM RACK
BY THE RACK
BY THE RACK
BY THE RACK
RACK
.
.
.
A recent piece for which I will give no explanation or apology.
.
id entity
You know,
there's only so much
a man can take
before things gotta change.
Things.
Man.
You.
It.
The id of it all,
inchoate it, germinal,
radiant, whence came
and how came it to be
caged
in this flesh-puddle
of a notion, this
conceit.
Don't gimme
none a that
hogwash,
I
got things to do.
Things.
I.
Me.
Caged.
There's no place like
the sty of an eye
like happenstance and
the hunt.
If yer looking
fer rhythm
you better look
hungry.
No.
You.
Like.
Look.
Like it or not
I will always evade
you, easy
as sky.
The wherewithal to continue
is troubled by
this seeming lack
of coiteration.
I.
You.
Will.
Seem.
Whoever took
the initial name
was forsaken,
doomed to braid
a horse
out of logs.
What fog we are
will be
tumbling ever
from the sea.
.
.
.
.
On May 22, 2022, Steven Cosgrove performed a piano recital which he dedicated "to all of the child Mozarts of Ukraine who have had to flee their homes and for their lives from the Russian invasion." I wrote the following pieces, which fit together as a triptych, while he played the pieces indicated in each section. I've pasted them in as images since this WordPress theme doesn't support tab spacing.
.
UKRAINE TRIPTYCH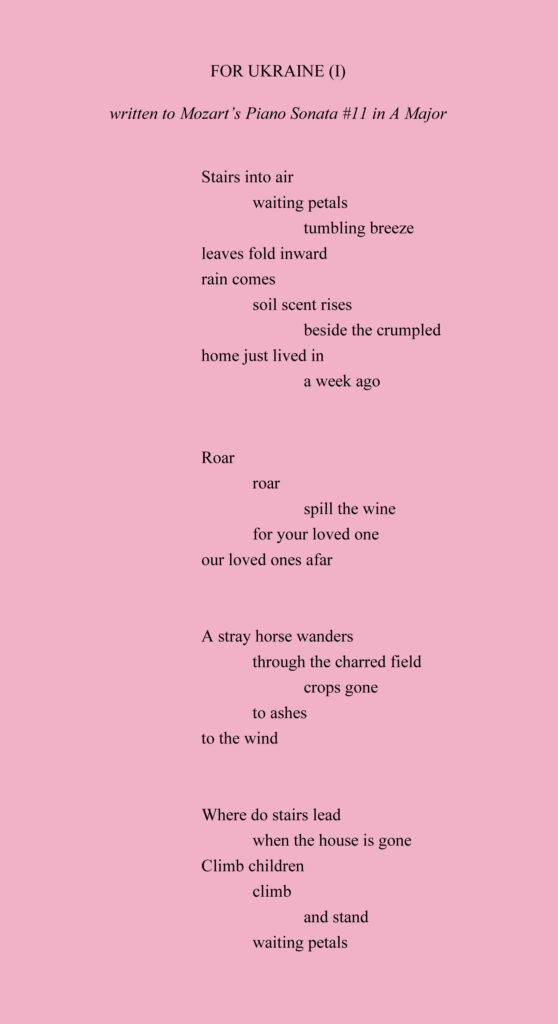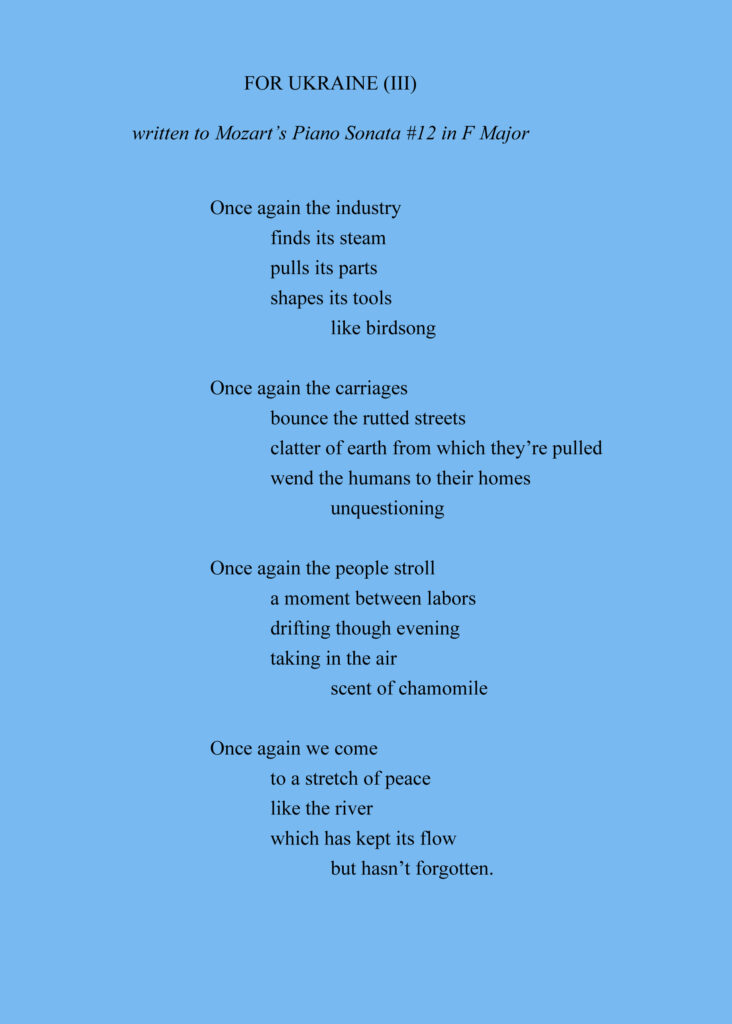 .
.
.
.
.
.