I use this page to post a variety of pieces, both those just out of the sluice, and older pieces that feel fresh to me at the moment. I generally keep them up for a month, or a few at the most.
Look for new poems (and more) at the start of each month.
Observations on Conflict Addiction   (new in October)
Haiku for Missy Church   (new in August)
Written to a Young Jazz Quintet   (new in June)
Written to a Student Tentet at California Jazz Conservatory   (new in June)
.
~ ~ ~
.
Another piece from the August On26 generative writing session. This one needed more work than "ghost", which appears below. It might, in fact, still need work, but I'm inclined to share it anyway. Some kinda grumpy sonnet or another.
.
OVERCOME
.
Can you hear me above the winds of this century
as shucks of sugar cane lash at your ears?
Can you see me through the haze of production
stamping meadows into mountains of junk?
Can you touch me through the deadening sludge
of media melding the mesmerized mind?
Can you smell my sweat through the stench of the sickbed
where civilization lies picking at sores?
Can you taste my flesh as you tenderly kiss me
amidst the bombardment of sensory scree?
Can we actualize our human potential
in this stampede of rampant humanity?
What days we have, what hours to breathe
as we tend these small flames in the wild.
.
.
This extremely strident piece is an attempt at something that's been on my mind for years – writing something more about conflict addiction, anyway. Does it work? I'm not sure yet, but I know it does something. It wormed its way out via the theme of the recent Maintenant 17, "Peacefire," though I produced a piece of text art for the issue proper and this somewhat angry poem came out months later. Consider all that a trigger warning, or at least an approaching rage warning.
.
OBSERVATIONS ON CONFLICT ADDICTION
.
1.
.
Hatfield's at it again,
stole McCoy's lunch and kicked him down the stairs.
It's a classic.
That man's got the moves, he knows the score,
top dog alpha motherfucker.
He's Number One.
Least until McCoy comes back with a gun.
He's Number One too, see,
cause somebody gotta be.
Steal that land, burn that grain,
burn that house with the kids inside
cause it just feels right,
cause it serves him right,
cause it's my turn, bitch,
straight outta Aeschylus,
straight from the catalyst,
straight from the vein.
Game on.
Players take the field
balls and clubs in hand,
pennies in the mouth,
acid in the air,
every nerve lit,
every sense charged for the win.
Whistle blows and the slaughter begins.
Hey, it's all just fun, man,
it's a pastime, a cultural thing,
it's just beat your fuckin face in, faggot.
.
2.
.
Hit that face!
Hit that face!
Hit that Matthew Shepard face!
Hit that Aaron McKinney face!
Hit that Emmet Till face!
Hit that Roy Bryant face!
Hit that George Floyd face!
Hit that Derek Chauvin face!
Hit that Ahmaud Arbery face!
Hit that Travis McMichael face!
Hit that Derek Diaz face!
Hit that Jose Velez face!
Hit that Sandra Bland face!
Hit that killer cop face!
Hit that face!
Hit that face!
Hit that White face!
Hit that Brown face!
Hit that Chinese face!
Hit that Reservation face!
Hit that Black face!
Hit that Trans face!
Hit that Proud Boy face!
Hit that Liberal face!
Hit that MAGA face!
Hit that Fascist face!
Hit that face!
Hit that face!
Hit that Russian face!
Hit that Ukrainian face!
Hit that Israeli face!
Hit that Palestinian face!
Hit that Mexican face!
Hit that German face!
Hit that Irish face!
Hit that American face!
Hit that corporate face!
Hit that homeless face!
Hit that sick old face!
Hit that smooth young face!
Hit that crying baby face!
Hit that stupid woman face!
Hit that pansy faggot face!
Hit that asshole!
Hit that face!
Hit that face!
Hit that face!
Hit it!
Hit it!
Hit it!
.
3.
.
In the halfway house for nations,
Motherland McCoy and Fatherland Hatfield
are having a one-on-one.
They've done the eye-gazing,
they've done the hand-clasping,
they've done the breathing together,
and now they are making their amends.
They are both so glad they've come this far,
fifty-three days without an incident.
Fifty-three!
But they know that's not very long,
and they know they're still on edge,
and they know it's just a start.
Still something deep in them is glad,
however steeped in trepidation,
that someone finally thought to treat conflict
as the addiction that it so clearly is.
They are glad in that soiled way
that they finally have steps to take,
just as they know they'll need to take them always,
foot after foot, mile after mile,
breath after breath, clash after clash,
and the road is rutted and full of jolts,
and the years are long and full of need
with hearts full of lead and bones full of pain,
and that wagon is so very hard to ride.
.
.
This one leaked out in August during an On26 generative writing session.
.
ghost
How can I touch you, ghost,
when you appear so briefly then are gone?
How can I let you know the tender
breath I send to you?
When you return, and you do,
a flash of sense invading all my nerves,
how can I make you stay, how can I
stop you on your quiet way?
My breath, my candid life is yours
if you so like, if you so be,
but while the hegemony of flesh resides
I do not know if you will ever see
my true expanse, the taciturn refrain
obscured by all the clamor of my veins,
my silly heart. Please come, my ghost,
upon me in my restless sleep
so you might drink the gist of my repose
and there encounter all that is not me
but that which I might be in our abide.
.
During the Identity Crisis reading in July on the patio of First Edition in Uptown Oakland, I found myself writing a haiku to haiku-maven and end-of-life doula Missy Church, author of (not surprisingly) Death Haiku from Collapse Press. To wit:
.
Haiku for Missy Church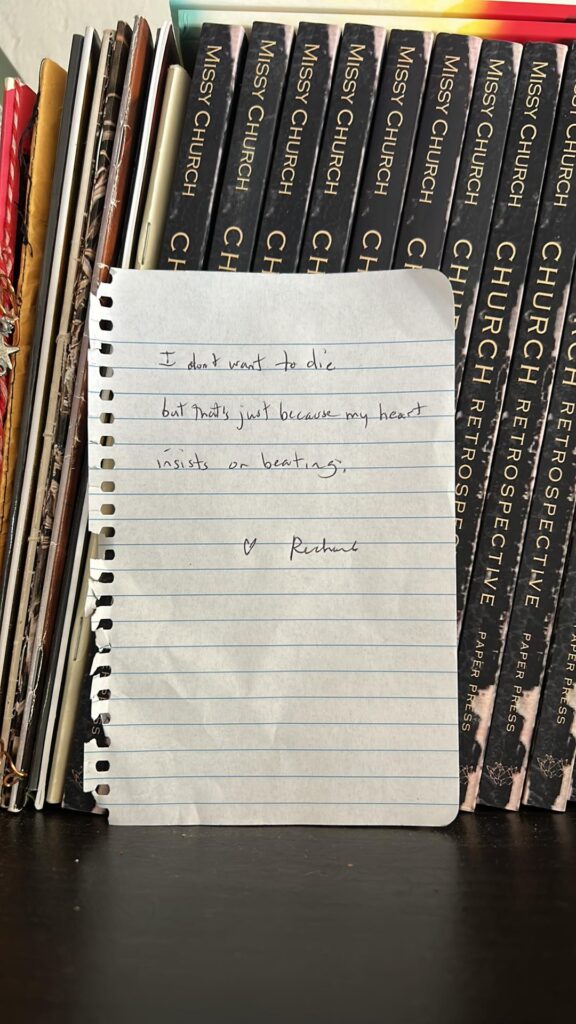 .
For June I'm offering a couple of ekphrastic pieces written while listening to live jazz at the California Jazz Conservatory.  This time the best ones were descriptive rather than abstract. Here's the first one.
.
Written to a Young Jazz Quintet, Berkeley, CA, May 13, 2023
.
the guitarist grimaces
……….mouthing words that
………………..aren't there
……….playing like an angel
the bassist lanks
……….their way across
………………..the universe
……….on a single fretboard
the drummer flails
……….and storms
………………..then glides
……….a gentle rain
the alto lives inside his sax
……….keys play his fingers
………………..and the neck   the reed
……….draw his breath
& the tenor   most still
……….mystery of blinking eyes
………………..blows an absolute
……….miracle
.
.
.
Here's another ekphrastic that leaked out of a jazz concert at the California Jazz Conservatory. Yay!
.
Written to a Student Tentet at California Jazz Conservatory,  Berkeley, CA, May 13, 2023
.
And the child pipes
into the song
because music of course
who could help?
— peep — beep —
and the child
wants to dance
squirming in dad's arms
— Let her dance!
because what else
…— peep —
…………— woooo —
…down the scales
and the child
slides with it
there go those hands
…— woooo —
into the rise
rise child rise
because music
.
.
.
.
.
.
.
.
.
.
.
.
.
.
.
.
.
.
.