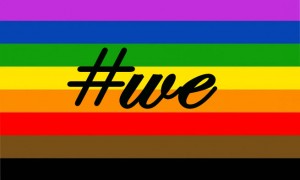 a talk and reading series of queer perspectives
On November 28, 2018, I started #we, a new bi-monthly talk and reading series of queer perspectives in Oakland, CA.
Each installment features two writers from various segments of the queer spectrum, who each give a prepared talk on their perspective on or experience of queerness, followed by a reading of their creative work. This is a long-form event, meaning that each reader is given up to half an hour to go into depth about their lives and into their writing. The presentations are followed by a Q&A and chat time.
Absolutely all are welcome to this sharing of perspectives. The venue is wheelchair accessible, and ASL translation for the deaf is available on request, with a two-week notice preferred.
#we wishes to thank The Octopus Literary Salon for graciously hosting us through our first four events. The closing of the Octopus in August 2019 is a great loss to the literary and music communities of the Bay Area. Beginning in September of 2019, #we has found a new home at Wolfman Books in downtown Oakland. Please join us there!
.
#we
a talk and reading series of queer perspectives
.
COMING UP
fifth event
in which
poet and editor Dena Rod will deliver a talk titled "Following the Breadcrumbs: Searching for Iranian Queer Culture", and read poetry based on their research sifting through academic sources, ephemera, and anonymous newsletters from the SF Public Library's James C Hormel Center
and
African American bisexual artist and activist Juba Kalamka will give a talk titled "Nguzo Sabatage: Intersecting My Margins", and read some relevant creative work.
Q&A and chat time will follow.
Hosted by Richard Loranger
free of charge, and a hat will be passed
NEW DATE:
Thursday, September 26, 2019
7 – 9 pm
NEW LOCATION:
Wolfman Books
410 – 13th Street
Oakland, CA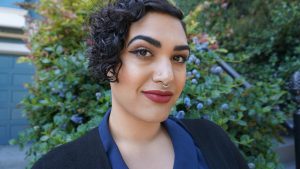 Dena Rod is the Assistant Creative Nonfiction editor for homology lit, a writer, and a poet. A graduate of San Francisco State University, they have an M.A. in English Literature. Described by the Bold Italic as a "verbose advocate," Dena works to illuminate their diasporic experiences of Iranian American heritage and queer identity, combating negative stereotypes of their intersecting identities in the mainstream media.
.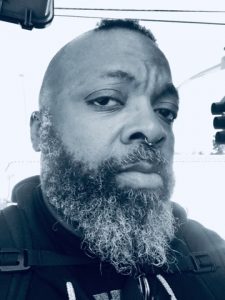 Bisexual artist/activist Juba Kalamka is most recognized for his work with performance troupes Sins Invalid and Mangos With Chili, and as cofounder of the queer hip hop group Deep Dickollective (D/DC), and produced the annual East Bay Pride sponsored PeaceOUT World Homo Hop Festival from 2002-2007. His essays and creative writing appear in numerous journals and anthologies including Working Sex:Sex Workers Write About A Changing Industry (2007), The Yale Anthology of Rap (2010) and Recognize: The Voices of Bisexual Men (2014). His first collection of poetry, Son Of Byford, will be published by Imagination Fury Arts in 2017. He lives in Oakland, with his primary partner of 13 years, their daughter, a neurotic standard poodle, and an enthusiastically territorial rescue dog. He practices polyamory both locally and globally. Buy his music (or listen for free) at http://jubakalamka.bandcamp.com/.
.
.
#we
a talk and reading series of queer perspectives
fourth event
featuring
beautifully experimental non-binary wordsmith Julian Mithra, who will deliver a talk titled "Hybrid Gender & Genre", and read selections of whatever they see fit
and
beyond fabulous poet Marvin R. Hiemstra, who will present his upcoming memoir, Raven Knows: Your Smile Is Unique, detailing his amorous evolution through much of the 20th Century both extemporaneously and through passages
Hosted by Richard Loranger
Wednesday, July 31, 2019
7 – 9 pm
free of charge, and a hat will be passed
Octopus Literary Salon
2101 Webster Street
Oakland, CA
PERFORMER BIOS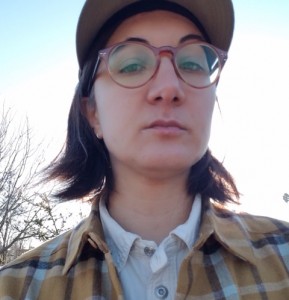 Julian née Sara Mithra writes about things that haven't happened and never could happen. If the Color Is Fugitive (Nomadic Press) was a finalist for a Lambda Literary Award in Transgender Poetry. Read more experiments in The Lifted Brow, Meow Meow Pow Pow, Birds Fall Silent in the Mechanical Sea, Storm Cellar, Name and None, and inside bags of Nomadic Coffee.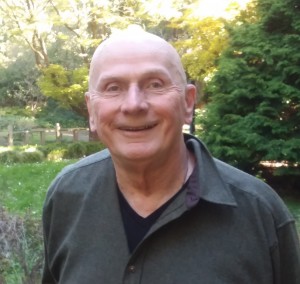 Founding Editor-in-Chief of Bay Area Poets Seasonal Review for eight years Marvin R. Hiemstra has published satires and poetic humor in North American Review, The Satirist, Amsterdam Quarterly, Caveat Lector, and elsewhere.  Dana Gioia called Marvin's performance DVD, French Kiss Destiny, "superb work."  The Tower Journal defined Poet Wrangler: Droll Poems: "Marvin R. Hiemstra, profound humor and double-entendre, offers sheer joy."  "What I hold closest to my heart is Marvin's constant reminder of the importance of human affection in this totally terrifying 21st Century!"  Shawn Pittard in The Great American Pinup.  Library Journal reported, "Whimsical poet/humorist Hiemstra is a very agreeable addition to contemporary American literature."  Leslie Hills at The Scotsman noted, "Marvin R. Hiemstra's A Turquoise Coyote Under Your Pillow is intense, refreshing theatre."   RAVEN KNOWS: YOUR SMILE IS UNIQUE   is Marvin's book of anecdotes that will appear in 2020.
.
.
#we
a talk and reading series of queer perspectives
third event
featuring
Leah Gardner, speaking on "Atypical Grit: A Poetic Exploration" and performing relevant pieces of poetry
and
Elaine C. Brown a.k.a. Poet E Spoken, giving a talk titled "A Triple Dose of Being Black, Woman, & Queer" followed by a selection of poetry
Hosted by Richard Loranger
Wednesday, May 29, 2019
7 – 9 pm
free of charge, and a hat will be passed
Octopus Literary Salon
2101 Webster Street
Oakland, CA
PERFORMER BIOS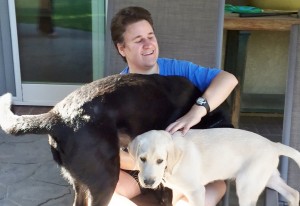 Leah Gardner grew up in New Hampshire and holds a BA in English from Trinity College of Vermont.  In her early '20s, she discovered performance poetry at open mic nights in Burlington, Vt and was a member of Vermont's poetry slam team in 2000.  She featured her work at poetry events across New England before moving to the Bay area in 2002.  She was asked to share her poetry at the annual pride celebration in San Francisco in 2002.  Work as a technology instructor and her current role as an accessibility quality assurance tester at Google diverts Gardner's focus away from poetry these days, but she is excited to share her work again.  It has been described as a blend of raw insight and cutting introspection.  Gardner struggles with depression and includes the realities of this challenge in her more recent work.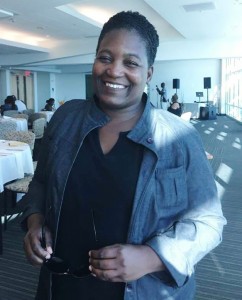 .
Elaine Brown aka Poet E Spoken is the co-host of My Word Open Mic at Cafe Leila in Berkeley. She recently released her 1st CD entitled Every Knee. Her work has appeared in Porter Gulch Review in 2016 & Poetry Express Magazine in 2018. Her first book Freckle Tongue from the series Vintage Tales is a hit with her 1st grade students. She is currently working on the biography of Sema Dudum. Poet E Spoken has featured and performed at open mics across the country combining free style poetry with history to get people to not only understand what's going on in this world, but motivate them to change mind sets!
.
 ….
#we
a new talk and reading series of queer perspectives
second event
featuring
Jan Steckel, giving a talk entitled "Bi Babes in the Woods" and reading a selection of poetry
and
Tom Odegard, speaking on "Being Intersex", followed by a selection of poetry
Hosted by Richard Loranger
Wednesday, February 27, 2019
7 – 9 pm
free of charge, and a hat will be passed
Octopus Literary Salon
2101 Webster Street
Oakland, CA
PERFORMER BIOS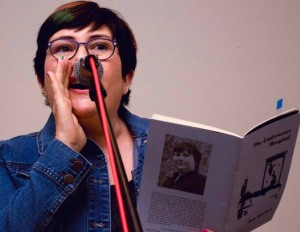 Jan Steckel is a former pediatrician who stopped practicing medicine because of chronic pain. Her latest poetry book is Like Flesh Covers Bone (Zeitgeist Press, December 2018). Her poetry book The Horizontal Poet (Zeitgeist Press, 2011) won a 2012 Lambda Literary Award for Bisexual Nonfiction. Her fiction chapbook Mixing Tracks (Gertrude Press, 2009) and poetry chapbook The Underwater Hospital (Zeitgeist Press, 2006) also won awards. Her fiction and poetry have appeared in Scholastic Magazine, Bellevue Literary Review, New Verse News, November 3 Club, Assaracus and elsewhere. Her work was nominated three times each for the Pushcart and Sundress Best of the Net anthologies, won the Goodreads Poetry Contest three times, and won various other awards. She lives in Oakland, California.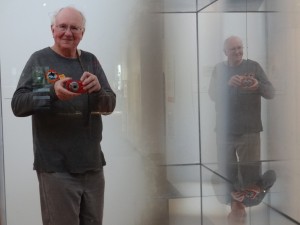 Tom Odegard is a gender-fluid empath, a non-binary two-spirit, builder, sailor, retired firefighter, jack of many trades and in order to remain sane, a poet.  He learned he was intersex (47 xxy/KS) when he was 65. It was a vindication for all the struggles he'd endured until then.  Since that time he has been an outspoken advocate for all intersex folk. He lives with his wife Connie in Oakland, CA and Friday Harbor, WA.
.
.
#we
a new talk and reading series of queer perspectives
first event
featuring
Julia Serano, giving a talk entitled "Queer Posers (or perhaps they aren't actually posers?)" and reading from a novel-in-progress
and
Richard Loranger, introducing the series and speaking on "Marginalizing Marginalization," followed by a selection of poetry
Hosted by Richard Loranger
Wednesday, November 28, 2018
7 – 9 pm
free of charge, and a hat will be passed
Octopus Literary Salon
2101 Webster Street
Oakland, CA
PERFORMER BIOS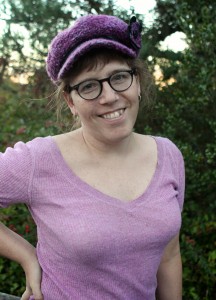 Julia Serano is an Oakland-based writer, performer, biologist, and activist. She is the author of three books, Whipping Girl: A Transsexual Woman on Sexism and the Scapegoating of Femininity (now in second edition), Excluded: Making Feminist and Queer Movements More Inclusive, and Outspoken: A Decade of Transgender Activism and Trans Feminism. Julia's other writings have appeared in over a dozen anthologies, and in news and media outlets such as TIME, The Guardian, Salon, The Daily Beast, Alternet.org, Ms., Out, and The Advocate. Her writings have been used as teaching materials in college courses across North America. You can read some of her work, as well as more about her, at www.juliaserano.com.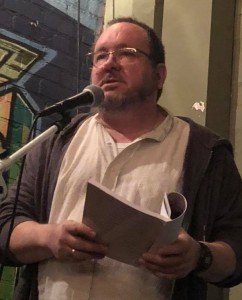 Richard Loranger is a queer writer, performer, musician, visual artist, and all-around squeaky wheel, currently residing in Oakland, CA. He is the founder of Poetea, a monthly literary conversation group. His recent book of flash prose, Sudden Windows (Zeitgeist Press, 2016), has been warmly received. He is also the author of the Poems for Teeth, The Orange Book, and nine chapbooks, and has work in over 100 magazines and journals. He co-curates the series Babar in Exile with poet Paul Corman-Roberts, and is debuting a new queer talk and reading series, #we, in November, 2018. You can find more about his work and scandals at www.richardloranger.com.