During the summer of 2019, I organized a 12-hour benefit for the Octopus Literary Salon, a thriving cafe, bookstore, and event space in Oakland, CA. The Octopus had been supporting the poetry, spoken word, and music communities of the East Bay and broader SF Bay Area for nearly five years, and were being forced out by an obscene rent hike, an all-too-common occurrence in contemporary America. Though I knew the benefit couldn't save them, I was hoping that it would help them make it for a few more months while they searched for a new location. They only lasted another month and closed for good, but the event was an extraordinary outpouring from a large swath of the community, and entirely worthwhile. In all it took three months of organizing, with help from a number of groups and people. Octopus Day attracted local print, TV, and radio media, took in just about $4000, and went off without a hitch. Here's the original web page from the event.
Octopus Day
a benefit for the Octopus Literary Salon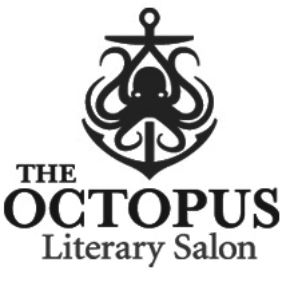 The Octopus Preservation Committee and Power Unit 17 present a day-long benefit for the Octopus Literary Salon, to be held at the Octopus itself on Sunday, July 21. This incredible venue and community space will be forced to move within the year due to an enormous rent increase, and in order to make that transition as smoothly as possible, they need some help. The Octopus has given so much to the local literary and music scenes in terms of space to perform, exposure, support, and just plain good will, and now it's time to show them some thanks.
12 hours
100 readers
12 music acts
Readers include writers from the Octopus' regular series Babar in Exile, Naked Bulb, Liberate the Caged Voices, Asian Talk Story, There, Pandemonium Press Presents, and Dirty Old Women, along with dozens of others from the community, including a multi-voice performance on trauma at 1pm by the writers of Liminal. As well there will be two open mic slots per hour, time permitting.
Each hour from 10am till 8pm we'll have ten readers, with a brief music act at the end of the hour. From 7:45 till 10pm we'll veer into the night with an all-music extravaganza, starting with short sets by Marinero and Yogurt Brain, and finishing things off with the finest 21st Century post-punk sounds of Preening and Marbled Eye.
FULL SCHEDULE BELOW
FLYER AT BOTTOM OF PAGE
Octopus Day
a benefit for the Octopus Literary Salon
Hosted by Power Unit 17 and the Bay Area Literary Community
Sunday, July 21, 2019
10 am – 10 pm
Free of charge, with an optional donation of $20 requested.
No one will be turned away for less or lack.
Octopus Literary Salon
2101 Webster Street
Oakland, CA
Save the Octopus, save the world!
OCTOPUS DAY SCHEDULE
TIME  PERFORMER                         GROUP
10:00 – 12:00    MC: Richard Loranger
10:00   Rebecca / Mike                       Octopus
10:05   Richard Loranger                    Babar in Exile
10:10   Deborah Fruchey                    Babar in Exile
10:15   Steve Arntson                         Babar in Exile
10:20   Paul Corman-Roberts             Babar in Exile
10:25   David Gollub                           Babar in Exile
10:30   Kimi Sugioka                          Babar in Exile
10:35   Kai Sugioka-Stone                 Babar in Exile
10:40   DAY-OF OPEN SLOT
10:45   DAY-OF OPEN SLOT
10:50   Utrillo Kushner / Colossal Yes    MUSIC
11:00   Jack O'Neill
11:05   Cassandra Dallett
11:10   Rebecca Grove                      Tribute to Pagan Neil
11:15   Rebecca Grove                      Tribute to Pagan Neil
11:20   Marvin R. Hiemstra
11:25   Elaine Brown aka Poet E Spoken
11:30   Carol Dorf
11:35   DAY-OF OPEN SLOT
11:40   DAY-OF OPEN SLOT
11:45   Zephir O'Meara                        Naked Bulb
11:50   Janet Noguera                         MUSIC
12:00 – 1:00      MC: Missy Church/Andrew Thomas
12:00   Andrew J. Thomas                  Naked Bulb
12:05   Andy Keating                           Naked Bulb
12:10   Ruth Crossman                       Naked Bulb
12:15   Gary Turchin                           Naked Bulb
12:20   Missy Church                          Naked Bulb
12:25   Amos White
12:30   Kelliane Parker
12:35   Tony Aldarondo
12:40   DAY-OF OPEN SLOT
12:45   DAY-OF OPEN SLOT
12:50   Eve Chosak                             MUSIC
1:00 – 2:00        MC: Gina Goldblatt
1:00     Aqueila M. Lewis-Ross
1:05     Gina Goldblatt                         Liminal (multi-voice piece)
1:10     Iris Bloomfield                         Liminal (multi-voice piece)
1:15     Brenda Usher-Carpino            Liminal (multi-voice piece)
1:20     Cassandra Rockwood-Rice    Liminal (multi-voice piece)
1:25     Nancy Loquello                       Liminal (multi-voice piece)
1:30     Bob Haus
1:35     Jan Steckel
1:40     DAY-OF OPEN SLOT
1:45     Peter Bonneau
1:50     Postcapitalism (Michael Holmes and Mike Linn)         MUSIC
2:00 – 3:00        MC: Nube Brown
2:00     Nube Brown                            Liberate the Caged Voices
2:05     Gina Seith                                 Liberate the Caged Voices
2:10     Kim Pollak                               Liberate the Caged Voices
2:15     Keith Mark Gaboury
2:20     Tongo Eisen-Martin
2:25     Justine Wang                          Asian Talk Story
2:30     DAY-OF OPEN SLOT
2:35     Vanessa Pope
2:40     DAY-OF OPEN SLOT
2:45     DAY-OF OPEN SLOT
2:50     Gren Coffee                            MUSIC
3:00 – 4:00        MC: Natasha Dennerstein
3:00     Nancy Patrice Davenport
3:05     Hilary Brown
3:10     Natasha Dennerstein
3:15     Tobey Kaplan
3:20     Kimberly Kim
3:25     G Macias Gusman
3:30     Garrett Murphy
3:35     Sandra Wassalie
3:40     DAY-OF OPEN SLOT
3:45     DAY-OF OPEN SLOT
3:50     Genesis Fermin                       MUSIC
4:00 – 5:00        MC: Doug Sovern
4:00     Doug Sovern                           There
4:05     Becca Krock                             There
4:10     Jose "Manny" Martinez           There
4:15     Sue Granzella                          There
4:20     Spencer Fleury                        There
4:25     Alexandra Naughton
4:30     Cathyann Cusimano
4:35     Maw Shein Win
4:40     DAY-OF OPEN SLOT
4:45     DAY-OF OPEN SLOT
4:50     Greg Ashley                            MUSIC
5:00 – 6:00        MC: Leila Rae
5:00     Rafael Jesús González           Pandemonium Press Presents
5:05     Sharon Coleman                     Pandemonium Press Presents
5:10     Jon Sindell                               Pandemonium Press Presents
5:15     Barry Ebner                            Pandemonium Press Presents
5:20     Lucille Lang Day                     Pandemonium Press Presents
5:25     David Zeltzer
5:30     Fred Dodsworth
5:35     Norma Smith
5:40     DAY-OF OPEN SLOT
5:45     DAY-OF OPEN SLOT
5:50     John Steven Morgan               MUSIC
6:00 – 7:00        MC: Rebecca Gomez Farrell
6:00     martin the hickel
6:05     Rebecca Gomez Farrell
6:10     Giavanna Ortiz de Candia
6:15     Laura Zink
6:20     LD Green
6:25     Elizabeth Gonzalez James
6:30     John Curl
6:35     DAY-OF OPEN SLOT
6:40     DAY-OF OPEN SLOT
6:45     Larry Beresford
6:50     Anna Hillburg & Yea Ming Chen      MUSIC
7:00 – 7:45        MC: Susan Kuchinskas
7:00     Christine Kammler                  Dirty Old Women
7:05     Susan Kuchinskas                  Dirty Old Women
7:10     Rose K. Mark                          Dirty Old Women
7:15     Christine Orr                           Dirty Old Women
7:20     Cheral Stewart                        Dirty Old Women
7:25     J deSalvo
7:30     SB Stokes
7:35     Chris Warren Smith
7:40     Indiana Pehlivanova
7:45 – 10:00   MC: Mike Linn
7:45  MARINERO
8:00  YOGURT BRAIN
8:15  PREENING
9:00  MARBLED EYE