I use this page to post a variety of pieces, both those just out of the sluice, and older pieces that feel fresh to me at the moment. I generally keep them up for a month, or a few at the most.
Look for new poems (and more) at the start of each month.
The Week I Was a Shoplifter   (new in August – up for one month only)
Ukraine Triptych   (new in June)
.
~ ~ ~
.
I've been writing a series of memory pieces about crazy and amusing stuff I got into in my 20s as a bike messenger in San Francisco. Here's my fave so far, only up through August. I swear on whatever I need to swear on that it's totally true. Enjoy.
.
THE WEEK I WAS A SHOPLIFTER
This is the story of the week I was a shoplifter. It was the second week of February, 1985, and professionally I was a bike messenger in San Francisco at the time and not a shoplifter per se. I was riding my bike down Market Street early Monday morning on my way to the Aero Delivery hub on Steuart Street, and found myself swerving onto the sidewalk at Powell and up to the giant old Woolworths store on the corner. I'd heard it was the biggest Woolworths in the world, I'd never been inside, and it was calling to me. As I was locking up my bike, I decided to go in and shoplift one item. I had no idea what that would be, I had never shoplifted before, and I had absolutely no idea where the impulse came from. I have no explanation to this day.
I strode in as if on a mission and made a beeline down a couple of aisles without even pausing or looking, and found the stairs to the basement which I didn't know they had but was apparently where I needed to be. Down I went, and without a pause dashed into the sewing aisle and stopped short. The sewing aisle. I was barely twenty-four and not much of a seamstress. But I wasn't standing there looking at thread. Directly in front of me hung an enticing row of glitter packets in various colors. Gotta love those shiny things. I grabbed a packet of the red glitter and walked right up and out of the store. No one seemed to notice me at all.
I went about my work day as usual, careening from one office to another to another, in and out of all kinds of buildings, hallways, and elevators, and everywhere I went I sprinkled a little red glitter. How pretty! As each receptionist signed for their delivery, I asked if they'd like a small pile of glitter on the front corner of their desk. Most everyone said yes. Within an hour or two I found myself taking a detour back to the Woolworths to grab the rest of the red glitter. This time when I walked in I noticed a lovely display of $1 nail polish in many delightful colors, so on my way out I bought a bottle to cover my tracks (and to add to my collection). By the end of the day all the red glitter was gone, sprinkled stealthily about the town.
The next morning I stopped by Woolworths on my way to work and lifted all the packets of gold glitter, purchasing a couple more bottles of the nail polish as I left. That day took me to some of the same buildings, elevators, hallways, and receptionists—Aero did have their regular clients—and to lots of new ones as well. My repeat glitterees were on the whole delighted. Wednesday was the green (I made sure to wear a few of the new polish colors to show the Woolworthers when I bought more), and by then I was starting to notice the glitters in places I hadn't been, even a couple of the downtown convenience stores, as well as on packages being handed to me and those carried by other messengers, on the messengers themselves, and even on a few business suits. This stuff was getting around. Thursday was Valentine's Day, and I rued my lack of foresight for having stolen all the red glitter on Monday. Purple would have to do. By Friday morning the only packs of glitter left were the multi-colored or, if you will, rainbow packets, a perfect ending for the week. I left those forlorn hooks bare when I dashed out of the place with ten different color nails, a few more bottles for my palette, and a nice cache of rainbows ready to sprinkle.
Turned out that Friday and that week ended on a particularly wild run. Late afternoon Aero sent me to pick up a heavy, fragile box from an engraver in the Tenderloin. It barely fit in my bike basket and was a rush to the Mayor's office in City Hall, maybe eight blocks or so west of there. But instead of having me hoof it to the Hall, they sent me inexplicably east, back downtown, then up past North Beach over to Levi's Plaza, way round to Ghirardelli Square by Fisherman's Wharf, and plop down at Fort Mason at the north end of town. Suffice it to say this was an hour run at top speed in a giant circle around San Francisco's northeast quadrant, leaving me to grind up and over the Van Ness hill to deliver one of the least expeditious rushes I can recall. It made no sense at all, but what does. At least the end of the ride was a long glide down.
Sweaty and bedraggled, I dashed into the Mayor's office, only to be lectured by her assistant who let me know in no uncertain terms that Mayor Diane Feinstein was late for a plane and waiting very impatiently to take this very box, which contained a commemorative plaque, to London to give directly to Queen Elizabeth II. In all the kerfuffle, I doubt anyone noticed the smears of rainbow glitter all over the package. As I left the office, I surreptitiously dumped the rest of the glitter, about half a pack in total, in a trail across the thick shag carpet, where it would be harbored and transported on the soles of outbound shoes forever hence.
This is the story of the week that I glittered the city of San Francisco and the Queen of England.
.
.
.
.
I recently stumbled across this silly little piece in a notebook, which I seem to have written sometime last fall. So here ya go.
.
AMOEBA QUATRAIN
My tongue is like an amoeba.
My amoeba is like a tongue.
Oh, how they love each other
rung by ravenous rung.
.
.
.
.
Just a little wistful thing that leaked out, in the course of which I learned a couple of interesting etymologies. Turns out that "requiem", meaning of course "rest" as in "rest in peace", in Latin (and quite clearly to the eye if not the mind) means "re-quiet", which nicely suggests a sense of cycle. And "amaranth", which just came out as an image on its own, in Greek means "never fading", perfect for this piece as well.
.
REQUIEM
So frail, so frail a leaf we are
as sunlight caves to evening
and gnats descend and embers cool
for the industry we once held
strong as a towering oak, and hale
as any granite peak under snow
as if naught would ever fall, nothing fall
nor bone crumble to dust.
So full, so full our veins have been
in lavish fields of amaranth
of a May that dared to seem so fair
and never to trouble, never,
as on we rared aglare in glee
and dashed our clocks to the burgeoning ground
laughing and charging and weaving about
just on the cusp of bloom.
So rare, so rare the flesh becomes
stacked in the towers of bustle and charm
while documents pile and rockpiles slide
and no one remembers the crown
was once an achievement and once was a groom
ruddy and full-cheeked and terribly spry,
now thin as a web, thin as a web
this November afternoon.
So shorn, so shorn, the leaf cracks in two
and lets an aroma of drywood and grain
as rain falls and mud runs and all the pretty hair
seems murkily mattedly one,
and streams run together and the leaf joins the others
that once were their sisters through membrane and branch
and remain, remain a field and a barrow
for the morrow a yarrow to seed.
.
.
.
A little found poem or more accurately an overheard poem, though the phrase I overheard, which may have been repeated once, became an echo loop in my brain growing louder and louder. So maybe it's just a torture poem.
.
THE RACK
by the Nordstrom Rack
by the Nordstrom Rack
by the Nordstrom Rack
it's by the Nordstrom Rack
by the Nordstrom Rack
it's by the Nordstrom Rack
it's by the Rack
it's by the Rack
it's by the RACK
it's by the Nordstrom Rack
by the Nordstrom by the
Nordstrom Nordstrom Nordstrom
by the Rack
by the Rack
Rack Rack Rack Rack
IT'S BY THE NORDSTROM RACK
BY THE NORDSTROM RACK
BY THE NORDSTROM RACK
BY THE RACK
BY THE RACK
BY THE RACK
RACK
.
.
.
A recent piece for which I will give no explanation or apology.
.
id entity
You know,
there's only so much
a man can take
before things gotta change.
Things.
Man.
You.
It.
The id of it all,
inchoate it, germinal,
radiant, whence came
and how came it to be
caged
in this flesh-puddle
of a notion, this
conceit.
Don't gimme
none a that
hogwash,
I
got things to do.
Things.
I.
Me.
Caged.
There's no place like
the sty of an eye
like happenstance and
the hunt.
If yer looking
fer rhythm
you better look
hungry.
No.
You.
Like.
Look.
Like it or not
I will always evade
you, easy
as sky.
The wherewithal to continue
is troubled by
this seeming lack
of coiteration.
I.
You.
Will.
Seem.
Whoever took
the initial name
was forsaken,
doomed to braid
a horse
out of logs.
What fog we are
will be
tumbling ever
from the sea.
.
.
.
.
On May 22, 2022, Steven Cosgrove performed a piano recital which he dedicated "to all of the child Mozarts of Ukraine who have had to flee their homes and for their lives from the Russian invasion." I wrote the following pieces, which fit together as a triptych, while he played the pieces indicated in each section. I've pasted them in as images since this WordPress theme doesn't support tab spacing.
.
UKRAINE TRIPTYCH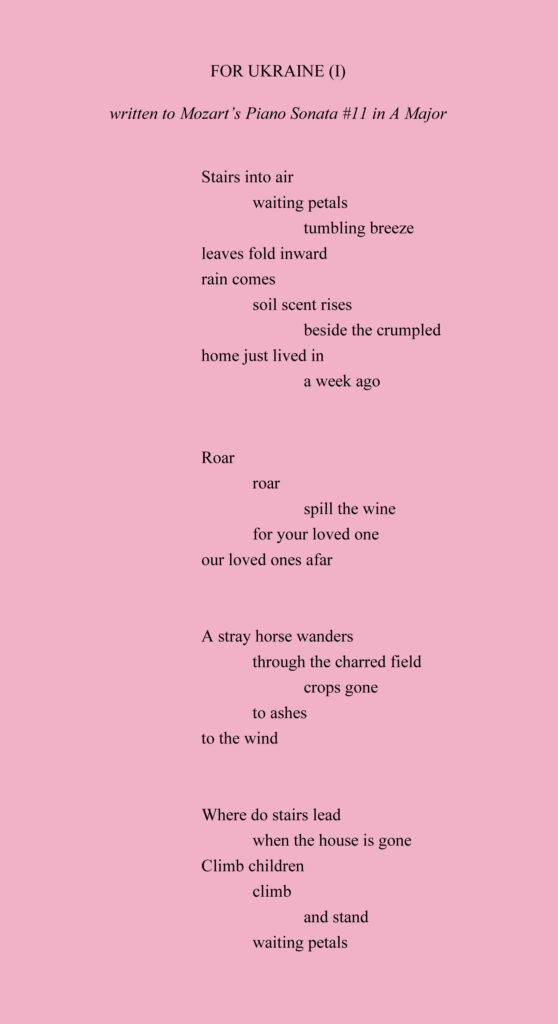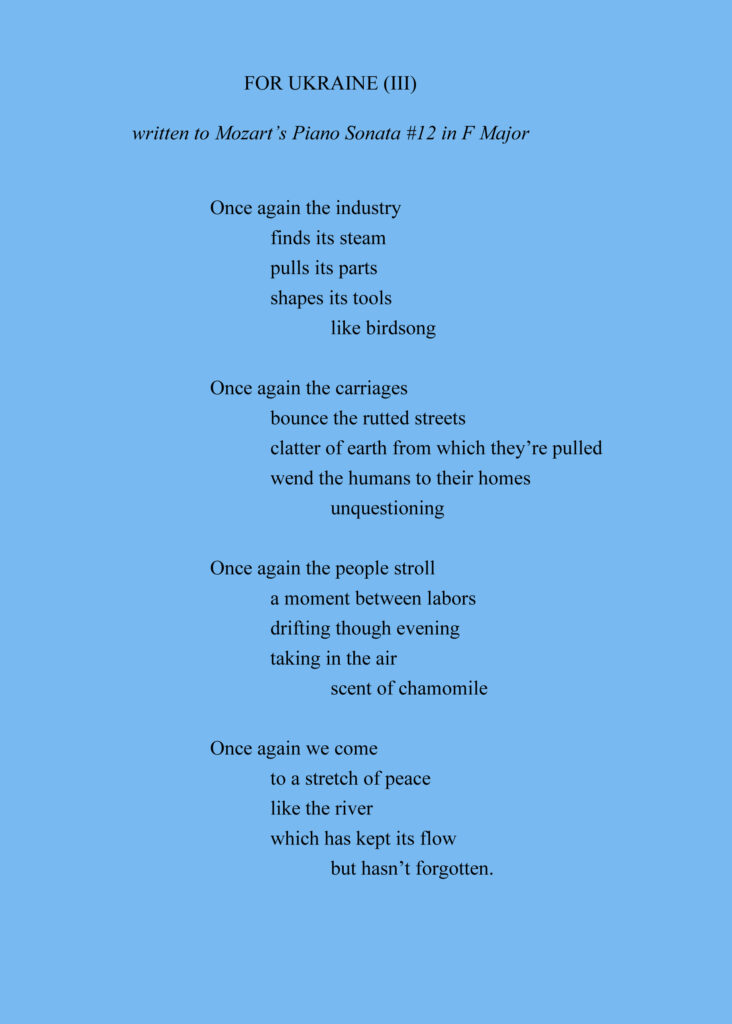 .
.
.
.
.
.