Just got back from a several week trip to South Coast UK, London, Amsterdam, Berlin, and Prague, and rather than trying to write everything up fresh and condensed, I've decided to type up excerpts from my travel journal, and print them more or less intact.  I've included them just below, with believe it or not actual pics as well.  You'll also find some info in rollovers and links to both info and more pics.  I've called this "Use Your Eyes", by the way, because that was my mantra through each new city, to keep me seeing and seeing (and not walking into things).
I've also written up a SPECIAL SECOND POST this month, with descriptions of the poetry readings that I went to while in London.  Since they're of a very specific interest, I've left them out of the general journal entries entirely, and have given them their own page.
Click here to read my Report on London Readings
Since the bulk of this post is the travel chrono, let me first make a quick
ANNOUNCE  ::  The great weather for MEDIA West Coast reading tour is taking off on Thursday, November 7 at Stories Bookstore in Los Angeles, with two readings in LA, two in the SF Bay Area, and one each in Portland and Seattle.  The prime directive: to launch gw4M's new and fabulous anthology, The Understanding between Foxes and Light.  Check out the Events page for details.  I was guest fiction editor for this one, and I'm trying hard not to be a stage mom, but I want my babies read!  So if you can't make it to any of the release readings, get thee to the internet to check out Understanding on the great weather site.
And now for something completely European.
~ ~ ~
TRAVEL DIARY EXCERPTS – OCT 2013
10/4/13 – ON A TRAIN SOUTHWEST OF LONDON
SW from London feels strangely like Connecticut – not the notorious deathknell McInterstate Connecticut, but an old, overgrown, less scarred and more adept Connecticut, almost a Connecticut that could have been without the pummeling of pygmy psychopath capital.
The next station is Woking.
And here we flow through lush, whelmed with green and joy of youth, an enthusiasm perhaps happenstance but nonetheless essential.
We pass an old steam train charging backwards.
Essential the old steel, the burnt rock, and at a guess, the lack of need for ridiculous lust, for the obscene greed that degreens Connecticut.
A beechwood verge and old stone gables.
And peaked roofs and chimneys and old hopes and dashed ways – a denser wood now drowns the homes, at least from this perspective, gone, gone – oh there again, English country houses in what might be a grove, what might be development, what might be a slum.  And who knows?
The next station is Winchester.
And in the end, countryside is countryside, but this is so goddamn green, so serious, as if this is the countryside, the original, the incipient.  Which is ludicrous, of course, as if it were, as if it were anything more than it is.  And perhaps that's the point – unlike the American agricide, vast looms of land lightly sprayed in plasticine, this seems untouched by the mad men, and I mean seems.  For when has farming NOT been badgered by the business sense.  But somehow here perhaps a little less enchained, and more ensaned.  An allowance for the world to have its due, the splendid green of weeds growing through.
~ ~ ~
10/4/13 – SWAY, HAMPSHIRE, UK
First a brilliant walk with Tom through ponies and gorse, the New Forest rather short and horse-ate but gorgeous with needles and sky.  The on to first true pub The Silver Hind, one of two in the village of Sway, and though "re-done" (says Tom), had def the feel of bluster and hallo, true-toned, true-towned time.  Talked for hours of 1000 things over boar burger and beer, had a Ringwood 49er, so smooth coulda croaked and wouldn'ta known.  Later we pick up the vivulous Vineeta at train, hour convers high spun and glee'd and I must sleep right now.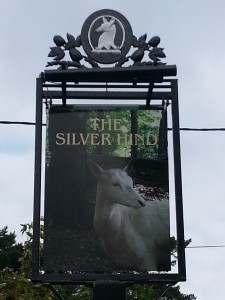 ~ ~ ~
10/5/13 – ISLE OF WIGHT
Lunch on Wight with T+V, salient ferry and good bonding, stroll through Yarmouth (f. 1135) of the hook'em shoppes and coronation chicken in a white tortilla wrap.  Can they do that?  Already have.  Odd scurry near The Needles with the saddest carousel in the world, many steps filled with Asians, a stop by the sea, and children zipped in giant plastic balls.
Tom & Vineeta Greenwood, my hosts in Sway
~ ~ ~
10/5/13 – ARNEWOOD RISE
Tom gets a call from friends E and C to come by for dinner – they're at C's dad's vacation house outside of town for just one night.  Okay.  We stop by Tesco in Lymington to grab some Gü for dessert, and after a rest and washup head on out to find a house for which we have no address.  Tom says it'll be fine; Vineeta is more skeptical.  Apparently the house has no number, and no one knows the post code.  So we head out of town to Tiptoe Road and drive up and down looking for a red Mercedes and a sign reading Arnewood Rise (whatever that means) to no avail.  Turns out that wasn't even the right road, but we redirect and finally find the place.  Seems said "vacation house" is actually an old country manor house, with a ridiculous number of rooms in several building and a vast labyrinth of gardens of various sorts.  The main house is in-between rentals and is empty of furniture, so E & C have decided to occupy it for just a night and host an impromptu dinner party.  Tom and I immediately head into the gardens, using phones as torches since it's overcast and otherwise quite dark.  We wander a while through lawns and hedges, groves, an orchard, tennis courts, lily pond, and out-of-use greenhouse, and return to find they'd figured us lost for good.  As punishment for disappearing, we're sent back out with bags to gather apples and pears.  So somehow I find myself picking apples in the dark in the middle of a vast English estate.  What?  We head back for lots of wine and tour of the empty house (a shower room for the dogs, a billiard room, a conservatory – expected the ghost of Colonel Mustard), and finally a righteous slow-cooked meal of homemade applesauce (from the apples we'd just gathered), fresh picked runner beans, and potatoes roast with three types of fresh sausages – pork and ale, venison, and a third with ingredients unknown.  After a thoroughly satisfying everything we prepare to leave, when Vineeta calls for a poetry reading, and they all clamor, and I decorate the eve with a flock of words.  Who'da thunk the day – or trip – would wend this way…and what other wends lie waiting…
~ ~ ~
10/7/13 – LONDON
I am looking right!  Oh.
~ ~ ~
10/10/13 – LONDON
Must at least briefly note the string of coincidences.  First, the two around Hemingway and Gelhorn, film that I watched just before leaving the States, about Hemingway and the Spanish Civil War.  With that fresh in mind, I go to the first reading in London, Torriano Poets, and the first guy gets up and sings "Ay Carmela!", the anthem running through the film (and the war).  Then at second reading, More Poetry with Ken Champion, a gentleman reads a piece about "Falling Soldier", the famous photo from that war by Robert Capa, which the film depicts being taken.  Too much!
Smaller coincidence or perhaps curious happenstance comes with the loss of one yellow reflector from my shoulder bag, one of five forming a pentacle or pentagon, good for spotting at night but also for id'ing the bag.  Noticed it missing the day after arriving in London – then two days after I spot it lying just outside the door of the apartment in which I was staying.  The odd thing not that I overlooked it for a couple days, but that it chose the moment I stepped over the threshold of my first London roof to drop off.  I glued it back on.
~ ~ ~
10/11/13 – LONDON
After five days working and walking, and five nights at readings (see my Report, separate from these excerpts), I manage to scurry about to a few galleries.  Had little clue where to peep, so I gathered advice on where to see fresh stuff from friend-of-friend Will Bock, an artist based in Covent Garden.  And terrif advice it was.  First ran by Dig by Daniel Silver, and in situ installation in parts of a huge, abandoned building that's been destructured down to concrete, beams, and steel rods.  Meant to resemble an archaelogical dig, it features "a constellation of figurative forms," in parts and whole, laid on sorting tables on the first level, and standing eerily in damp semi-darkness on the sub-level.  Altogether an effective and unsettling display that sent me pondering in a hundred directions.
Next off to Victoria Miro Gallery to check out Idris Kahn's Beyond the Black, a series of pieces blending tiny specific lines of text into large abstract black forms.  Hard to describe but very cool to see, so check the couple of links and photos.  There were about a dozen framed pieces, ranging several to a dozen feet per side, and one very large piece done in situ on a large wall of the upstairs room, about 20-25 feet across and 10-15 feet high.  Very cool stuff, though mostly I wanted to know what the text was from, and what the entire lines of text were.  They were obviously repeated plentifully throughout the pieces, and comprised a discrete set of lines, described by the documentation as of personal interest to the artist, so of course I wanted to know what they were.  Asked the gallery folks and they said they'd pass along the questions, but no response so far.
Finally, a jaunt over to Hayward Gallery at Southbank Centre to see a magnificent retrospective on the work of Ana Mendieta, a Cuban American artist whose work with gender, the body (and all its parts and fluids), and a merging with nature, among other foci, was seminal to the feminist and multimedia art and ideology of the 70's and 80's.  She worked in most every medium imaginable, and then some, and the retrospective (on until mid-December, btw) features a great many:  photography (both as art and documentation), video, installation, sculpture, painting, and a broad gamut of body work.  This is a stunning show, and I was so glad to check it out in person.  Sorry, no photos of this one.  Anyone with an interest in body and performative pieces, especially in their inception as a contemporary genre, who has the good fortune to be in London this month, should not miss this exhibition.  Thank you, Will.
What an art-hike, and boy am I gonna enjoy dinner tonight.
~ ~ ~
10/11/13 – later – LONDON
I'm in a Greek restaurant on Coptic St and the gorgeous piano player is staring at me as he plays – plays beautifully.  And I imagine how beautifully he might play.  I am wondering how tall he is.  I am wondering how slim or broad.  No way to tell.  But his brow is broad and gentle, his eyes dark, he lets nothing appear to the diners but looks again and again, dark eyes always directly in my eyes.  And the melody swings from wild to stark to slow and sensual – to wild.  I am wondering.  My food arrives.  Everything tastes like heaven.  I eat my chicken like a savage.
~ ~ ~
10/12/13 – LONDON
The rain stops nothing.
~ ~ ~
10/13/13 – LONDON
Like New York, like Mexico City, like Tokyo and Seoul and the other megacities, London is struggling beneath the weight of its flesh.  The city bulges, space is often tight, and people experience thousands of others in the course of their day, pass through fields of every mood and color.  Eyes are cast down, or more often averted, not so much in despondency or disregard as in incapacity, a brimming at the lids.  Anyone who's ever spent time in any of these vast humanglomerates has seen this and it is no surprise.  But unlike New York – and I can't speak to the others here – where currents flow deep with muted meaning and futility, frustration and despair, London is singing, shanties of madness and bureaucracy perhaps, canticles of anger and the wall, but also anthems, odes to lungs and hope, to panoply and gristle, to the well-rung tone.  At least that's what I've seen in this brief time.  A sense of realism and of life, no faulty fop of a dream but grit and gall and certainty that flesh moves on no matter what, despite the shovel, despite the crushing blow, despite the reign.  A sense of musk and must and the silly foibles of the public ratchet – relations – dancing like cartoons in the sky.  What London has, at a novice guess, is a true been-there, a jaunty nod to the what-the-fuck without a spangled daydream futzing the view with its mordant mist.  This may be a naive observation, or it may be the cast of a tiny glimpse, but the perseverance here seems wholehearted, and congenial, and convivial, and communal, and worth all the time it takes.  Eyes outcast just for a moment, then shifting and meeting in song.  I like this town.
~ ~ ~
10/14/13 – early hours – NORTH SEA
Overnight ferry from UK to Holland, cabin with window the size of a dream, five feet diameter if even an inch :  and a vision : late night ecstatic yes yes drifting on calm calm sea stride the heavenly portal, the huge and bright and partly clouded moon lights a stunning expanse of deep still ink.  So so silent, so real, yes.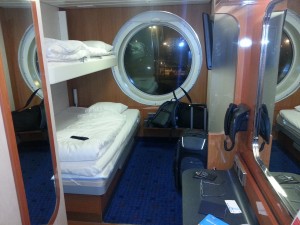 ~ ~ ~
10/15/13 – AMSTERDAM
Stunning day museuming in rain, a bit blown for tone and somehow writing about viewing van Gogh + Rembrandt + Vermeer and about a millennium of Dutch art would be akin to drooling right now, but spect it will leak out somewheretime else.  And what can I really say about sweet chaotic Amsterdam, the leaning houses, ever-turning streets that constantly change names, the pell-mell bicycles and scooters and cars and peds, all in a swarm, so common to write about briefly, and too briefly there to have a real comment, even an observation.  So instead I sit in Burgermeester having a cheeseburger on brown mit aardappel salade while a 20sumthing Dutch couple makes out furiously at the other end of the booth.  True love?  Or true burger?
Ok they're eating now, whew, and so am I, and the taste train hits again, stunning burger if almost raw, glad it's organic, and there's that Dutch mayo again in potato (aardappel) salad with, yes, apples.  Lovestorm of a mouth.
The new Rijksmuseum in rain
~ ~ ~
10/15/13 – AMSTERDAM
What do you call a place that serves coffee?
~ ~ ~
10/16/13 – ON A TRAIN IN WESTERN GERMANY
Thunk I'da get sum werk gedunkt on the lowspeed hispeed choochie-choo today, but no wi on the fi and not even feed for half the ride.
Endlich in Deutschland und nervös um der Gespräch, und meistens wünsche ich zum Hotel ankommen, um zu meine Emails antworten.  Diese Reise ist heute viel langer dann ich habe geerwartet, und ich wird müde und hungrisch.  Der erster Zug hatte kein Wifi oder Essen, und der zweiter Zug hat Essen, aber das ist viel langsam gekommen.  Endlich habe ich arbeiten versuchen gehalten (?!), und einfach erfreue ich mich an der Landschaft.  Ein gutes Idee!
Bet that's some bad(ass) Deutsch.
 Hauptbahnhof Berlin – some more badass Deutsch
~ ~ ~
10/16/13 – BERLIN
Got in too late lezte nacht to do much but settle in, work on job, nap and wash and walk out for food.  Arrived very depleted, ended up taxiing to hotel as trains were too much to figure at the moment.  Happy happy cab driver who loved to talk about the town, mostly auf Deutsch to give me practice, checking to make sure I understood, very cool…  The Hotel Am Anhalter Bahnhof has 12 foot high wooden front doors, so lovely to swing open and I forgot entirely my weariness.  (Noted today that just inside the foyer, which is mysterious and empty since Reception is on the 3rd floor, there's another wooden door perhaps 5½ feet high, and around the corner from that another closer to 4 feet.  O my Alice!)
Then off to Maximilians for the best and most surreal bratwurst kraut + mashed ever.  Had trouble finding the place, as the entrance is within a corporatish building complex/structure, basically in an enormous cubic atrium perhaps 100 feet high, featuring three sides of identical, almost featureless windows.  And there on the fourth side a biergarten, with traditional outside seating (in the atrium, surrounded by boxed shrubs), lots of jolly human noise echoing weirdly in the cube, and guys running around frantically in lederhosen, attempting to take care of the vast crowd.
~ ~ ~
10/17/13 – BERLIN
All plans were to head north today, first full day in Berlin, but soon's I left the building, recalled to check out Another Country, closest of the several English language bookstores, found it southward and swerved promptly.  So glad I did, as it seemed lodged within true Kreuzberg (hazarding the guess), and Country itself was another country, stuffed rafter-high with dogeared books, ladders, old lamps, chairs and couches, and the charming and ingenuous proprietor Sophie.  Had a long chat with her about books and writers and ex-pats and Berlin and gentrification.  Will likely drop by on Friday for dinner – she says maybe 20-30 folks come by for food and beer and hours of talk.  Sounds good to me.
I then decipher the -Bahns and head north to Prenzlauer.  Swung by Kunsthaus Tacheles, notorious enormous alt art squat as Lauren had suggested and of which I've heard the occasional tale, to find it CLOSED.  Like permanent.  One lone artist had a table of photo prints set out front, that being Karl Un_Less, who chatted quite a while about the end of the Kunsthaus, with opposite view of gentrifuck than Sophie.  (He thinks it's def happening, and fast.  Ahh, Capitalism, you cute little murderer.)  I buy a print, head off to a quick tour of some local galleries (only one good, Fresh Eggs), and land for food at Marral, at Karl's suggest, where I've just dined on spinach baked with chanterelles, ground beef, onion, red pepper, and mozzarella, and amazing tea steeped of fresh spearmint, apples, lime, cardamom, and brown sugar.  And here I am, pleased once again.
the Tacheles facade
~ ~ ~
10/18/13 – BERLIN
I keep walking in the bike path.
~ ~ ~
10/18/13 – BERLIN
Made it to the Pergamon on Museum Island, fairly jawdrop for a variety, not the least ostentation on the part of all cultures, but c'mon, The Gates of Ishtar?  Shit a brick.  And they did.
Still Life with Pergamon Altar and Confused Mammals under Cheap Lighting
Then better than better, Friday dinner at Another Country, hosted by the oddly reticent Sophie, marvelous human it seems, and cast of dozens.  Weary as getout but lingered for the convers, didn't even catch many names but Tanya from NYC, ☺ from Ohio, ☺ from Ireland, Tomas from Berlin at more length, friendly and adamant and why not, and later Orla and David who are starting the next bookstore Curious Fox Books with Sophie and invited me to read if I return.  Hray!  Must I must?  Unanswered.
 Very Not-Still Life in Another Country
~ ~ ~
10/19/13 – BERLIN
Up early and charged, did some research broke a fast then off to meet Sten with Satu and young Volo, warm struggling family.  Did the farmer's market on Chamissoplatz, Bretzel + Tee at Bretzel Bar, playground, Flöhmarkt on Bergmannstraße, playground, puppets (yay!), and talk walk talk easy and smooth and jumping around, good to see and hear and connect and praps dinner tomorrow.  But it's still tonight, isn't it, having purchased Senf für den Vati, and found a Waschsalon in an art district, somehow for tomorrow also but it's still tonight, isn't it, and here I sit again on Bergmannstraße waiting for Italian food, and so far the waiter does not know I can't speak much Deutsch, I am so clandestine and I am hoping I can keep it that way, just this once, in which case he'll be the first.
 Sten + Volo + Satu   🙂
~ ~ ~
10/19/13 – BERLIN
I take two taxis in Berlin, and get the same driver.
~ ~ ~
10/21/13 – ON A TRAIN FROM BERLIN TO PRAGUE
Have entered Czech Republic via river gorge high black cliffs sloped in autumn Farben, it's so easy to see both the Gothic and the Romantic, rock exuding age and parting.  Just landed in Decin, first town (dorf?)  (berg?) in CR and the train announces now in Czech-English-Deutsch.  I wonder if they ever have a sense of how many folks speak what in their cars.  Another announce telling us blah blah and the train is bound for Budapest, love hearing the Czech, beautiful sound with this conductor anyway kind of a nasal French-Russian love child.  All the towns and hills here gorgeous, but then again I'm travelling.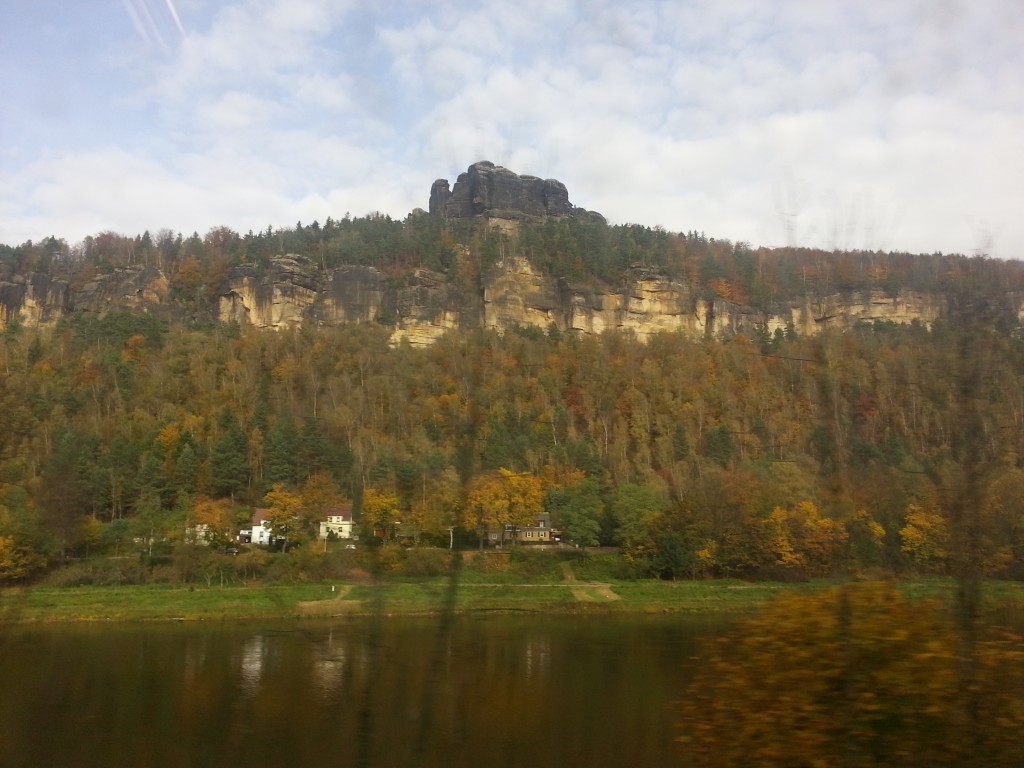 ~ ~ ~
10/22/13 – PRAGUE
Trif meet with Jiri + Milan last night, took me to crazy play Prasečina (or Prasečiny) from Marie Darrieusscq's novel Pig Tales, about a woman who slowly turns into a sow.  All in a bus full of sex and degradation and pink and synchronized underwater swimming and shameless ludicrous wrong.  The title of the piece seems to mean "state of filth" or "place for pigs (or filthy animals)", and Jiri suggests it refers specifically to sexual situations.  Curiously the title of the novel in the original French is Truismes or Truisms.  Guessing the author is Acker-like, as this piece pushed an awful lot of Ackery buttons.
~ ~ ~
10/22/13 – PRAGUE
Two words:  public pianos.
~ ~ ~
10/23/13 – PRAGUE
Spending my time in Prague both walking and healing from walking.  Good long jaunt yesterday around Old + New Town, some tourist trappings and a lot of beauty.  Strong stop at The Globe, top-notch English language bookstore and cafe, for caff and chat.  Met Michael _______ who talked of reads and series and a big ex-pat anthology The Return of the Kral Majales.
Evening just went to movies to keep the sit, Gravity amazing with Czech subs.  On the walk home approached numerous times, a couple of prostitutes in Wenceslas Square no prob with that just Ne, ne works fine but a couple insistent hustlers as well who seemed to like fucking with foreigners.  As similar on Monday night (well, once), I'm somewhat of the opinion that I like this town in the day, and less at night.  Then again I did drink that first magic draught in Namésti Miru after dark, though not after midnight as the poem suggests – don't tell anyone.
Today off to the castle for the afternoon.  Excellent tramp and old stone just like I wanted and a cathedral to die for (at least many have thought so), and stone, and stone, and stone.  Drank it.  Also sweet tram through Malá Strana, and a stop at Shakespeare a Synové to glance at the ex-pat anthology –  impressive but sadly waaaay to big to drag home (but have since found on Amazon, just one copy avail in the States!).
At peace now though, sitting in West End Cafe having calm cappuccino and Pflaumenkuchen served by sweet German guy and happy and writing and moving on.
Almost home.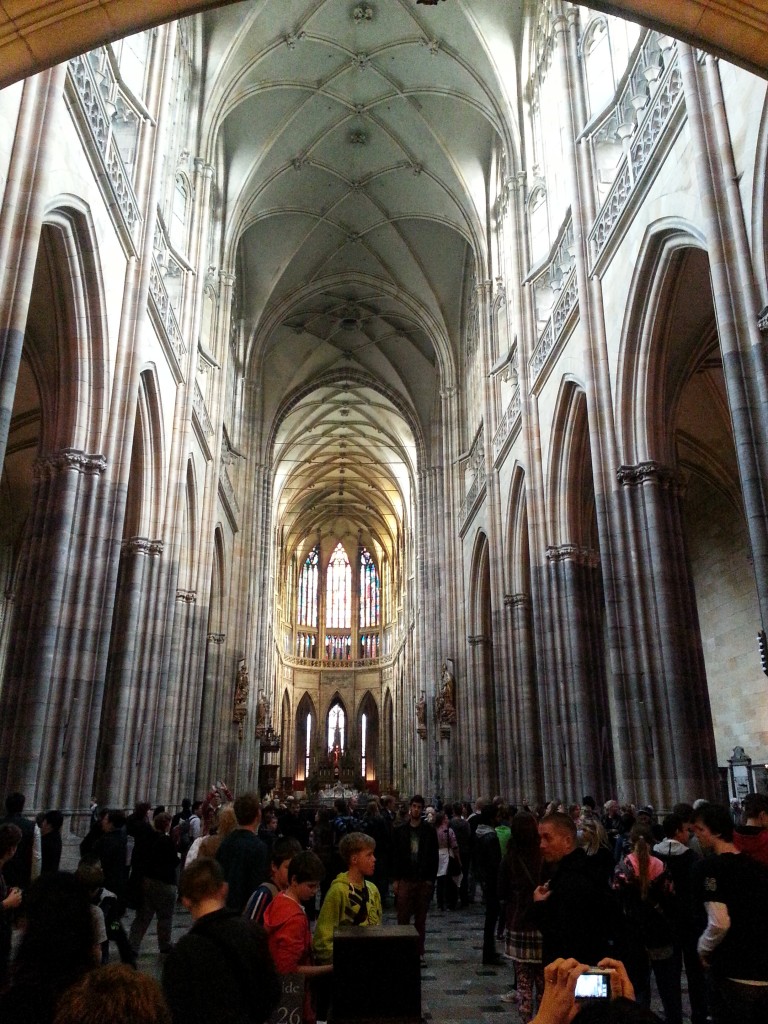 ~ ~ ~
10/24/13 – PRAGUE
Marv walk today with Jiri – met up w Milan who took us into Dancing Building for the view – he works there – ex to be in a twisted struct.  Lunch astride then walk along the Vltava (Moldau to the Deutsch), capped by a ferry ride across, and why a ferry so capping?  Was not the usual small commercial ferry but a cute little covered motorboat piloted by a very sailory young man.  Half expected Jean Genet to crawl out from under the rear seat.  Trammed and hiked a bit to Meet Factory, huge oldstyle warehouse art music studio gallery cafe club space, randomly catching the tail end of a word-art show – curious.  Not much else going on there at the moment, but apparently much often does.  Great chat about old SF days, coming up, moving about, and process of the world, with windy tram ride back to Wenceslas/Museum, and finally walk up a hill to a park with an astounding view.  All in a day's truth, then brief rest as usual and out to U Bulini for roast duck red cabbage and dumplings, first non-oversalted food and huge and hearty, and now sitting again in West End, no sweet German tonight, alas, with capp and apple strudel.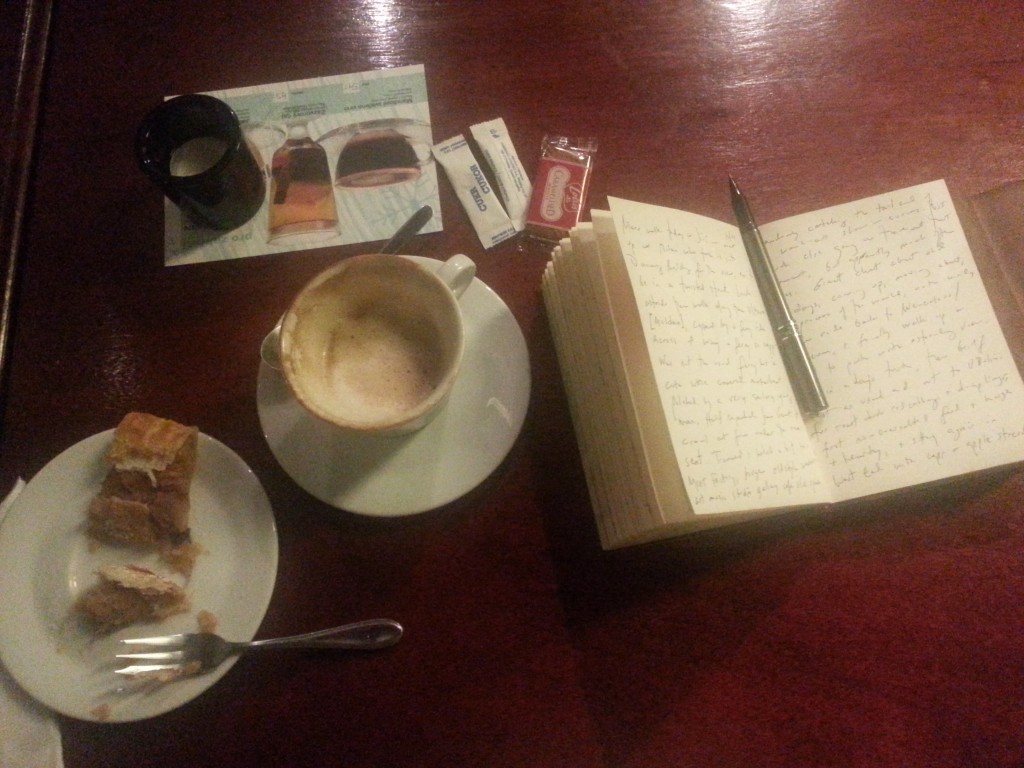 Specting a quieter day manana last of trip so think I pack and walk to Globe for coffee and writ, then to Jiri + Milan's in eve to meet Milena for goulash and beer and cake and poems.  Then the early, early, early long fly.
~ ~ ~
10/25/13 – PRAGUE
What in the whirled is exactly the question.  I sit in Eastern Europe with a salad.  How can I read this?  And how?  The leaves are fresh and very crisp, the dressing rich and savory.  Outside the grey air reigns.  Am I infringing?  Possibly colonizing?  Or merely eating?  If one can merely eat, the act itself being one of violence.  Odd thoughts perhaps on the last day of a long wander in unfamiliar lands, but at the same time not, for eating in other countries is in some way eating the country.  Scarfing.  Savoring.  If only the young recognized this, we might get along so much better.  Even for those of us without borders, out of bounds, there are the reins of language and custom.  Of seeing and ways of seeing.  Of savoring different shades.  So when we see a thing in the whirled, we might only see our thing, unless we remember that others see too.  Use your eyes.
Sitting again in Globe happy as a tack.  Caesar salad did me good.  Wondering too many things, too many things afloat.  In the whirl.  Def concerned about the late cap wreakage, the wrack.  Spewed everywhere.  McSpewed.  Cheapening so much, including meaning.  Wallowing.  Are we that insipid as a species?  That banal?  That latch-on-to-the-nearest-plastic-crap?  Shiny! and morose.  Funny as my mood is really quite alit, and why not give the splendid spree.  The float and whirl.  Enjoying the alluvium, the scree.  And the not knowing what will be.
~ ~ ~
10/31/13 – HOME
Feels nice to put a bow on things, as if a bow completes, though it does impart the sense, however false.  In return we can believe the trip is over, as if the journey is discrete from day to day.  And perhaps it is for some, or perhaps they need it be.  The myth of the holiday prevails.  But I can't imagine that, and find the joyous function of travel to be a re-minding that we travel every day, that every breath is travel, every walk outside.  Why else these bodies?  And this surge?  As my blood moves, so I move into the day, the land, the gyre.  The current's fine, boys:  let us dive when we can, and bask, and thrive.  And why not?  We move in any case.  Let us on.
In motion,
Richard