…….Cosmic kamikaze shoots the shit with a rancher, says, "How'm I gonna round up all my selves in a bucket?"
…….Rancher ponders briefly, says, "Better herd 'em tightly, send 'em heading for the sunset till the twilight hems 'em in."
……."But what about the other…" asks another self, or starts to, then disintegrates before it can complete its single thought.
……."That's a shame," says the rancher, who is more of a small enclave bounded by a bovine congress lowing nightly to its mother all the mothers it has lost. "Mother mother," moos the meat-sea as it wanders into thickets borne of light and nitrogens from which the cattle once evolved. And over many ages flocks of starlings flocks of sparrows spread the grasses to the mountains near to which our quandaried subjects are apparently engaged. And those mountains, such a presence, are crumbling very slowly, are crumbling to pebbles or are hammered into tokens into hammers into buckets.
…….Cosmic kamikaze shoots the shit with a rancher, says, "How'm I gonna round up all these gol-durn pebbles in a self?"
~ ~ ~
UPCOMING EVENTS :: On Friday, June 24, Collapse Press, who published my book Unit of Agency last October, will celebrate it's first full year of surviving the word biz with a special Friday Collapse, their excellent monthly zoom series. They plan to feature a mess a folk who've supported them and whom they've supported during this rough'n'tumble annum. I'll be one of em, and I'm betting the panoply will be magnificent. You can expect a big announcement about their next-in-line pub, E. Lynn Alexander's Find Me in the Iris (what a title!), and rumor has it a possible reveal of a just maybe first book for Han Raschka, a truly fab younger poet who's been lighting up the zoomspace these past couple of years. Keep an eye on the Collapse Press Facebook page, and on my Events Page right chere, for deets.
KIND WORDS :: Speaking of Unit of Agency, which I haven't for a minute, I was honored to have it reviewed by John Brantingham in Cultural Daily, a (daily) art and culture site (that felt redundant). Thanks, John, for your kind words! You can find the review here if you're interested. As well they posted a couple of poems from the book, in case you're craving a sample. And while I'm Agencying, though Mr. Brantingham didn't mention but others have asked: you really are supposed to decide for yourself what the book title means. Yeah, I know, that's so much work! 😛
~ ~ ~
When our bodies are afflicted by others, not by storm or blaze but by human bodies either singular or many, whether by fist and boot, stick or dagger, chains or social controls, taught thought, adamantine tradition, or the eyelid of indifference, we must shield and defend. We become bound in our skin by that which seeks to interrupt that boundary, to penetrate and maim. We become limited, often by people who fear their own limitations and imagine they can break free by oppressing others. In this way one comes to identify as this churning sack of flesh, as if safety safety safety can be achieved by repetition. We come to believe ourselves to be separate, vulnerable, and small, and gravitate toward those with whom we've grown and those who've been similarly oppressed to gain a sense of unity. All the while that feeling of separateness persists. We all know this.
When we are able to shake off those afflictions caused by others, perhaps by staunching them or as is sometimes the case by denying or annulling their agency, we tend to engage with others rather than clinging, we look outward beyond our safety group. That engagement broadens as our apprehension of others dissipates, maybe for moments, or with congenial persons or groups, or, if we're fortunate or bestowed, by people in general. Our interactions grow and become actions: we create, we form communities that bloom into culture, we innovate, we advance, we make art, and we begin to identify with more and more kinds of humans and beyond. And so our humanity prospers and matures, at least until the next wave of reptile-mind gathers and presents, we are once again afflicted by hateful children, and we retreat.
What is done to our bodies makes us singular; what we do with our lives makes us many.
~ ~ ~
RECENT EVENTS :: What? Events? Recent? Yes, I've been to a few in-the-fleshers this past month which have made me feel like a new mammal. For a minute, anyway. Got to read at the Bay Area Book Festival on May 7, outdoors on Shattuck Avenue in Berkeley and everything. Better yet, I got to read with three terrific musicians from the California Jazz Conservatory, Adam Torres on saxophone, Zach Gamble on guitar, and Luke Clingerman on bass. Had a blast and so did all. And because we can never have enough music, ever, I took in a classical piano recital by Stephen Cosgrove (aka the sublime metaphysical nature poet Steve Arntson) on May 22 at the Oddfellows Hall in Half Moon Bay. He performed a couple of sonatas by Mozart, then several pieces by Chopin, a couple of which were accompanied by members of the Susan Hayward School of Dance. Yay! What with all that's been going on in this world, spending a couple of hours with live and gorgeous piano sounds made for quite a cleansing. I wrote some ekphrastic poems to the Mozart pieces, which can be found on the Fresh Words page. Also Steve is pictured in the very act below. Finally, I was severely glad to attend the Eastbay Awlcray, more commonly known as the Beast Crawl, Oakland's own answer to the towering San Francisco Lit Crawl. This was the first in-person Beast in five hears, I was horrified to learn, and was meticulously organized by Paul Corman-Roberts and Youssef Alaoui, thank you very much good fellows. I helped out all evening at Chapter 510 & the Department of Make-Believe, Oakland's own creative space for youth writers and artists, read a couple of Julia Vinograd poems, and listened to a dozen or more local fabs with Colossus Press and the Hydra series. Go Oakland!
~ ~ ~
Aye, I eye your yous. We eye, aye, my eyes being we. We be, we are, you be, you be we, we are you. Why we, you skew? Aroo! The pack is heading for the vale. Aye! Hie thee hence, wry eye. The spy is nigh and we may ply our way to spry.
~ ~ ~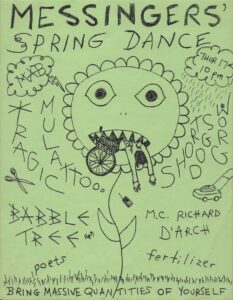 REALLY, REALLY, REALLY OLD EVENTS :: I've been doing readings and performances since the mid-1980's, more than most people who know me even know about, and I've somehow managed to keep a list of most of them (not open mics, just anything featured or non-word performance, often with groups), and amazingly I also have flyers from a great many. They've been sitting in a big old accordion file for years now, all in chrono order and everything, mostly minding their business but occasionally yelling at me to show them to somebody. And I'd like to, honestly, because they've got a lot of great art and history in them. It's a healthy collection. So last October I spent a couple of weeks beginning to organize and scan them, and I made it all the way from 1984 till 1987 before I got busy putting out a book and surviving and shit. Started up again last month and I'll very soon be through 1989 after weeks of scanning and writing descriptions. This is going to take a while. 😀 But I'd love to share them with anyone who's interested, so I've been posting them (for lack of a better place and time to set one up) in an album on my Facebook page called Reading and Performance Flyers, which can be found HERE (and by clicking on the album name). Hope you enjoy! Above are a few of my faves so far, from 86-87. I made the green and orange flyers. Can you find me in the hidden picture?
~ ~ ~
The blade slices. The blade repairs. It opens a path long barred, piles brambles barring others. It sears. It chills. The blade unites multitudes, bastions an essential bond, fortifies place and pride, cheers, smites the oppression, veers the course of history. The blade oppresses. Which edge hovers near? O Beauty! The blade delivers! The blade is true. The blade draws plans in the night, slips off to murder, ponders the difference. The blade zigs and zags. The blade proposes. The blade claims fealty, dulls, can be remade. Can remake. Its shape is pure in the mind, less so to the focused eye. Forged in the nerves of humans set aflame, sharpened on stones of necessity, in equal parts health and corruption, impossible, anathema, enthralling, the blade becomes you as it is endowed with being. Tangible or not, it gives strength. It manifests. O reified! The blade of making! How it shines. How it marks the land. How it slices. How it signifies. Embrace the blade and it is gone.