I'm foregoing my usual spiel this month to remember a vociferous and splendid poet and friend who passed away a couple weeks ago. That would be
Joie Cook
Nov. 4, 1951 ~ Feb. 24, 2013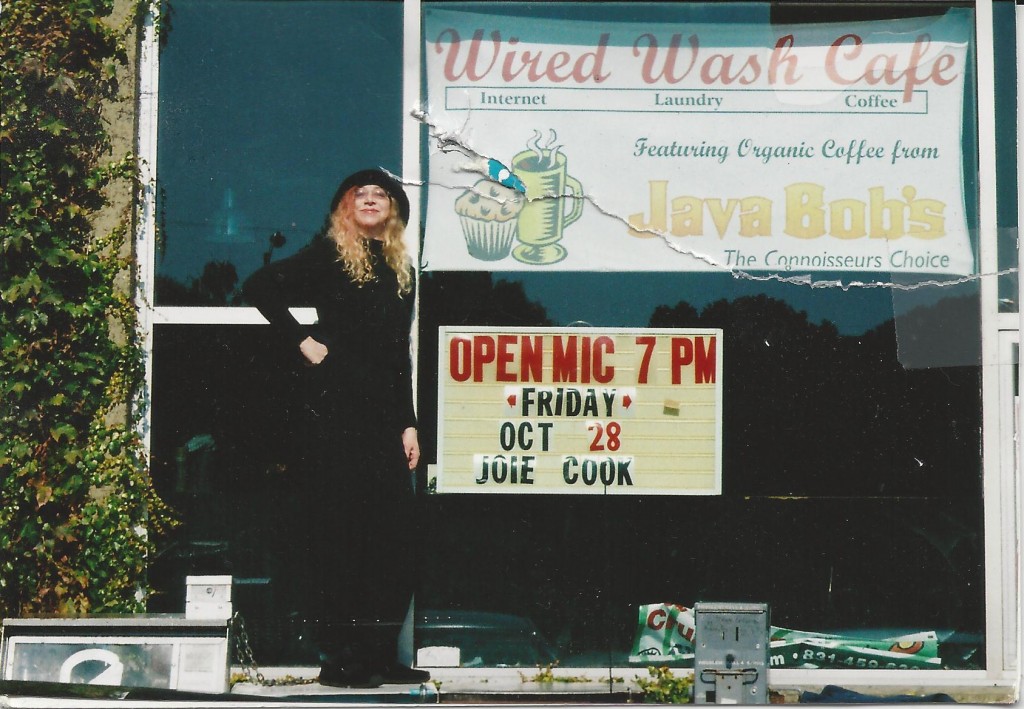 Joie lit up the streets and clubs and poetry venues of San Francisco for most of the last three decades, rocking rooms and roofs and alleyways with her non-nonsense verbiage. Performance poet to the core, Joie came up as a guitarist and singer, from jazz to the hardest of rock, and was also known for her lyrical and playful abstract and semi-figurative paintings, often displayed in the North Beach gallery scene. She was also a prolific correspondent, and many of her friends have collections of hand-painted cards (really mini-paintings) that she sent out frequently. I've included a self-portrait from one of those below. But she was mostly known for her ass-kicking readings, grown sadly scarce over the last few years as she battled a slew of illnesses, that turned venues upside-down and were in many ways the beating heart of San Francisco truth revealed. Click here to watch an awesome capture of Joie seething words at The Knockout in 2010.
Joie was one of the first poets (and humans) that I met after first moving the the Bay Area, at the Old Spaghetti Factory readings in North Beach in 1983. Our paths crossed frequently and giddily through that decade in cafes, clubs, parties, and reading venues citywide, including the Chelsea Square Cafe and Open Air readings (literally on Polk Street), the Meat Factory series in Noe Valley (which Joie co-curated with poet Laura Conway), Cafe Babar, and beyond. But we really connected after I moved back to SF in 2007 after a 14-year absence, and spent many hours in conversation, lamentation, poetry-sharing, word-playing, and just plain ranting. The time I spent with both Joie and her stalwart husband Dave Picariello, sweetness personified, made me feel more connected with my SF roots than probably anything else since my return. Many folks remember Joie for her hard nosed, straight up, no-BS performances, her wild antics, her outspoken tenor, but I will always remember her welcoming heart and open arms, and those many recent visits, where weary and washed up on the shore of Cookville, I would find her bounding to the door like a child on Christmas, exclaiming with glee, "Oh my god you're here!" That to me is the flipside of Joie Cook that should never be forgotten.
Here are a few of her poems that have always struck me through.
YOU ARE WE WERE
You are
We were
A beautiful equation
Equal to the blooming crocuses Of my childhood walks Along the parkway   And we are Can be A new incarnation   As time swallows love And love swallows time   Outside the fishbowl Of still life poses A tainted photograph collects dust (an older rendition of our lost portraiture)   Where together You are We were At least anything that Screams as silently as possible:   "My name is forever, please remember me"     * * *     THE LEAVING PAIN     I recognized the fog or maybe it was smog Twelve miles out of Santa Ana Heading south from an otherwise decent climate But the dust in the 2 a.m. air Rose from the side vents Of the U-Haul truck Causing me to choke and spit And pull over To a liquor store   It was just industrial waste My daughter said So we drove Until the surf Held tight the belly of foam Crashing with Pacific thrust   I left behind the memories Put them on pause for an hour or two Threw pennies into the ocean For sacrificial good luck In this new turf   Next day it rained violently Like a cock fight in Maryland My voice came back There were planes overhead Reminders of motion And miles I had driven That landed us here   I sat at the ocean Then back at my barren house Where the only objects were the books on the floor I will read 'til I vomit I promised myself Or until the dead surfers Have swallowed the sea.     * * *     SHE IS FIGHTING LOVE     Like a dangerous promotion in a job she hates Which would lock her into Routine and ennui   Pushing her into an oblivious race For time and tranquility   She is fighting love because it owns her now, Penetrates each particle of bone marrow And tissues her in, With its indulgence and fortitude   She is fighting love However deep or done An entity in which she reluctantly swims Diving endlessly into the foam
"You Are We Were" and "The Leaving Pain" are from Joie's book Habitat: Selected Poems 1981 – 2006, which is published by Beatitude Press, and can be purchased here through Zeitgeist Books. "She Is Fighting Love" is from her last chapbook Take Ten, self-published in 2012 with art by James Redo.
You can find a lovely tribute page on sfheart.com, which includes a couple poems and photos and links to more. And I'm told that Zeitgeist Books is compiling a collection of Joie's many chapbooks, and possibly a full collected works. Keep an eye open for that!
Finally, I've included a memorial poem that I recently wrote for Joie, along with two of our collaborations, on my Fresh Words page.
Wishing good life to all,
Richard