Dear Whomever Gives a Shit,
For some time now we've been hearing about the dangers of AI. Seems like every few days there's yet another disquieting article, soundbite, vid reel, hearing, blog post, or proclamation about impending doom. Whether it's the hazards of future generations of illiterates who've used AI to write, well, everything their entire lives, to a good old Terminator-themed automated nuclear apocalypse, a clamorous chorus seems to spout dirges from every bloc and soapbox. Perhaps the most jaw-dropping (and jaw-droppingly tone-deaf) quote I've come across was in Insider's article "These are the 3 biggest fears about AI — and here's how worried you should be about them" by Beatrice Nolan on July 8:
There's a growing consensus that AI is a threat to some jobs.
Abhishek Gupta, founder of the Montreal AI Ethics Institute, said the prospect of AI-induced job losses was the most "realistic, immediate, and perhaps pressing" existential threat.
"We need to look at the lack of purpose that people would feel at the loss of jobs en masse," he told Insider. "The existential part of it is what are people going to do and where are they going get their purpose from?"
"That is not to say that work is everything, but it is quite a bit of our lives," he added.
https://www.businessinsider.com/ai-biggest-fears-risk-threat-chatgpt-openai-google-2023-6
Wow. Y'all should feel free to write Mr. Gupta to inform him that most people on the planet don't have jobs to give their lives a sense of "purpose". Even some of the asshats who've helped give birth to AI have been known to chime in, just as they continue to hone and expand and insinuate it into as many parts of our lives as they can. Looks like hubris really will be the death of us all. Oh, the coming darkness! we chant with an almost gloating prurience over our self-destruction. It is really there, you know, that AI doom-cloud hovering on the horizon, and do you know what it is? A smokescreen, a dense fog of bullshit to distract us from what's happening here and now.
Wanting to shore up funding for a reading tour that I'll be doing on the East Coast this October, I started this year with a concerted effort to stir up as much freelance naming work as I could, which is my primary source of income. Usually the process works pretty well when I can muster the motivation to put in the legwork (er, fingerwork). This year, though, it seemed to fall flat; in fact I was getting significantly less work than usual. Sometime in the spring I got a note from my friend Mark who got me into the biz sixteen years ago. He'd discovered that many of his clients were using AI for their new product naming. To date, more than halfway through the year, both of us have had about half of our usual income, which is untenable for, say, staying afloat in a capsizing Late Capitalist America. Turns out that's the case with a lot of the freelance namers and marketing writers, among many others. Never mind the fact that AI is terrible at concocting incisive new names and directions for naming, since it can only extrapolate from names that already exist. But it's cheap, and that's all they care about. Maybe they'll have a change of heart in a year or two when literally every new product is named either IntelliSmart or Dust Wizard. But for now, that leaves us in the refuse pile.
And it's not just the freelance product-scribblers that are feeling the burn. I'm seeing more and more articles about freelancers and entry-levelers getting pooch-screwed in all kinds of industries. Here's a sampling.
The article "ChatGPT took their jobs. Now they walk dogs and fix air conditioners." (June 2, Washington Post) relates the stories of a staff writer at a tech company and a freelance content provider who've lost all their income this spring, with a lot of detail, background, and commentary. Amidst this the authors Pranshu Verma and Gerrit De Vynck note,
Some economists predict artificial intelligence technology like ChatGPT could replace hundreds of millions of jobs, in a cataclysmic reorganization of the workforce mirroring the industrial revolution.
For some workers, this impact is already here. Those who write marketing and social media content are in the first wave of people being replaced with tools such as chatbots, which are seemingly able to produce plausible alternatives to their work.
Experts say that even advanced AI doesn't match the writing skills of a human: It lacks personal voice and style, and it often churns out wrong, nonsensical or biased answers. But for many companies, the cost-cutting is worth a drop in quality.
https://www.washingtonpost.com/technology/2023/06/02/ai-taking-jobs/
See, I ain't makin' this shit up.
In an article from The Guardian on March 18, "'ChatGPT said I did not exist': how artists and writers are fighting back against AI," Vanessa Thorpe made note of the early onslaught against visual artists and designers, among others.
Analysis of the burgeoning problem in February found that the work of designers and illustrators is most vulnerable. Software programs such as Midjourney, Stable Diffusion and DALL.E 2 are creating images in seconds, all culled from a databank of styles and colour palettes. One platform, ArtStation, was reportedly so overwhelmed by anti-AI memes that it requested the labelling of AI artwork.
https://www.theguardian.com/technology/2023/mar/18/chatgpt-said-i-did-not-exist-how-artists-and-writers-are-fighting-back-against-ai
It goes on to address the broader range of creatives that are being affected, and their varied and vehement responses.
The game development industry is getting hit as well. In a recent article in The Gamer, "AI Will Be Gaming's Downfall" (June 4), Jade King notes that AI is "already being implemented at companies like Ubisoft and Blizzard to help out with the writing of dialogue and production of concept art to help generate project ideas that will one day be taken over by humans." Another concern mentioned here, and the focus of another article, is that voice actors "are fighting to have renewed terms written into contracts to prevent their performances being reused in cases far beyond their control, all because corporations know they can hold us hostage to cut monetary corners." You can read a lot more at https://www.thegamer.com/ai-will-be-gamings-downfall/ and https://www.eurogamer.net/solid-snake-and-commander-shepard-stars-discuss-threat-of-ai-on-voice-acting.
Literary journals and especially genre magazines for sci-fi, fantasy, and horror writing (which pay for publication) have been inundated this year by AI submissions (of terrible, often unreadable work), so much so that many are having trouble sorting through the sheer volume to find legitimate submissions. Most now contain notices on the submission pages that they'll ban anyone who sends an AI submission, but gee, doesn't AI also craft email addresses, pen names, and identities in general? Many are throwing up their hands in frustration and some have simply shut down. Neil Clarke, editor of Clarkesworld sci-fi magazine among others, posted a piece on February 15 titled "A Concerning Trend" outlining the sheer volume that the genre zines have been drowning in, and it's only gotten worse since. He notes,
It's clear that business as usual won't be sustainable and I worry that this path will lead to an increased number of barriers for new and international authors. Short fiction needs these people.
It's not just going to go away on its own and I don't have a solution. I'm tinkering with some, but this isn't a game of whack-a-mole that anyone can "win." The best we can hope for is to bail enough water to stay afloat. (Like we needed one more thing to bail.)
If the field can't find a way to address this situation, things will begin to break.
http://neil-clarke.com/a-concerning-trend/
Not surprisingly, creatives with more stakes in the game are also getting involved. It's not insignificant that the current strike of the Writers Guild in the film industry has a "no-AI" contract stipulation as one of their central points. And it's become one of the biggest sticking points as well. The Hollywood Reporter recently ran a story on June 29 about a just-filed class action suit, transparently titled, "Authors Sue OpenAI Claiming Mass Copyright Infringement of Hundreds of Thousands of Novels" (https://www.hollywoodreporter.com/business/business-news/authors-sue-openai-novels-1235526462/), and The Guardian just ran this one on July 5 about two specific authors doing the same thing: "Authors file a lawsuit against OpenAI for unlawfully 'ingesting' their books" (https://www.theguardian.com/books/2023/jul/05/authors-file-a-lawsuit-against-openai-for-unlawfully-ingesting-their-books).
So the battle begins.
With the exception of the bigger authors and maybe the Writers Guild folks, do you know what most of the creatives mentioned above have in common, myself included? We have no safety net.  Freelancers are notorious for living month to month, or at best year to year. We don't have pensions or retirement funds (or often much in the way of savings, for that matter); we pay for our own healthcare (and it ain't a pittance), not to mention all of our work supplies, electronics, and work spaces; we get gouged yearly by taxes that the bigger corporations manage to blithely sidestep; and we are ineligible for unemployment benefits. When we say we can't afford to lose work, we're not being dramatic or hyperbolic; when we have less work, eventually we have less food on the table. And there are a lot of us. Consulting has become a common fallback in America during periods of corporate layoffs. In the aftermath of the man-made economic clusterfuck of 2009, freelance numbers jumped significantly. And they've gone anywhere but down. During COVID each state opened up a version of Pandemic Unemployment Assistance (PUA) for those of us who had no access to the regular dole. In California alone there were millions eventually enrolled in PUA. Despite an extremely sketchy start and severely strained and outdated software, hardware, and bureaucracy, once you were securely registered and in the system, you basically could receive benefits for any week in which you weren't banking income. It wasn't a lot, and there were a lot of glitches, but it gave us enough breathing room to keep somewhat afloat. But if something isn't done very soon about this new threat to our livelihood, we're likely to be left in the dust for good. I've got my tent already packed. Somehow I can't imagine our democratically elected representatives doing anything to restrain the AI takeover, or even if they do, not within, say, 3500 years. One thing they could do though, for a start, would be to reinstate the PUA indefinitely nation-wide. It may not save our asses, but it might help us through what seems like an inevitable transition. To some of us, AI isn't some vague looming threat and that "cataclysmic reorganization of the workforce," as noted in WaPo, seems like a bit late of a prediction, because freelancers, contractors, and lower-tier creatives are losing work, a lot of work, RIGHT FRICKIN' NOW.
~ ~ ~
Enough bitching, it's time for
.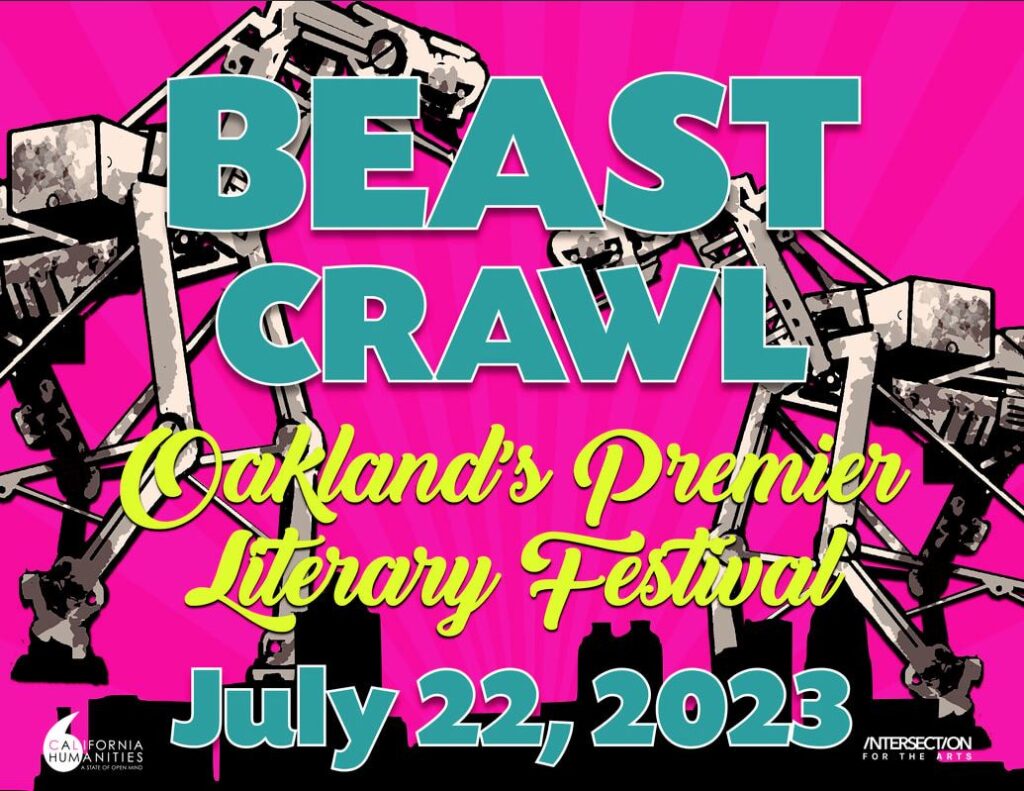 .
That's right—the East Bay's biggest annual literary event is back in FULL FORCE. All festival deets at the link above. I'll be hosting #we at 5:30 (sharp) at Awaken Cafe, then reading with Collapse Press mutants across the street at Oaklandish for Beasts of the Apocalypse at 7 (even sharper). To wit:
.
.
.
.
.
.
.
.
.
Full deets for each on the Events page.
It doesn't matter if you want to be there. You have to.
Sincerely,
Richard
.