So Rich Ferguson says, "Why don't you come down to L.A. for our big blowout reading for the anthology, lots of folks will be reading their piece from the book," and I say, "Oh, um, mebbe." It seems so daunting post-pandemic: how to get myself half the length of California on two weeks' notice. The flights that used to be $75 a pop are now a cool $300 round trip, not to mention all the strip searches and degradations and incarcerations along the way, plus renting a car and where to stay and I'm still stuck at daunting. Then I notice that Cassandra Dallett is also on the bill and she is wonderful and lives nearby, so I call her up and say, "Hey, are you going to L.A. to read on the 20th?" and she says, "I haven't figured out how to get there, I'm short on cash and it just feels so daunting right now." So I smile and say, "Maybe we should drive down together. Let me see if I can find us a place to stay." Then I call my friend Graham Green who has an Airbnb down there and ask if there's any chance his bungalow is available that weekend and he says, "Funny you should ask, we kept it open in case friends want to come see the Dead shows," and I say, "Well I'm coming but not for the Dead shows," and he says, "Great!" Then I call Cassandra back and say, "Roadtrip!" and she says, "Yay!" Cassandra and I love to drive and love to talk and we each know all the most important things and went to different punk shows and poetry readings and bad acid trips together, so we are set. Then Cassandra's step-dad dies and she has to go to Vermont and the trip is off.
So I mope around a couple of days cause I really wanted to go, and I am sorry for Cassandra and her family, her step-dad was a good guy and her mom is having a hard time, so I really do feel bad but I also really wanted to go even if it was just to read one poem. Then I wake up that Monday and say to myself, What the fuck is wrong with you, you used to roadtrip by yourself all over the country, hell you even hitchhiked across it a few times and now you're too big a scaredy little pu pu to get in your car and drive for six hours? And I say right back, Good point, and that's what I do, I pack up my shit and get in my car and start driving.
I tear down I-5 through California's Central Valley and it is absolute dharma—I had no idea how badly I needed this. The endless straight drive that I often think of as hypnosis in ochre is GONE. After our recent rainy rainy season it is full of life, sensual and shimmering. Yes, I know this region has been stricken by drought then massive floods and everything is not hunky-dory, but I've caught it at just the right slice of time. The superbloom is lingering in the hills here and there, beaming shades of green and gold, the planted fields are happy as fuck and the fallow ones are rich and contemplative and the miles and miles of fruit trees are practically singing. I am on the road again, if only for a moment, with all its specific gifts: past and future dancing, breath of the earth turning, shifting light, shifting mind, and all the world opening around me. Why has it been so long since I've done this? It feels like part of my body has been missing and is back in splendor. I begin to levitate.
~ ~ ~
UPCOMING EVENTS  ::  I have one fun reading right soon with Beast Crawl coming down the pike.  ::  Thursday, June 8, reading for the fab Kim Shuck along with Nazelah Jamison, Ryan Nakano, and Sprinkle Rodgers of the Beast Crawl team at the San Francisco Main Library in the lower level Latino/Hispanic Meeting Room. First time reading in that room and I'm excited! I plan to do some Shoplifting while I'm there. ::  Just an early heads up that on Thursday, July 20 I'll take part in a fresh and long-awaited edition of Identity Crisis, in which writers are coerced into reading each other's work and do it justice. Scary! Actually they're a lot of fun and I don't know any more about it yet except that it's part of a lead up to  ::  BEAST CRAWL, which will be happening like mad all over downtown Oakland on Saturday, July 22.  ::  Deets for sure on the Fresh Words page.
~ ~ ~
.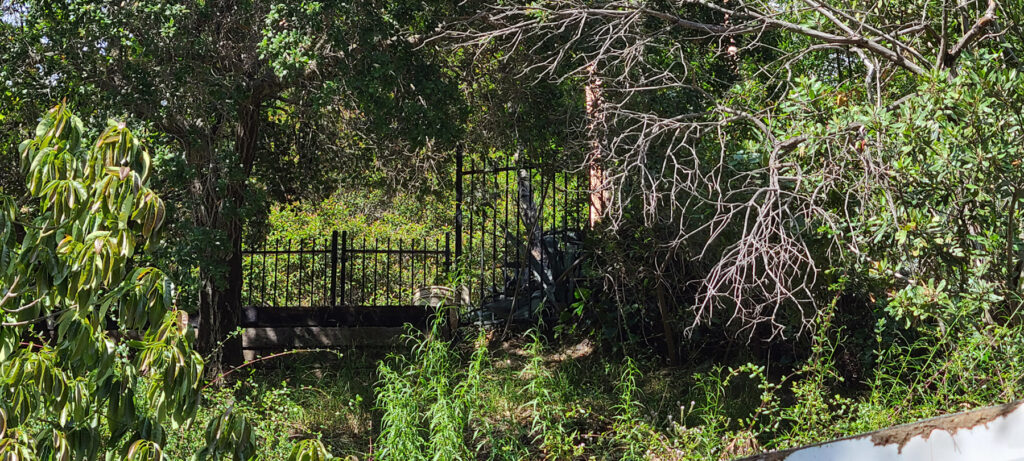 .
I stayed in Los Angeles in a tiny house at the base of a 40-foot cliff at the top of which Katharine Hepburn once lived. It felt so very West Coast Gatsby. This was a studio-sized separate building behind a friend's small house in Beverly Glen, a steep, narrow canyon that runs between Bel Air and Beverly Hills. The mid-most stretch of the canyon is formed by a daunting and very steep several-hundred-foot hillside to the west and this shorter but sheer rock face to the east, leaving just enough room on either side of the winding road to squeeze in a line of single homes between the tarmac and the slope. Some of the homes are rather posh despite the narrow space, built up around older, smaller structures like the one in which I was camped.
Many years ago Katharine Hepburn would lean on the wrought iron fence along the top of the cliff and gaze out and down at the lush canyon. She was glad for the fence because, although she was particularly fond of looking down the cliff and did not have the acrophobia, she also found the vista mesmerizing and did not wish to chance a swoon nor tempt the pull of gravity. She did, however, one afternoon, unbeknownst to others, engage in an unusual divertissement along those lines. There is no one to say or even guess her purpose when she took four precious gemstones, a verdant emerald, a golden pearl, a crimson ruby, and the bluest of sapphires out to the fence and dropped them one by one over the cliff. She did revel in their momentary scintillation as each one fell and noted where each lay in an even row like seeds in the soil at the base of the rock. She stood there admiring them in their new home until the sun dipped below Bel Air hill, and never looked for them again.
Now as I sit in that very spot, on a small stone patio on this little lot, I admire fullheartedly the fruits of her play where four burgeoning trees reside in a row: avocado, lemon, pomegranate, and feijoa, each ready to bud for the year.
~ ~ ~
REFLECT  ::  Yes, I did drive almost six hours from Oakland to L.A. to read one poem. What?! Or maybe I did it for the road that I didn't know I was missing. Or to have a conversation with Katharine Hepburn's ghost. Or to see a few folks I hadn't seen in years and meet some new ones in person. Or just to get the hell outta Dodge.  Whatever the case, super nice trip. Was glad to see Graham and his partner Chiuling for more than a quick hello. (And thanks for giving me a roof, you two!) Had some terrific conversation over dinner with Richard Modiano, who escorted me to Rapp Saloon for their monthly poetry series and terrif open mic curated by Elena Secota. Lovely buncha readers. Next up: the big-ass reading at Beyond Baroque for Beat Not Beat, the recent anthology from Moon Tide Press. This went most of a Saturday afternoon with twenty-some readers and a lot of excellent conversating and cavorting, including two sets by the gorgeous-voiced duo Petty Chavez. There's a great pic of all the readers here, and a buncha pics I took in a Facebook post here. Sorry if I didn't catch everyone's pic and/or name! Me olde braine tried. Sunday was sposed to be a day of chill, but totally by coincidence (or was it?) my sister Suzanne and niece Katie were up from Oceanside (way down by San Diego) that morning to run an errand less than a mile from where I was staying. So we got to brunch in style at Beverly Glen Deli, top a that famous old canyon. And later I got to take in a bbq with friends of Graham and Chiuling way across town at Mount Washington (not that one) with some top o' the line home-smoked brisket. Drove home on Monday as weary as the trip was worth it. See you again soon, my lost angels!
~ ~ ~
So I head out to walk in the Los Angeles hills, those famous hills, and take a short drive to the closest park of altitude, namely Beverly Glen Park. Beauty pics of it online and I'm looking forward to a titch of sun and views, only to find I should have looked at the park's online re-views. Seems it's more a park of attitude than altitude, having been fenced off by a wealthy enclave on the street nearby who've also posted BIG private Warning Signs saying, more or less, don't come the fuck near this park if you know what's good for you. As say all the reviews, noting the illegal status of this bulwark despite the park's official public status with an la.gov website and everything. One reviewer even claimed to have hopped the fence only to see "rich people doing sketchy things," which is enough to spoil any experience of beauty, 'nuff said.
So I end up here in Briarwood Park, hidden little patch of grass and clover with silver maple and white pine, a kiddie playground, romping dogs, and sun. Can smell the pine and grass and maybe the ocean a few miles west, breeze sweet and tons of little birds everywhere. A dog comes up to say hello. A samara lands in my lap. The sky opens like a blossom. Ahhhhh yes, this is the thrive. Fuck the rich. I'm alive.
Sincerely,
Richard
.