I shrug the dark and it jumps back on me like a pelt that wants my skin. Its huge crow wings surround me. Its needy night-mist fends against the sun. It wraps and clings, staunch and reticent. It roots in pores, drinking their air. It roots in eyes, drinking light. It roots in heart, clamping the pulse. I shrug and it grips. I shrug and it shrugs back on. After months, I stop trying. It settles in. Then I take it by surprise.
~ ~ ~
NEW PUBLICATIONS :: My poem "Samara Samsara" recently appeared in the Oakland-ish online journal Pedestrian #2, which features fifteen well-spoke scribblers and a bunch of terrific urban photography by the mysterious Suspicious Pedestrian. Click on through for smartness! :: My recent book of pleasantly plain-spoken poems, Be a Bough Tit from Be About It Press , has been doing well and is still and easily available for only $10, if you're craving some Loranger in your head. (Not a great sales line, huh! 😛 ) You can score it from the press (click on the title), from dumb Amazon, or from moi. :: I'm also supposed to have a Poem-of-the-Day coming up on the San Francisco Public Library site, which SF Poet Laureate Emerita Kim Shuck has been curating for every day of the COVID pandemic. I haven't heard which date my piece will go up (hoping it'll be the Ides of March, my favorite holiday [maybe]), but the Archive of daily pieces stretching back almost a year is AMAZING.
~ ~ ~
We're all material girls in our sepulcher-mall of a world. So pile thy barrow! A wardrobe upon you! Soundwaves upon you! Comforts upon you! Pushcarts upon you! Bedding upon you! Wine-racks upon you, beer chests and full-stocked bars! Jewelry upon you, tons of it! Chain-link upon you! SUV's upon you! Truckloads of chocolate and salt upon you! Suitcoats upon you! Hot mud upon you! Houses upon you! Rationales upon you! Resumes upon you! All the shoes in the world upon you! Applause and degrees upon you! Pedigrees upon you! Hierarchies upon you! Statuary upon you! Relentless deafening mangling remote-controlled mind-traps upon you in skyward heaps! And atop all an intractable sludge of asphalt paving the best and newest city built just for you with everything you could ever want that will last forever. Shrug that shit off.
~ ~ ~
EVERYBODY'S ANGRY :: It's like a punk dream come true. Everyone in America is angry, and no matter what they think they're angry at, be that covid, or politics, or powerlessness, or general assholeness, what they're really mad as hell about is what Capitalism has done to their lives, their bodies, their cultures. Ahh, the relish. And at the same time, in mirror-world that's also here, It (Capitalism) (the Monster) is achieving exactly what it's been after all along through that very anger, the shattering of Democracy (not that that's any great petunias as it is) and its transmutation into the final boss, Corporate Oligarchy. Oh the beauty of it all, with a pinnacle so near, and what a treat to watch the transformation from within, what a special place in history! Stay pissed, kidz and mums. Your turn to speak is coming soon. They'll let you know.
~ ~ ~
As cracks in the earth, there are cracks in the species as well. Cracks in humankind. We're not a full-facet gem, silly, we're a crag, a cleft, a quartzite intrusion at moments and at best. All the words in the world can't change that, nor should they want to. But they can paint it with compassion, rather than the ire and despisement we often see it through, coloring the surrogates of our anger which are merely masquings of ourselves. The mind may see geometry, but it is a false idol, a lurid approximation of our rough-hewn being. Coarse we are, and more beautiful for it; and more's the pity that we've been so effectively led to feel otherwise, to hate upon ourselves, to slavishly covet the fine and refined till all fields are fallow and all friends are dead. Why break your face on a cynic's deception? Be cracked and thrive.
~ ~ ~
WHERE I'M AT :: As the title of this post implies, at this point I'm trying to swim my way against the current out of a grim few months. I started writing this section a few times, and found myself going on for pages about the grim. But the truth is, feeling grim has become intensely boring, as has talking about it. And the other truth is, despite all the recent root causes of grimness, the manifold crises in politics, family, finances, global health, social justice, which in some ways have shown some improvement but in others not at all, over the last several days, during the final week of January, I'm feeling inexplicably lighter – not joyous by any means, but noticeably lifting. And I find I can't attribute it to anything in particular. It wasn't the inauguration or the political "shift" – if anything I was much more anxious for a few days after, and I'm not convinced how deeply that "shift" goes beneath the surface. It's not the horizoning of the vaccine, which seems as far away as ever as the "distribution" becomes a vast dark comedy of ongoing human indecency, from Drumph and his cronies absconding with millions of doses for their rich-ass pals, to Kaiser authorizing vaccinations for their administrative employees and their entire families, regardless of age or their having no interaction with medical personnel, because hey, they're Kaiser. (See, there it's slipping in again, insidious snake.) (Apologies to snakes.) I just can't figure out where the lightness is coming from, and frankly, I don't care. Maybe my mind continuously insisting that it's bored with the grim has had some effect. Or maybe, like so many, I just need a fuckin break. Whatever the case, I've found myself singing around my apartment again, which I normally do but haven't had a peep of since around early December. (I don't sing traditional or commercial tunes, btw, I sing to myself about whatever I'm doing, making the coffee, procrastinating, spilling the milk, whatever. It's like an endless ultra-mundane Sondheim show.) I've been working on getting my business back up to speed with what might almost be called enthusiasm, and have gotten a few good jobs. Yay me. I'm looking forward to working on my novel again, which has been lying fallow a couple of months before a fresh-eyed read-through to start the next big edit – that happy anticipation might be helping. And I've been writing some flash prose (clearly) and have been enjoying catching up on this site, which has been sorely neglected for much of the last year. Whereas a week or two ago I was telling friends that I couldn't have conversations because they were too upsetting, and I meant it, this past week I've enjoyed chatting with a number of folk and have even been cracking jokes. I still have a strong resistance to diving back into community, but that's been going on since before the pandemic, and only recently I've been making headway figuring what that's all about. I'm a self-described zoomophobe, because there's something about zoom readings and events that sketches me out, and though I've been on a scattering of zoomreads since the summer, this past month I've skipped out on three that I've been invited to speak at. Then a few days ago, despite a similar feeling of dread, I read at a release party by Be About It Press for new chapbooks by Lonely Christopher and Marzi Margo, and I not only enjoyed it, I found myself experiencing joy. And I mean joy without even a shadow of the grim, and for a short while at least, I felt levitational for the first time in ages. It was a terrific reading, to be sure, but my own animating force was definitely at work as well. Thank you, force. I've been up and down since, which I'm sure will continue, and I don't expect to be dancing in the streets any time soon, but the sunlight is flickering through leaves, and I suspect, I hope, that's not going away anytime soon either. Shrug by shrug, I might be kicking a little ass on that dark.
~ ~ ~
We never know what moves us, since there is no it or we. Suddenly we're awake. We stir from stillness. We lift into flight without thought, startled by our own motion. But we know the flight, the breeze easing beneath pinions, the grip and flow of currents. The act familiar, the immersion vital. We leave being behind and connect. Having been still for an eon, I find myself sitting at the edge of bed, then opening a door and walking down the hall into my day.
Sincerely,
Richard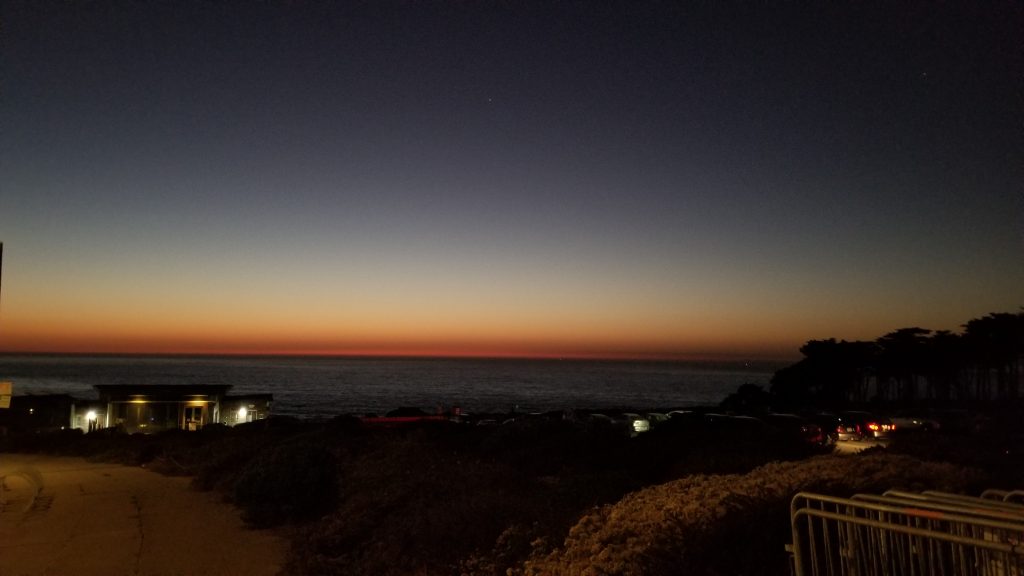 .