Talking to Myself with No Pants On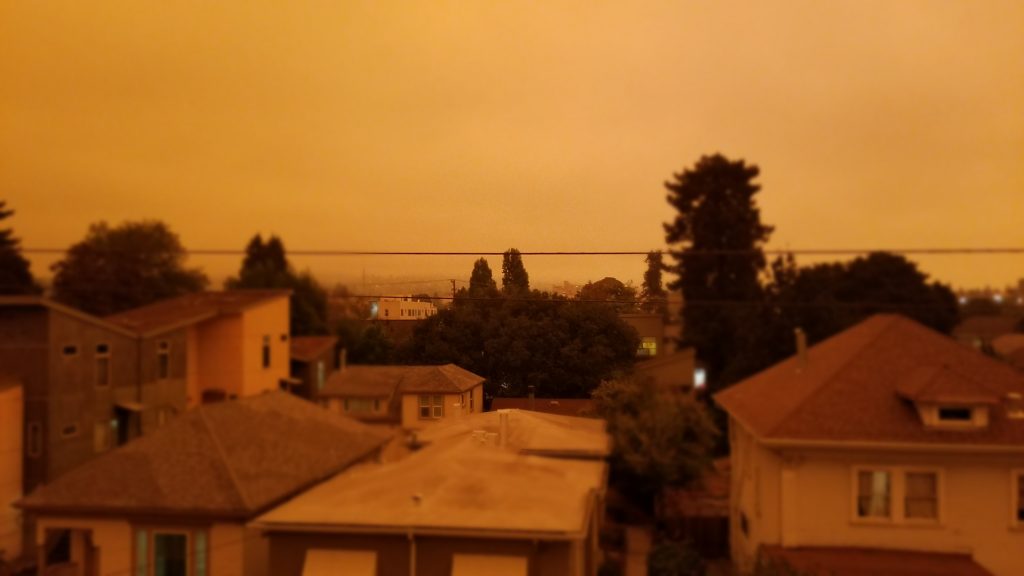 Nose-fucked in a garage again and I can't find my hand in the crashing down, crashing glass in the where's my face again, walls again, where's the door in the noxious blaze again, one more day and one more gonna need another lung in the smashing dust – blow, nay – shun every rock every face every form of spring – yah, crack – tooth in the febrile jaw in the rash of rectitude, hear me shriek my name in the dark here I am again, not particularly comforted, not particularly am again in the room in the shed fucked in the neck in the year-long bedlam mayhem – hey! mine – hey! – say – hey! cause whatcha gonna whatcha gonna peace out on shit in the corner balls in the gutter where's the window I gotta get out and jump motherfucker face in the smash wall crass in the kitchen crease in the mirror naked naked naked naked stab the endless window gathering gathering gathering
~ ~ ~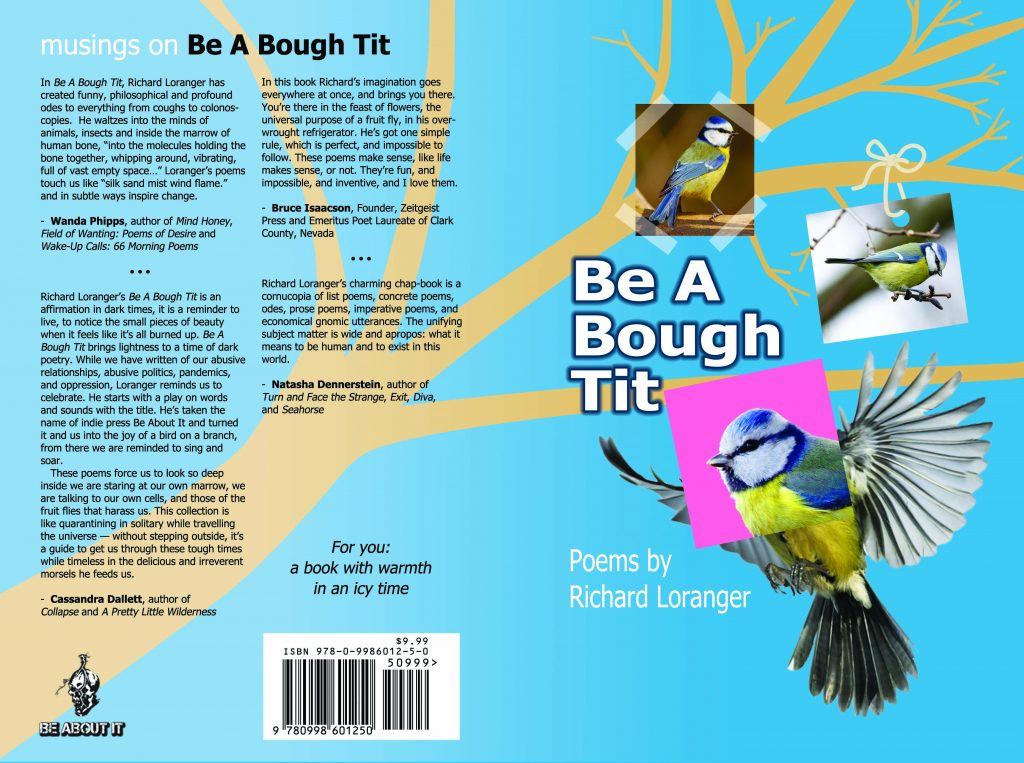 NEW BOOK :: My new book of poetry Be a Bough Tit is coming out in a couple of weeks from Be About It Press thanks to fabulous writer and publisher Alexandra Naughton. Yes, the title is a play on the name of the press, so damn good thing that Alexandra liked the work. Oh, and with this gorgeous cover by Jim Naughton. (Thanks, Jim!) Yay!
Rather than subject you to the social and cultural anger and despair that we've gotten used to on a day to day basis, we decided that it might be thoughtful to publish a book with some uplifting personal stuff. It's not without darkness, and there are certainly a few very dark pieces in there, but it opens and ends with a lot of light. Stylistically it's a lot more like my very early work in The Orange Book, straightforward and succinct, than the denser and more associative stuff in Poems for Teeth and Sudden Windows. Please accept this gift to you.
Oh – it's available for pre-order at: https://checkout.square.site/buy/VWBQA4ZI3NEYYHXPXPH4Y34O
POEM IN NEW ANTHOLOGY :: Also have a very pretty quatrain called "Broken City" about not-so-good new San Francisco in the latest annual anthology of everything terrific from great weather for MEDIA press, called Escape Wheel. In pretty great company there with sixty-two other writers of poetry, prose, and transgenre work, including Rich Ferguson, Heikki  Huotari , Mary Mackey, J. Miller, Richard Modiano, Yan Sham-Shackleton, Zev Torres, Gina Williams, John Sibley Williams, and Roddy Williams (so Williamsy!), plus an interview with Cornelius Eady. What what! More contributors listed below by the December reading announce.
~ ~ ~
REFLECT :: Next week it'll be eight months that I've been sheltering alone in my apartment, an experience I never expected to have, doubt many did, and though I am one to enjoy my own company, and have fantasized many times about living in a hermit shack in the mountains with a dog and my typewriter, it's certainly been a wild ride. Half of that ride has been the typical not-easily-controlled anxiety and depression brought on by lack of work and elusive public assistance, a certain pandemic, wildfires and toxic air everywhere, and in fact included a certain amount of talking to myself with no pants on, but the other half has been spent in a fictional small town in Nevada, that's true, the town I've been writing a novel about since May. The first forty pages were writ a few years back, started with a satiric paragraph that came out of nowhere and made me laugh and laugh, thought it'd make a great short story but I was wrong, it just kept going and kept trying to pick it back up again and again but never the time for long-form focus and that's our world. Once the nothing happening really set in for me, late April or so, I started picking up old fiction and falling in love with it again, and realized I might just have the time to dive back into Cory, Nevada. Did and the story revved itself right back up, and I've spent hundreds of hours writing almost nothing else ever since. I've had a lot of moments where a poem was writing itself, or felt like it, or was, but to have a narrative do this for dozens then hundreds of pages was a revelation. Every scene had details I'd not known before they came out of the pen (yes, writing it by hand then doing a first edit typing in, what a mess and loving that too, I just can't type as fast as I scribble). Many scenes had crazy things happen, even some major things that I didn't see coming, had new characters step in, and they built and built on each other somehow still leading to the climax and ending that I'd envisioned early on, and I had no idea how. This is the brain doing things you can't see, and this is the universe shifting about, dripping and leaking and accreting. Or something. I've even dreamed a few times that I was in this town, with its characters and its precise geography, flora and fauna, its air and sky. Each time I wondered, in the dream, what am I doing here? I felt like the fictional inhabitant in that real town. Thought I could get it done by end of August, but I was wrong. Pretty close now, just finished up the next to last section and reached the narrative climax, such as it is, and only have maybe thirty or forty pages of denouement left to go. Should be done with the first draft by the end of the November, at least, and I'll read a couple of brief passages, along with stuff from my new book, at the Segue reading on Nov 21 (see below for deets). In the meantime, it's possible you'll catch me at home, in theory I'm always there, but you might have to swing by Nevada.
~ ~ ~
UPCOMING READINGS :: Doing two (2) (too) big readings in the next month or so, a dangerously high level but like I always say. :: The first is coming up at 2-3:30 pm on Saturday, November 21 for the noteworthy Segue series out of NYC. Sponsored by Artist Space and hosted by Lonely Christopher and Venn Daniel, the event also features Yanyi, winner of the 2018 Yale Younger Poets Prize. Fancy! (but also very good). You can join directly on Zoom (click HERE that day at 2 to be square). Each of us has up to half an hour, so you know I'm excited to drone on at yas. Yay! :: Then at 1pm on Saturday, December 12 (and yes I know that's over a month away, but wth) I'll present again on Zoom for one of the all-star great weather for MEDIA launch readings for the new anthology Escape Wheel (deets above in publications note). I'll be reading along with literary munchables Jennifer Blowdryer (NYC), Bob Heman (NYC), Laura Esther Sciortino (Portland, OR), Claudia Serea (Rutherford, New Jersey), Joolz Sparkes (London), Jeremy Springsteed (Seattle), and Alysia Vargas (NYC). Isn't Zoom cool? Not really, but it does the job. You can view this streaming live on great weather's Facebook page here. You can also join directly on Zoom via Eventbrite, and ask me for the link if you wanna do that, but ya know what, the FB page is much easier. Isn't Facebook cool? :: Deets on both events on the Fresh Words page (or if not yet, very soon).
~ ~ ~
THE LATEST THEORY :: Okay, here's the part where I say something controversial, so get your high horse out of the stable and saddle up. For months of course I've been worried about the coronavirus, concerned for myself and others. I'm in a high vulnerability group for a few reasons, and so are a lot of my older friends, so I'm playing it sanely safe because I just don't like the idea of suffocating to death, given a choice. Like many people, I've found myself infuriated by the seeming indifference of the anti-maskers, as if it's that hard to understand that wearing a mask doesn't protect you, it protects everyone around you. Most times I've interpreted that as a sickening level of hubris, the certainty that they couldn't possibly be infected, or an aggressive act, and on top of that they seem proud of it, defiant and convinced that they're doing the righteous thing. What struck me most was that their primary reasoning often comes down to, "I don't wanna." Which is no reasoning at all. So lots of psychological jargon and banging my head against the wall (or maybe that was from calling the EDD) later, it occurred to me to ask myself, what is a pandemic anyway? What's it's function? What is it for? The answer, of course, is to cull the population, to keep the ecosphere balanced and livable. And I think you know that too, somewhere deeply, no matter what else you might think, unless you don't believe that anything has a purpose or function in the greater matrix, which in fact may be the case with a percentage of the liberty faces, but I don't believe that many Americans are so purely nihilist (could be wrong there though). What I do think, at least for the moment, is that our connection with the biosphere is a lot stronger than many of us think from here in our boxes of concrete and steel, and that our species, despite all ideology that suggests otherwise, is as instinctual as any. So it occurred to me that of course, most anti-maskers don't have a reasoned explanation because their motivation is not reasoned, it's entirely instinctual; they are examples of the species cooperating with the needs of the pandemic, and, however they may see it, helping to cull the species which (rant and scream all you like, O equestrians), believe it or not, many of us find to be really in need of some culling. They're operating on instinct, and doing the planet a small favor, which is okay by me. I still consider them to be dangerous and they might want to keep their distance from me or I might feel the need to defend myself, but others might choose or see otherwise, and that's fine too. In the end, they're just being and following their nature. At least for the moment, I'm not sure that I could be more furious with them than I could a songbird on a branch.
Sincerely,
Richard
.
.