Science is so slow. I just read, for instance, that science has discovered plants make noise. Duh! I've been listening to them sing for years. And here I thought everyone has. The article noted specifically science has discovered that plants scream when they're killed. Cut down. Slaughtered. Of course they do! And it's pretty hard to listen to. I recently wrote a horror story about this, which most people thought was silly. Now they'll just think I stole the idea from this great discovery. At least that will make it less likely for someone to hand me a bouquet of flowers upon its eventual publication. I find bouquets painful to look at, let alone take in my hands, still ululating their slow throes of death. I know they'd be most likely farmed, given good free-range lives before being led to the abattoir, but I can't help envisioning lunatic fanatics dancing with scythes in the fields of May, crushing the fresh-sprung grasses with their cobbled boots and slaughtering entire cultures of wildflowers in an afternoon. If, as they say, April showers bring May flowers, then we are their assassins. Yay!
~ ~ ~
RECENT PUBLICATION  ::  Amidst my flurry of getting my website up again last month, I'd forgotten to mention a recent publication. Have a shiny piece in Beat Not Beat, "an anthology of California poets screwing on the Beat and post-Beat tradition…" Edited by Rich Ferguson, the current Beat Poet Laureate of California, and co-edited by Alexis Rhone Fancher, S.A. Griffin and Kim Shuck, this explosive tome was put out in the fall of 2022 by SoCal's own Moon Tide Press. And it rocks. The Moon Tide blurb says, "this dynamic anthology spans the postwar, atomic-bomb-obsessed American landscape to the here and now: a period when Beat poets, the Vortex, Baby Beats, and their progenitors inspired one another through cultural, political, and humorous means to create new forms of consciousness weaponizing pen and paper to enact mighty forms of lyrical rebellion." Couldn't a said it better. In my usual contrary form, my piece falls into the more contemplative, Gary Snyder/earth-poetics side of the Beat tradition, that being the prose poem "3 Minutes", which recounts the experience of exactly that. There's an absolute ton of amazing writers in this tome, and I can't recommend it enough. Click on the Moon Tide link above to purchase it, and the title link to find out more.
AND READING  ::  On Saturday, May 20, I'll also be participating in a blow-out reading of work from Beat Not Beat at Beyond Baroque in SoCal. Gettin in the car with Cassandra Dallett and roadTRIPPIN. Woo-hoo! There'll be a TON of amazing readers ripping it up. It's free but a good idea to reserve a "ticket" so you have a seat, and it'll be livestreamed as well. You can find all those deets on the Events page.
~ ~ ~
A FEW THOUGHTS ABOUT FIREARMS
Why is anyone surprised by all the mass shootings? They're like a river now, more gushing by every day around the country like opened arteries. People are either shocked or inured, both totally legit. If you'd have shown anyone this news cycle twenty years ago, they'd have shit their pants. Forty years ago and they'd have called you mad, myopic frogs we. It's so breathtaking that it's hard to scream in rage and disempowerment so constantly. Yet we do, and we must. But when I hear someone wonder why this keeps happening, I am mystified, as the industry goes on inundating our communities with firearms daily. Yahoo! You can give me that old chestnut about how guns don't kill, people do, but you might first consider roasting it on an open funeral pyre. So has our ethos turned to ash? Whatever happened to the value of human life? There's another rusted old saw if ever I've heard one. I'll tell you what happened to it. It tanked in the stock market.
We talk about the social compact, of how we implicitly agree to obey laws, to uphold civility, to treat each other with even a modicum of compassion. I know I was taught that over and over in school. Thank you, White Power Structure, for setting that up for everyone, and by everyone I mean Straight White Male Upper-Class Capitalists. The rest of us can only hope to be treated well, which of course happens every day here in Cloud Cuckoo Land. Oh wait, it doesn't. For most of us living here America comes pre-broken, and for multitudes it is an aggressive, relentless, mind-crushing abattoir. So when you find yourself born into a lawless, uncivilized, threatening world, what's a kid to do? Obey the what? How about: obey the need for agency, any agency in a culture that slaps it right back down. No mystery there, though it's never that simple. After the Pulse nightclub shooting I attended a vigil outside Oakland City Hall where people were taking the mic to say prayers for the victims and their family. It felt crazy but I kept thinking that we should pray for the shooter as well, and all the would-be shooters who'd been broken by whatever circumstance and lived in an America that casts a blind eye to mental health and advocacy. I mentioned this reaction at a reading a few nights later and the crowd did not take it well – a very progressive crowd who were all about inclusivity but drew the line at people with mental health disorders and resulting violent tendencies. Is it any wonder that faced with invisibility so many reach a boiling point and take extreme measures to be seen?
Guns are easy to turn to. They're everywhere, and their visibility is maximally enhanced by entertainment media. I remember back in 1990 when the movie Die Hard 2 was protested for glorifying gun violence, showing a (galling) total of 17 shooting deaths onscreen. Hahahahahahahahaha! Only 17? (It was also toted as having the highest number of onscreen deaths of any film to date, 271, though that did include a plane crash along with quite a number of deaths by knife, garrote, bludgeon, bomb, toppling scaffolds, and a luggage conveyor.) Now we're disappointed if there aren't dozens gunned down, with a couple of throat slicings thrown in, and they better look cool. Then there's the controversy over whether video games promote gun use. If you've ever played a shooter (or FPS, First Person Shooter, as they're affectionately called), you wouldn't wonder about that at all. I've played a number of them (turns out I'm a pretty good shot), and I can confirm that they make shooting people a lot of fun. Since they usually sport a kill-or-be-killed scenario, they very effectively desensitize you to the act (if you haven't been already). In fact the gorier and more accurate the kill the better, where a shot that blows someone's head to smithereens, splattering blood and tissue everywhere, is often a celebratory moment glorified by trophies. And with targeting in games becoming more realistic and precise all the time, they make for very good practice. It's no wonder that violence-minded folks want to get out there and test their skills IRL.
I don't blame the movies or the games, though. They're just part of the fear and violence support structure. Nah, that shit's all just convenient to the real game. You know, the control game. The stay-in-power-and-make-it-stronger game. The keep-them-disempowered-and-wanting-tons-of-useless-shit-and-thinking-all-they-need-to-do-is-work-hard game. The bury-them-in-debt-to-buy-a-new-fucking-SUV game. The keep-them-believing-they-have-choice-and-agency game. Yeah, that one. And who's playing it? Is it even a who anymore? The Class Power Structure, meaning Upper-Upper Class Power Structure currently hiding inside the White Power Structure has been going on for so long that it's more like a Class Power Machine. Fueled by and fueling the Corporate Oligarchy of America it goes assuredly about its daily business of sucking dry all but the super-rich. And sure there are the string-pullers and puppet-masters actively and clandestinely waging total class warfare, in symbiosis with the Machine, the Behemoth. How do I know? Because there always have been. Because history. Together in syncopated chaos they are the dismantlers of agency, the purveyors of false possibilities, the killers of what so many lives could be. They are the assassins of futures, of so much potential, of the eruptive beauty of the human mind. The firearms are just efficient landmines planted along the causeways of that mind and spirit.
But you know what else history shows us? Machines break down. They wear down and wind down and sometimes they grind slowly to a halt and sometimes they shatter. That's what machines do. Some of that is entropy, structure weakening over time, and corruption, which is of course the process by which the fruit rots from within. But some of it is resistance, gears grinding in protest of their overuse. And some disruption enters the machine from outside as a wrench, a rising tide, a shapely wooden shoe. A sabot. Nothing is immediate and time is frustrating to the mortal soul. But forward we move because that's what we do, the current, the continent, toward…whatever we need to be next. It's going to be a mess, it always is but this time especially so with all these guns pointed in misdirected passion. There will be more death before anything changes, and though it's not much recompense it is organic truth that from death we evolve, that new life will rise, as it always does, new ecosystems more tenacious, honed, focused and, with the right measure of interdependence, more resilient. That's the cycle. It's easy to forget history, to forget where you're headed, to forget you're not alone. So take respite when you can, take joy when it appears, be with others against the Machine, and when your mettle wells, charge into bloom. Be the cycle. Happy May.
~ ~ ~
WHAT'S WRONG WITH ME  ::  In case anyone's wondering what's got me so grouchy, I've been dealing with thoracic outlet syndrome since the beginning of the year. There are many kinds, and in my case that means that when I lie down to sleep, my left shoulder starts to throb like a mf. So especially for the first couple of months, I had a lot of bad sleep or no-sleep nights, which is enough to make anybody grouchy. (Actually that's not what really makes me grouchy; I'm just a cantankerous son of a petunia.) Basically there's a ton of anatomy crammed between your shoulder and neck, which isn't too hard to get tangled up or compressed. Then it starts to pinch a nerve or diminish blood flow to one or something, and like most things in life, pain results. I've been doing PT a couple of months and it's slowly getting better. The good part is that it made me get really tired of feeling crappy so I've been healthing up, riding my stationary and hiking more, and once this is healed enough the generous PT guy is going to get me started on some appropriate strength building. So maybe in a few months I'll be feeling spry. Just don't expect me to be showin up buff anywhere anytime soon.
~ ~ ~
Someone is standing in a dark doorway. Someone is always standing in a dark doorway. Why? Because some doorways are dark. And because some people stand in them. Standing is okay. It's something that some of us learn to do early on, pretty much everyone who is able to. It's so we can see above the high grasses, I think, unless it's too dark to see. Is that why people are afraid of the dark, because it makes things harder to see? Because you can't know what's out there? But you never know what's out there, not really. Plus there are people who can't see. Are they afraid of the dark? I don't think so. What are people, and what is dark really? Are they the same thing? Of course they are!
Some people stand in dark doorways. That's supposed to be a scary thought, because they're harder to see than people standing in bright doorways. But there are lots of reasons that people don't want to be seen. Sometimes being seen hurts a lot more than not being seen. Maybe they're afraid that you might hurt them by seeing them, even if you don't mean to.
What is the dark really? It's a place where not so much light is moving around, for one thing. There's not so much light bouncing off of you and taking part of you with it. So that must hurt less too, like a quiet song.
And what are people? Maybe light mixed with some dark, for one thing. Some things moving around and some things not. Things moving fast and slow, and mixing together in ways that we never quite see, like a quiet song.
~ ~ ~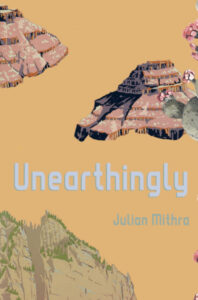 BOOK REVIEW  ::  Unearthingly by Julian Mithra (Kerpunkt Press, 2022)
Let me say a few words about Unearthingly, my favorite book by Julian Mithra, one of my fave contemporary writers, that came out last fall. This book is a joy to me in many ways. On the surface it's a faux archive, a collection of variegated texts that represents the fictional town of Goldened, Colorado, over the year of 1937. And why would that fill me with joy? Because the words. Because every page or two has a different kind of text, format, even font. Some are satirical, some whimsical, some absurd, some masking darker themes. It's an endlessly faceted mirror and a fun one at that. Here're a few passages from a page titled "How to Dig a Root Cellar".
Among the chief properties of a successful cellar is darkness. Darkness may be a measurement of light or a state of mind. Mud-and-daub, peat, sod, or ordinary tar paper secure the former. (At midday, one should not be able to see one's foot with the door shut.) For the latter, the author suggests knocking at the door of prayer and listening to the echo.
. . .
Onions, Garlic, and Shallots must sit still on a stool for their plaits to be braided. Good ones won't whimper or snivel, no matter how many tugs of the comb. Once hung from the rafters, they're free to gossip on whose skins wrinkle and droop.
What a mélange! A little more sense of delight after that? Good. Wait till you hear about the parsnips!
Amidst the occasional "instructional" pieces, you'll find articles and stalwart op-eds from the Goldened Gazette, children's stories, local legends, absurd bits of textbooks, a serialized adventure novelette, glimpses of history, geology, ecology, and through all else the exploits of Cheeky Sanguich, a Latinx schoolgirl trying to find her way. Here's a little intro to Cheeky's character.
Goldened Grammar School
The first thing Miss Sampson told Lucrecia: "At least you don't have one of those Spanish names that's unpronounceable."
Hiding her pronounced shame, the girl shuffled to her seat beside Sarah.
She wondered if they would ever finish with declensions and the pronoun and be allowed to write a composition.
Instead, the class practiced penmanship with Benjamin Franklin's maxim: "An ounce of prevention is worth a pound of cure."
Cheeky shuns the oppressive schoolhouse and sets out to explore underground – yes, in root cellars, and tunnels, caves, old mines. This is a book about delving, and the deeper we dig, the more this town in decline comes into view, with all its strivings and failures and foibles and bigotry and bustle. With all its mind.
More than anything, Unearthingly is bursting with play – play with language, with imagery, with rhetoric, with flora and fauna, with the American Old West both in myth and substance. Each page holds its own form of play; each page turned leads to the unexpected. I don't know about you but I find that thrilling. I could see some academics looking at this work and deeming it "experimental". Such a tired, serious word. And isn't experiment about proving or disproving a hypothesis? That's not what's going on here, at least to my eye. This is more an act of discovery imbued with glee. It's an uncovering. This book is an act of play. Julian Mithra plays with the mind, with perspectives, with history and expectations, and turns them all over like soil – and the earth is better for it. You might be too!
~ ~ ~
JOAQUIN MILLER PARK, APRIL 22, 2023
Alone in a crowded sunny Saturday park I seek a quiet place to listen to the breeze through my tinnitus. Hop over a tiny hill from the parking lot in search of a hidden table, and so much better yet I find a sitting rock, old companion of many forms and wheres, perched beside a steep trail leading down to gully. The parking lot machine is gone, and breeze is so slight that its leaf-reeves are barely audible above the ring. Penetrating the still are distant shouts of kids and dogs, a few stray birds, and the rivery sound of traffic cruising down the boulevard nearby.
In front of me presides an ancient pine whose cracked and lichened bark emerges from a three-foot base to spire up seventy feet or more, bent twice as it thins toward the top at angles that are easily seen as wizened. Its branches are high, broken, skeletal, with scattered pinecones still hanging on but not a needle left. Revealed! The base which looks so sturdy must have given up, its pith and vesicles desiccated by drought, a monument to time surrounded and sheltered by thriving bay and fir and waiting for enough hard rain to runnel down this hill and loose the roots, followed by a wind to send it keeling.
Of course it might instead take after its nearest neighbor down the hill, an eight-foot stump eaten away by birds, beetles, mites, its bark gone to earth and mulch, a dried sponge of its former heart. The bottom couple feet are more consumed, forming a slimmer pedestal for the thick marrow of what remains, still pointing skyward in this lush green gulch as a reproachful finger warning the thrive of what comes. Hubris, it seems to proclaim, Hubris! – though it might just be the breeze.
Sincerely,
Richard
.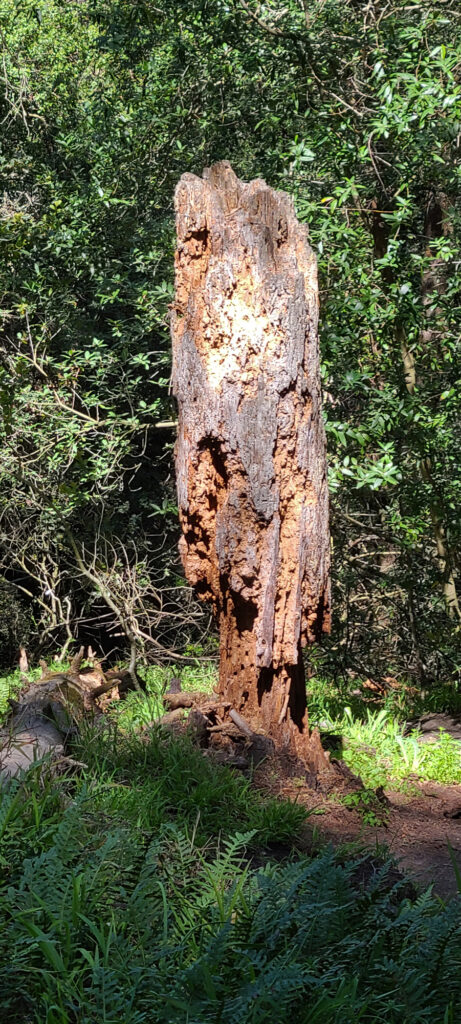 .