I spy a two-pack of condoms that's been dropped on the floor in the waiting area for Gate 45, SFO, and I think, That loss could change the course of history. I think, That could be a matter of life and death, of life, or of death, or of nonexistence. It's 10:30 in the morning but I got up at 6 so I'm coffeed and bleary and lugging too much shit, and this feels pretty damn early for an existential dilemma, hypothetical or not, or maybe it's in fact the perfect time, since I'm about to fly across North America in 2018 to spend a couple of weeks alone in Mom's big old house in Cape May, New Jersey, on a tiny sand peninsula jutting between the Delaware Bay and the Atlantic Ocean, then a couple of weeks visiting friends in NYC amidst too too too many people, then a ways upstate amidst little towns and never ever enough woodland, so I'm looking at a good chunk of time chilling and reflecting and writing and catching some East Coast air and some early spring mid-Atlantic weather, then milling and cavorting and converging and creating and re-creating with people who have known me well for decades, who in some ways are the source and core of my humanness, so in effect I'll be viewing and re-viewing my life to date at a time when I'm definitely muddling through the confusion and muck of my memory and experience, whatever that means, to evaluate whether any of this fits together, whether anything real has been accomplished, whether all this toil, this roil, all these days and all these breaths have been worthwhile. Whatever that means. And I look around at the billions of people filtering through this gate, through this causeway, through this terminal to fling themselves into air, or having been flung from melee to melee, throng to throng, culture to culture, kindness to kindness, beauty to beauty, hope to hope, struggle to struggle, strife to strife, conflict to conflict, conflagration to conflagration till all this flinging seems frantic, febrile, forsaken. So I look again at those condoms, and I think, Yep, those are condoms, and I think, Somebody might not get to use them, and I think, Somebody might. Then I don't think for a few moments, nothing at all, thank god for that, and I perk up, I lighten, I feel like something shifted, hit the reset button, and I think, Anything can happen, and that's true, anything can, someone will love and someone will die, and every day someone is born who doesn't hate, and who might not grow up hating, and who might say something to make someone else not hate, or stop hating, or never hate, and they might say something too, and so on and so on as we inch toward intelligence, toward compassion, toward humanity, and who cares if this is unknowable, unpredictable, unfashionable, it sounds good to me.
~ ~ ~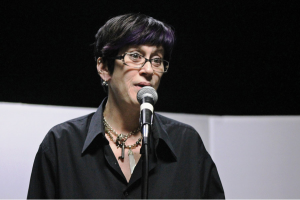 IN MEMORY  ::  Jackie Sheeler walked off this world on March 27, leaving an echoing hole in the New York poetry and music scenes, and in the lives of many. Jackie was the perfect blend of punk and poet, issuing no bullshit rants and anthems that kept the city more alive and awake for decades. Author of several books and co-founder of the Pink Poetry Reading Series and poetz.com, among many other things, she was an incendiary presence whose fire will burn beneath New York for a long time to come. She is bigly, bigly missed. You can check out Jackie reading and in conversation on the Talking About series here. Good travels, Jackie!
~ ~ ~
I'm here for a moment, then not, here for a moment, then not, wavering like a beam of light, like pulsing nerves, like clouds in a rippling pond. It's an everyday thing. Watch the pattern sunlight makes on the cold May ground dappled by blowing leaves. Taste the explosion of fermented mash. Hear the fading call of the tern. All everyday things, flashing in and out. Don't worry so much about it. You're here for a moment, then you're not, here for a moment, then you're not, and isn't that something.
~ ~ ~
ANNOUNCE  ::  I'm on the East Coast of the USA for most of April, and have a couple readings while I'm here. One you can be at, one you can't.  ::  Thursday, April 19 – I'll be the guest poet on Christopher Funkhouser's POET RAY'D YO, 2 – 3 pm EST on WGXC 90.7 FM in Hudson, NY. What, someone's trusting me on the radio again? You fools!  ::  Sunday, April 22 – I'm featuring along with Amy Lemmon at Spoken Word Sundays at the Parkside Lounge in NYC. Earlyish event, 4-6 pm, with an awesome open mic. Stop by if yer in The Town! Deets for both events on the Fresh Words page.
~ ~ ~
Level of coordination pretty much nil today, in the mud, in the dust, cracked. Do the hands not work, or the universe? A stalk of celery lasts a while in the fridge, but is crisp and watery and gushing with celeryness for just a few days. We gush for a few days. We peak. Or at least that's what they say. But what if they're wrong, what if there's another view in which maximum nimble and output are only a facet, are only a glee, while the phases of life and corruption drift into dream in a dance that resembles scattering leaves. Do we love leaves (those of us who do) because they grow, because they die, because they change, because they seem like us, because they don't? Why do we love anything? And as for those who don't love leaves (or anything), do they recognize their hands from day to day? Do they see beyond the gush?
~ ~ ~
REFLECT  ::  I'm pleased to report that the Bay Area literary scene is still going strong, strong, strong, as it has been for several years solid (with perhaps one hiccup after the election of our shithole president caused everyone to puke all over everyone else for a few months, but didn't that happen everywhere). Seriously, though, I went to several East Bay readings in March, and was pretty much floored by each one. To wit: I wandered over to the March installment of Get Lit, the monthly Nomadic Press new shit show, and sat there for over two hours with my hair on end, no exagg and it wasn't Ale Industries' delicious Cherry Kush either. Hosted by Abe Becker with his adorably awkward panache, the night featured two magical sets of music by Kiva Uhuru, who lifted everyone out of any possible funk. But here's the real deal: there were seventeen (17) (seven-fucking-teen) readers, each doing 3-4 minutes of work no one has heard before, and every damn one of them was at top of game. I was familiar with most of the readers, and of those, three (3) (th-fuckin-ree) of them did the best reads I've heard them do to date, and that's saying a lot, meaning that Rohan DeCosta, Ruth Crossman, and James Cagney, each strong readers at any time, kicked our asses right through the ceiling and into the center of life on this planet. Seriously. And they backed up by a stellar supporting cast: Kim Shuck, Tongo Eisen-Martin, Lark Omura, Nancy Au, Thea Matthews, SB Stokes, Ricardo Tavarez, Nancy Davenport, Colin Edmonds, Kelechi Marie, Peter Bullen, Aquila Lewis, Victoria Billings, and Indiana Pehlivanova (what what what!). This is a group who could easily reinvent the social order, given a chance, and maybe that's just what they're doing, and they're just a glimpse, a glance, a smidge of the force of Bay Area writers today. For those of you who don't know these names or who don't live in or aren't familiar with the Bay Area lit scene, really you should just fly the fuck out here before you miss something life-changing. I'm just sayin.
~ ~ ~
A storm comes in off the sea, and what does it have to do with our lives? Are you kidding? It's a sudden storm, breeze sharp, and the hairs on your forearm are standing up hard. Your skin is electric – you can taste it. Or is that just the latte you're drinking, your job anxiety, your expectations? Who are you kidding? This is your life, your hair, your lungs and eyes, this is you drinking water, drowning, getting born, gushing from the womb. You are water breathing, a few spare molecules from dissolving. It could happen any moment. You're slopping at the brim, at the skin. Here comes the rain.
Happy Spring (or Fall, to those in Hemisphere South),
Richard