I've decided to become a superhero. I've got it all worked out. First, the name, which is the easiest part: Grouchy Old Fuck. It works, doesn't it? As in: "Oh fuck, it's Grouchy Old Fuck!" Ooo yeah. Plus it cleverly contains my main strength and weakness. My strength is grouchiness, of course. I will grouch any villain that annoys me right into the ground. My weakness of course is the oldness thing. Some days I ache all over. Some days I'm slow as hell. And some I can't remember much, including the fact that I'm a superhero. But they don't deter me from my appointed grouchiness. Instead they make it all the more fierce.
I have a bunch of other powers as well. There're my critical eye-lasers, my disapproval vibes, my anti-injustice bone-shaking stomp, the old reliable get-out-of-my-face bellow, and of course the toxic farts. I am powerful.
And what does the "Fuck" refer to, you might ask? It's purely denominational.
I'm also working on a costume. Definitely bright orange and red, because those colors tend to aggravate me, with a big yellow "F" on the chest. No cape for this fuck, though – they're so not haute. I'm thinking more of an ascot.
Soon I'll be all charged up and ready to rock. So all you sociopaths out there messing with people's lives, I suggest you keep a low profile and manage your fucking damage. Bigots, watch those mouths. Abusers, don't raise a tendon. And ageists, o you sweethearts, whether you know you're one or not (and if you're not sure, you probably are), while you stumble about aging slowly and hating every minute of it, and taking that out on those of us who've managed to survive a stretch more, know this: I've got my lasers trained on you.
~ ~ ~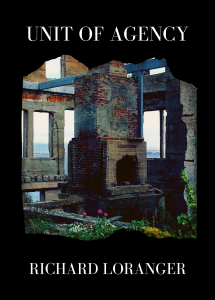 NEW BOOK COMING SOON!  ::  Super excited to have a new book barreling down the road, which happens to be the inaugural publication by the brand-spankin'-new-and-I-mean-spankin' Collapse Press. It's titled Unit of Agency and is a collection of poetry and short prose that might be called human struggle/protest culture/pissed-off leftie pieces (or might be called something else). Whatever they are, prepare to be provoked. The beautiful cover above, designed by E. Lynn Alexander, uses a photo of the Warden's House on Alcatraz, or more specifically life bursting through the crumbling remains of the Warden's House on Alcatraz, with the East Bay in the distance, that I snapped there in 2015.
Tentatively out in mid to late October. When we have a release date, you better believe you'll hear about it! For now, you can see a couple of teaser poems from the collection on the Fresh Words page. Collapse Press was founded just this spring by the ever-productive Paul Corman-Roberts and E. Lynn Alexander. They're planning to produce a number of books, with a new collection by Missy Church and Volume 1 of Comics for Collapse both arriving in the next few months. They also run a terrific zoom read called The Friday Collapse on the last Friday of each month, which can be found on the Collapse Press Facebook page. So keep those beautiful eyes open!
UPCOMING EVENTS  ::  Beast Crawl, the SF East Bay's fantabulous annual literary festival, is pounding the virtual pavement this year and SOON! Coming up Labor Day weekend, the Crawl will host three days of online readings Friday through Sunday. I'll be reading on the evening of Saturday, September 4 at 6:30 PDT for Collapse Press (see above), along with Darrell Parry (Easton, PA), Steve Goldberg (Cleveland, OH), Karen Lillis (Pittsburgh, PA), and Youssef Alaoui (Santa Barbara, CA). Holy mololy, what a lineup! Hosted by Paul Corman-Roberts and E. Lynn Alexander. Click HERE to see the event page for the reading with the zoom link.  ::  Also at Beast Crawl, on Sunday, September 5 at 2:00 pm PDT I'll be hosting a #we event, marking a return for the series of queer perspectives that I closed doors on (temporarily) when the pandemic hit. Our amazing readers, who participated in the series, include Bay Area writers Julia Serano, Jan Steckel, Juba Kalamka, Hilary Brown, and Shilpa Kamat. Please join us and honor their perspectives. (Also, they rock.) Click HERE to see the event page for the reading with the zoom link.  ::  Note that you can find the ENTIRE BEAST CRAWL SCHEDULE on their new page here, and the entire festival will also be streaming live on the Beast Crawl Lit Fest facebook page. And in case any of you were wondering where the festival got its name, the word "beast" in Pig Latin is "eastbay". I did not make that up.  ::  Finally, I've been asked to read virtually for the San Francisco International Arts Festival sometime on Saturday, Sept 23 or Sunday, Sept 24. I haven't been given a time slot yet, but I'm excited and honored! You can find the 2021 schedule HERE, and I'll try to post the time when I get updates. Hoping it'll be updated on their schedule as well. It's great to see poetry being included as a performing art.
~ ~ ~
The new has a chance as long as it keeps breathing. It will leap, pour, make furniture, smash walls, roll in the mud and sing, sing like hell – the many things that we might hope it will, as long as air goes in and comes out different, then more goes in. It's all about the exchange, and even more, it's all about the feedback, the crowd revved and revving the chanteuse. The electric circuit, the charge. The new breaks upon the rocky shore and sighs long and slow. It cannot progress without breaking again and again, and building again and again. Some poets might quibble, saying, no, it's about the sea, look at the sea; while some physicists argue, no, it's about the transfer of energy to the land, look at the land, as if there were any difference, as if they were separate. Let them argue. It's about the new, the persistence of new, which happens regardless of whether it is metaphor or law. The new breaks whether you like it or not. You can try to stop it, stand in it's way, and you might even succeed for a brief moment in halting at least one strand, one tendril of new, but you might just as well end up getting knocked right down, while countless news break around you, news breaking news breaking new.
~ ~ ~
IN MEMORY  ::  The Bay Area lost two valuable poets in August, at least they're the ones I know of. One was very well known and influential; the other very quiet and striving, who reached many people's hearts over the course of decades.
Rudy Jon Tanner
December 28, 1946 – August 19, 2021
Rudy Jon Tanner was an understated and essential part of the Babar poetry community along with others over the years. He had an absolute genius for language, both written and spoken, and a was also composer of complex and stunningly beautiful musical pieces. I met Rudy around the North Beach poetry scene when I first moved out here around 1983, coming across him at the Spaghetti Factory readings and later at the Chelsea Square and Meat Market events, the latter of which eventually slid down the Noe hill into the Cafe Babar. I was always taken with his wordsmithing and reading style, and he was an early influence on my own. Rudy was a private person, and more so as the years went on, and I had the honor of hanging out with him and hearing him read several times over the last few years, both at series and salons, and especially of hosting him in 2016 for Nomadic Press at the Department of Make Believe, where he graced us with his very rarely-heard music. I'd been plugging to get him to read at Babar in Exile, the Cafe Babar revival series, but he wanted to wait until his recent and long-awaited book came out. It finally did, just as the pandemic hit, so we were never able to have him there. That book, titled "If Thirst Is Proof of Water" (what a title!), is a testament to his beautiful mind, and can be found at https://www.zeitgeist-press.com/…/if-thirst-is-proof-of…. Rudy was 75 years old and will be sorely missed.
Jack Hirschman
December 13, 1933 – August 22, 2021
Anyone who knew of San Francisco poetry over the last few decades knew of Jack Hirschman. He was a friendly, kind, damnably outspoken Communist lover of people who took to poetry as a vehicle for social change. To my mind, and to many others', he was successful. Jack will be remember for a long time hence, I have no doubt, and will be studied and debated and argued over, which is just what he enjoyed himself. There are already a great many pieces written of him since his passing, and I feel no great need to add to those, except to say that his presence on the scene and in the word always felt like an undeniable undercurrent to me, an energized foundation that charged many a poet and a thinking human, and to me was a comfort, just knowing that his kind of energy was there and thriving. If I may add, Mazel tov, Jack! Your heart is missed, and your heart is with us. For a lot more detail, you can find a reasonably good obit in the SF Chronicle HERE, and a rather skimpy Wikipedia page HERE, which does contain a lot of links.
~ ~ ~
I've been watching the drama of the Jeopardy replacement hosts with some fascination. I've always liked the show, though I rarely watch it since I don't really turn on network TV. Sure, Trebek did a great job for years, and managed a dignified death despite being on the national stage for much of it. But what the hell is all this kerfuffle since? First the months of pageantry, a kind of meta game show in which the winner gets to host the game show. Then, as they finally begin to whittle down the candidates, the dirt-diggers dive in to hew them down one by one. What a pastime they've got going! Clearly that Richards guy has a discrimination problem, and shit like that needs to be addressed, but that just got their hunger up, and we all know what the diggers do then: gut them all in a feeding frenzy, everyone in sight, lay them all bare and begging for mercy, no questions asked, no context taken, no apologies accepted. But this goes way beyond Jeopardy; it's happening all the time at every level of our culture. I've had friends called out for lighting incense to relax after work, having to deal with chants of Appropriation! by people who then turn and light up some cannabis, which was – wait for it – appropriated from Chinese culture. Hell, I'll probably be called out for writing this. It's a hater's market, as they say. Always on the attack, those folks, in a lurid display of conflict addiction at its finest. And in my experience, people who don't accept apologies, never apologize. For what, when they're always right? Yet all the while they revere the Alex Trebeks in an almost saintly fashion. He was a charming host, for certain, and mellifluous as hell, and he may have even been what some refer to as "a good man." And that's precisely the point: he was a man, a human being, and never an unblemished one there was. I guess it's important to create flawless icons in order to believe one can be flawless. Which leads me to wonder, as I have many times, when did our culture start requiring people to be perfect just to be considered valid and viable members of society? And why? Because that's insane. Everybody fucks up. Everybody. Except, apparently, the dirt-diggers. I wonder if any of them realize that eventually their puerile weapon might be turned on them. I wonder if they've ever heard that age-old tale of what can happen to certain houses made of glass, even when they're hidden beneath a veneer of paper-mâché bricks. On the other hand, we could just talk to each other. We could try listening in both directions. We could just give people a chance.
~ ~ ~
REFLECT  ::  As happenstance would have it, after not wandering into San Francisco for nigh a dog's age, I ended up twice during the month of August at the deYoung Museum in Golden Gate Park. The first occasion was upon an unexpected shout from old friend Mae Saslaw (Mae Saslaw! Mae Saslaw!), who was in town for just a day after helping friends drive their belongings from Chicago. Met her and her friends for a leisurely brunch at Burma Superstar on Clement (!!), then she and I wandered over to the deYoung just to look at pretty things and enjoy each other's company. There Mae introduced me to the James Turrell Skyspace (video below), which had eluded my notice till now. Yay Mae! Mae Saslaw has a way of bringing out the exclamation points in me.
I re-deYounged a couple of weeks later at the behest of Marvin R. Hiemstra, friend and author of the delightful poetry memoir Raven Understands, out recently from McCaa Books. Marvin graciously invited me via his membership to the opening day of the new Judy Chicago exhibit, which was, needless to say, marvelous. I am not going to attempt to review the show here, but I will show and mention three of the many pieces that struck me, pictured above. You can hover over the pics to see the titles, and click on them for a larger view. First is Earth Birth (1983), created by Chicago along with quilter Jacquelyn Moore Alexander. Part of Chicago's Birth Series, which was placed in a room with walls painted black (genius), this piece is enormous (sorry no dimensions), done with sprayed Versatex and DMC floss on fabric. The second is a test plate from her monumental installation The Dinner Party, part of the permanent collection at the Brooklyn Museum, which displays 39 place settings around an enormous triangular table, each representing an influential woman in history. The plate pictured above was a prototype for the Emily Dickinson setting (which of course I couldn't resist), which may or may not represent Em's vagina. The third piece, Lavender Doublehead / Hold Me #5 (1996), is part of her Power Play series, which explores the charming behavior of males in Western culture. This piece, made of sprayed acrylic and oil on hand-cast paper, illustrates a central approach in Chicago's work in the use of various and very well handled materials, from traditional canvases to paper, metal, blown and stained glass, really about anything that she thought might convey something, each constructed with a meticulous hand and mind.
Gee, I hope that wasn't a review! It's a really good exhibit and seems to be a fairly comprehensive retrospective, and I can't recommend it enough. Guaranteed to raise a few hairs no matter who you are.
~ ~ ~
[PIECE REMOVED FOR SUBMISSION]
In breath,
Richard
.
.