Aching, the year remains aglow, and in a matter of minutes turns from balm to blow to whipping seas.  The scarred trunk stands and buds begin to germinate, while nestlings plunch to cold ground and are lost.  Nothing new here, much familiar, and yet the heart can't help but drop and sway – and therein lies a key to what we are, or what we hope to be.
~ ~ ~
REFLECT  ::  March began with death and ended with breeze.  And who can tell what fickle April has in store…  On Feb 24, poet and old friend Joie Cook died of liver cancer; see last month's post for a full page tribute.  But just a few days before she passed, another SF poet, Carlos Ramirez, was unexpectedly diagnosed with several brain tumors, and he left us just a couple weeks later.  By that point, I wanted to throw my arms in the air and scream, "THE POETS ARE DYING!"  And I did.
REFLECT / ANNOUNCE  ::  San Francisco lost another poet in early March, in the absolute person of
Carlos Ramirez
1938 – 2013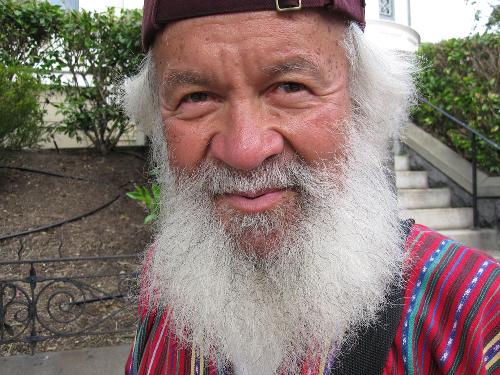 Carlos was a complete sweetheart and burning source of chi to the city for many years, as I'm sure he continues to be in whatever form he has taken.  He'd been gracing the SF poetry scene since the mid-90's with song and light, arriving often with new poems of freedom and delight, or constructing on-the-spot songs of joy and sight (and occasionally silliness).  Click here to see him in action. He was also a long-time substitute teacher in SF public schools, where no doubt he inspired innumerable hearts and minds.  Carlos seemed to me for all the world to be a Salvadoran elf, full of impishness and warmth, and he sang like an angel.  I can still hear his glad strains without a thought, and I hope I always do.  You can find a poem that I've written to him on the Fresh Words page.  There will be a potluck Tribute to Carlos on April 21 at Martin de Porres House of Hospitality, 225 Potrero Ave., San Francisco, from 1 – 4 p.m.  Alcohol-free.  Please come.
~ ~ ~
To write your way out of death, like finding a tiny path in the woods at night and staying on it without a torch.  One yearns for the acute sight of youth, the pinpoint recognition of a newt in the dark, a small twist of trail that will take you home.  Or is it less a matter of sight than scent, groping one's way through musk and bark, grappling the faintest of lavenders in breeze, the sharp stink of rot, to find the perfect midnight glen.  Almost the essence of touch, as well – here you are on an island you've long known, every twist of the path familiar, and you can feel each tree, each tumbled stone, each branch without moon and the distant shore as you would a companion sauntering astride.  To write your way out of death, know the land like your lover, take to the hills for a good long breath, have a tall glass of water, and let death write its way out of you.
~ ~ ~
REFLECT  ::  Beatific visitation last month by friend Jason Tallon, sublime poet and filmmaker whom any century would be proud to claim.  Been trying to pry J from the deathgrip of New York for some years now, so it was a warm and loving breeze that carried him westward.  He ended up doing a whirlwind tour of the Bay Area, bending minds and hearts with readings at The Secret Alley (alongside his compadre Jarett Kobek, among others), and at squat-zone 851 in the Lower Haight, with Brandon Brown, Cassandra Troyan, and Tin Can.  Amidst all that, so glad that I was able to hijack him for a sweet little hike in Tilden Park way up Berkeley Hills, where we had our first nature walk ever.  The verdict is still out as to whether the brief excursion convinced the Tallon to move his visionary butt out here, but it looks as if he was amused enough to make another visit, at which point I plan to chain him to a tree and feed him butter lettuce and rainwater until he falls in love with the invisible flying unicorns and accepts his destiny to never leave.
REFLECT  ::  Speaking of destiny, read at an amazing show last month at ATA in San Francisco, replete with musics and films and puppets galore.  It was in fact a celebration of the See Monkey Sea Mask and Puppet Show, which toured the US and then China just about ten years ago, and included a docu video of the China tour.  The vid was fascinating and the show was a blast, including purveyors of the true shanty Hazy Loper, on-the-level (and on-the-guitar) Jimmy Shotwell, eye-gripping films by Hannah Lew and Zach Von Joo, puppet genius by Jesse Roadkill and Bochay Drum, and some guy named Roberto who made everybody fall on the floor by putting rosined bow to cello strings.  Just one-a those nights that kicks living ass, and kicks blood and nerves back into living.  Thanks to Hazy Loper for asking me to read kinda last minute, 'cause boy did I need that.
~ ~ ~
It makes love to the stench of the tomato.  Cat out of mind, rolling and flipping, writing in plant.  Lifted from skin and into the air.  Pulled out of flesh by acrid life, must of soil bursting, every cell on the hunt, keen and leaping.  It makes love to the stench, vine of power, nightshade wrestling with neurons, oh feel it go – frontal lobe piqued, pupils drinking every scintilla, all pores gaped and the heart torn wide – slide it, gato, tear the air and let that dirt become you.  Dig and roll.  Bury the face.  Flip and chide and above all stream, the stench is yours, mammal, all plant, all kind, fire.
~ ~ ~
IN MOTO  ::  One of the things that I haven't been doing much of in the last few months is writing neat little things that are easy to throw up on the Fresh Words page.  Thus you've been subject to an ongoing river of ditties – cute, I'm sure, but not terribly substantial.  Let me reassure you that there are bigger stews on the stove.  I've already spooned out a taste of one, the crazy novel I started in the fall entitled Hotel of Seven Graves.  On top of that, I'm working on a series of pieces to short compositions by Hauschka, specifically from his cd Foreign Landscapes.  Those ain't so easy to print, however, so I'm trying to get hold of a video of the first finished piece, performed at The Lost Door in January.  Will make a note here when I post it.  And finally, I've gone back to working on an extraordinarily giddy urban fairy tale that I started a few years ago, New Smack City, recounting the loopy tales of Little Clowndy, who goes to the town in a big fun balloon.  Will be submitting chapters of that to journals this spring, so I'll have to let you know if anybody likes 'em enough to commit 'em to print.  So not lazy, this boy, no, no.  He just likes people to think so.  Woo-hoo!
REFLECT  ::  Did take a nice little writey getaway in March to another Crazy Child weekend led by Clive Matson up Harbin Hot Springs way.  You can read some background on these in my November post, shortly after I attended for the first time.  These are always productive excursions, enhanced by the gorgeous ranchscape in which the weekends have been held, and this one was a much needed mellow dive into the lovely silly brain.  Worked mostly on the Clowndy stories, with a nice bit of journaling to clean stress from the nerves, and of course several hours each eve in the warm pools and saunas of the awesome Springs.  I came out a little waterlogged and a lot wordagoged and ready to leap back into the upstream swim that's been life so far this year.  Recommended for anyone who's burning to get their writer on, or who already has said writer on and could use a few days scribbling in the "wilds" of Lake County.
~ ~ ~
Watching Clive pick his way along the line between the hill and meadow, specific gestures, stops and starts, specific pace intimating a specific animal.  Such a casualness in that saunter, that stroll, a sense that he's alert to twisted trees, scent of moss, arcing sky, and old leaves underfoot alike.  Bends over, scans the hillside, disappears behind a trunk.  Somewhere past the tiny grove he wanders, perhaps around the mammoth fallen trunk, grey and withered, cracked old bone – I know I'd go there – or inward toward the wood.  I sent him to investigate the creekbed rocks, the hundred shades of sandstone intruded by quartz and other suspects, the gleaming serpentine, chunks of the old hills.  So it's just like Clive, that specific mammal, to skirt the suggestion and the creek and walk the other side of the meadow.  Or perhaps the rock is his return commission, his prize for the wander, his metamorphic dessert.  But for now out of sight – I only know he wanders in that broad straw hat, or assume so, perhaps has settled down to write on the old tree-bone or the steep creekwall as I did just a day ago, perhaps is bending over to inspect a sprout, or chasing gnats, or lying in soft turf and listening.
~ ~ ~
REFLECT  ::  Ended this difficult month (but, if I may foreshadow, not the end of difficulty) with a brisk overnighter down to Santa Cruz, to read at Sparring with Beatnik Ghosts Round 49, but also to touch base with time.  The reading was super-sweet, in an actual temple (Unity Temple, to be precise), and further one that seemed pan-faith, pan-spirit, and just plain pan, with trees on the altar/stage and stained-glass nature all around.  Did I mention this was Santa Cruz?  The readers, besides myself namely T Mike Walker, Kevin Keelan, Ron Lampi, and Jennifer Lagier, rocked (and soothed, and provoked, and levitated) the house – and the humans – in true Santa Cruz style.  All of this haloed by the rapturous wandering strains by Alan Sitar Brown on the baby grand and (you guessed it) sitar.  Hosted by the recklessly enthusiastic Daniel Yaryan, who founded the series back in 2008 (and has produced 49 readings since then – Holy Cownik!), this event of living words showed the poetry community there to be engaged and shining.  Which I find particularly bolstering, as this was one of my old poetic stomping grounds, back in the digitally prehistoric days of the late 80's and early 90's.  Had a late-night vegfeast with Yaryan and company at the Saturn Cafe (serving veggivores since the 70's), and slept the night in a cheap motel to the tides of the Monterey Bay.
The reading was an excuse to go to Santa Cruz, but the walk the next morning was the reason.  Took a skip down the Boardwalk, just to make sure it had kept its tone, with old-fashioned games and shrieks and slides to the tin-speakered blare of classic rock.  (It had.  It was a gorgeous Easter Sunday and the place was hopping.)  Then three intent stops to take the true pulse of the town (and myself).  First a stroll past 329 Lincoln Street, once-home of We Press and Thelemonade, adept protean poetry band founded by Chris Funkhouser, Stephen Cope, and Karl Daegling right there in the late 1980's.  The backyard of that fair hovel was poetry ground zero, with a series of amazing readings that should have a place in the history books, all presided over by an ancient redwood that rooted everything and everyone to place.  The purpose of my jaunt was to sniff around the edges of the place (still smelled like house), but mostly to check on that big tree, which I loved so well, and which stands still and breathing to this day, with words leaking through its gnarled bark like sap.  Check one.  Then to soothe my ravaged cells, stopped by Zachary's Restaurant, which has been cradling the happiness of Santa Cruz in it's arms for many decades, and is definitely high on my list of Essential Diners.  The place was rocking as it's always rocked, and I was whisked a plate of joy as fast as fate could muster.  Check two – rock on, Zachary's.  And finally a necessary sit at Cafe Pergolesi, also an epochal site that's borne witness to so many human thoughts that they actually bubble up from the ground about.  I took an old stone table off to the side of the embowered porch, and had tea and words in the nutritive air.  Check three and done. It's funny, but Santa Cruz has always been such a loopy, ethereal, babbling the darkness of the soul funhouse, and at the same time eternally grounded, deep-earthed, beclayed.  This is the pulse and this is the record of the pulse.  And the pulse blows on.  I rode back to Oakland sure-shod and freshed, calm and clear on that last day of March, only to ride into a whipping gale.
~ ~ ~
A strong breeze moves across the lake full of the scent of new leaves.  Sense of clearing, vigor within.  Deep clean breath.  Everything knows it, pauses, lefts its head as if listening for growth.  A long savored moment, passing, but a moment that we have, that by its nature passes, or by out nature lingers.  And though things dry, wither, though friends die and trees fall and we all pass, rising and receding, when that scent comes we pause and perk, it may be relief, strains of winter washing, but even more we know, we all know, this happens, and in many ways, many places, everywhere, we know, this will always happen.
Sincerely,
Richard