Commonly thought to mean "abundance," plethora actually connotes something closer to "overabundance" or "excess". It can take on a negative perspective when applied, for instance, to situations like the ruinous hyper-materialism and overproduction of Late Capitalism in its sick careen, always worth noting at the threshold of the holiday season; but it can also carry a positive spin when referring to an unexpected overabundance that mitigates a dearth. Which is all to say that for a couple of months now, I've had an unexpected overabundance or plethora of freelance work which, amidst my recent book release and many readings, has left me with no time to write (or even clean my damn apartment). I've been in what I refer to as a workalanche since sometime back in October. That's also partially why you're reading this post, typed a good eight days into the month of December. I've got no flash prose or really much of anything to show from the last month beyond a silly quatrain (see the Fresh Words page for that) and one page or so of a flash food-mod horror story called "The Silence of the Asparagus". (Btw, anyone uses that title, I'll be sending the asparagus for you.)
This is not a bad thing, setting aside the cognitive dissonance I foster in order to support myself by writing names for (a plethora of) new products and businesses, and my strong suspicion that I'd be much happier sitting around in even a modicum of comfort writing novels. Though I won't be anywhere near flush with cash after this bout of ass-working-off, it is helping to even things out financially after taking quite a hit during the first year of Covid, as did so many. I'm definitely breathing easier than I was a year ago. But it's also potentially good news for a lot of folks, because my profession, that being specifically a Freelance Naming and Verbal Branding Consultant, functions somewhat as the tip of the antenna for how the economy is doing broadly. Naming is a particularly odd niche that has developed over the past several decades in response to (you guessed it) the plethora of product and business names in use, which makes creating new names, which need to represent whatever it is they do, fit but stand out in their industry, attract an appropriate and desired audience, and most importantly be practically and legally available, an increasingly complex linguistic puzzle. But for names to even be needed, companies and entrepreneurs need to feel that it's a good time to develop whatever needs to be named. And when the economy is tanked, that's far less likely to happen, and the freelancers, who often get work passed along through creative agencies, are the first to know. Just so the reverse, thus the workalanche that I've been digging my way out of for a couple of months may bode well for others in need of work and better (or any) financial stability.
With all that in mind, I'd like to take the opportunity with this post to reflect outward and redistribute some of this positive financial energy to anyone out there who could use it. I am rife, I am casting, and I am beaming freely. Sending other positive energies as well, of course, which we all could use during this precarious season, and wishing everyone warm holidays and a bolstered waning of the year. I'd like to suggest that to help you to accept some of the energy I'm sending, and any other good stuff that's floating around out there, you might consider inviting it in. Further, consider keeping in mind the word abound, into the new year at the very least, toward a state of being in abundance as well as leaping forward, about which those energies might gather. And don't forget to drink water, and a little extra when you're feeling stressed.
~ ~ ~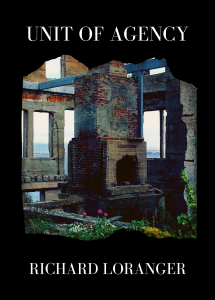 THE BOOK, OF COURSE  ::  Speaking of agency, Unit of Agency, my new book of human struggle/protest culture/social justice/pissed-off leftie poems and flash prose has been out a couple of months now, and has sold something like a couple/few dozen copies. I'm hoping that figure might go up, both because I'm really proud of these pieces and I'd like them to be seen, but also because it's been published by a brand new press – Collapse Press, started early this year by Paul-Corman Roberts of the SF Bay Area and E. Lynn Alexander of Easton, PA, who have honored me by putting forth this manuscript as their first publication. The small press biz as you might know is a hard row to hoe, and I'd really like them to do well. Really really. So please consider supporting this small press by purchasing a copy of Unit of Agency either directly through them (click here) or through its Amazon page if you prefer. It also might make a terrific holiday present both for pissed-off lefties and for other folks that you simply might want to provoke. 😀 I know, I know, I'm a terrible salesperson, but at least I mean well. You can still find a couple of teaser pieces from the book on the Fresh Words page.
And if you find yourself liking it, please consider leaving a couple sentence review either on that very Amazon page or on Goodreads (click here). If you need crib notes, you can find blurbs about the book by Lonely Christopher, Hilary Brown, Rich Ferguson, Juba Kalamka, James Cagney, and Dena Rod right darn here on the Books & Chapbooks page. Finally, if you'd be interested in writing a review for publication, please give me a shout and I'll send you a copy or reimburse you for one that you've purchased.
~ ~ ~
RAPIDLY APPROACHING READINGS  ::  For anyone who didn't get a chance to hear me read from Unit of Agency last month, fret not! You'll get your choice of four (4) (vier) (quatro) readings to choose from this very week. Make that four if you're in San Francisco and three if you're not. Here's the LD. 
Saturday, December 11 –  I'll be reading for the Woodstock Poetry Society (yes, that Woodstock) along with Amy Ouzoonian, beaming in from Phoenix. Hosted by the wonderful Phillip X. Levine. This one's early(ish), via Zoom at 11 am PDT / 2 pm EDT. See the Events Page for deets on how to attend and read in the open.
Sunday, December 12 – Reading live and in person at the one and only Specs' Twelve Adler Museum Cafe in historic North Beach, San Francisco, for Three Rooms Press co-directors Peter Carlaftes and Kat Georges' annual Dada Journal MAINTENANT. Starts at 6pm, vaxx cards and masks required. I'm gonna bring me a bendy straw to stick out from my mask for drinks like a proboscis, because I'm just that fashionable. Join the trend!
Monday, December 13 – Reading with the marv Glenn Ingersoll for Bird & Beckett's weekly word-soiree put together by Kim Shuck and Brett Benson. Plus an open mic! Starting at 7 pm PDT via zoom.
Tuesday, December 14 – I'll be co-featuring with Kim Shuck, fresh from hosting me the night before, and Dr. Andy Jones, who owns Davis, CA – or might as well – for The FUNdaMentalists, a poetry group out of Calistoga, CA. I hear there'll be single poems presented as well by some of Calistoga's finest. I love those folks up there! This one's also on Zoom at 3 pm PDT / 6 pm EDT. Come check us out. 
Whew!
Deets and more for all of these on the Events Page.
~ ~ ~
.
It is a return of the sun It is a
return of the sun  oooo
Spring is coming
We are ready once
again to breathe honey
.
Sincerely,
Richard
.

.
.